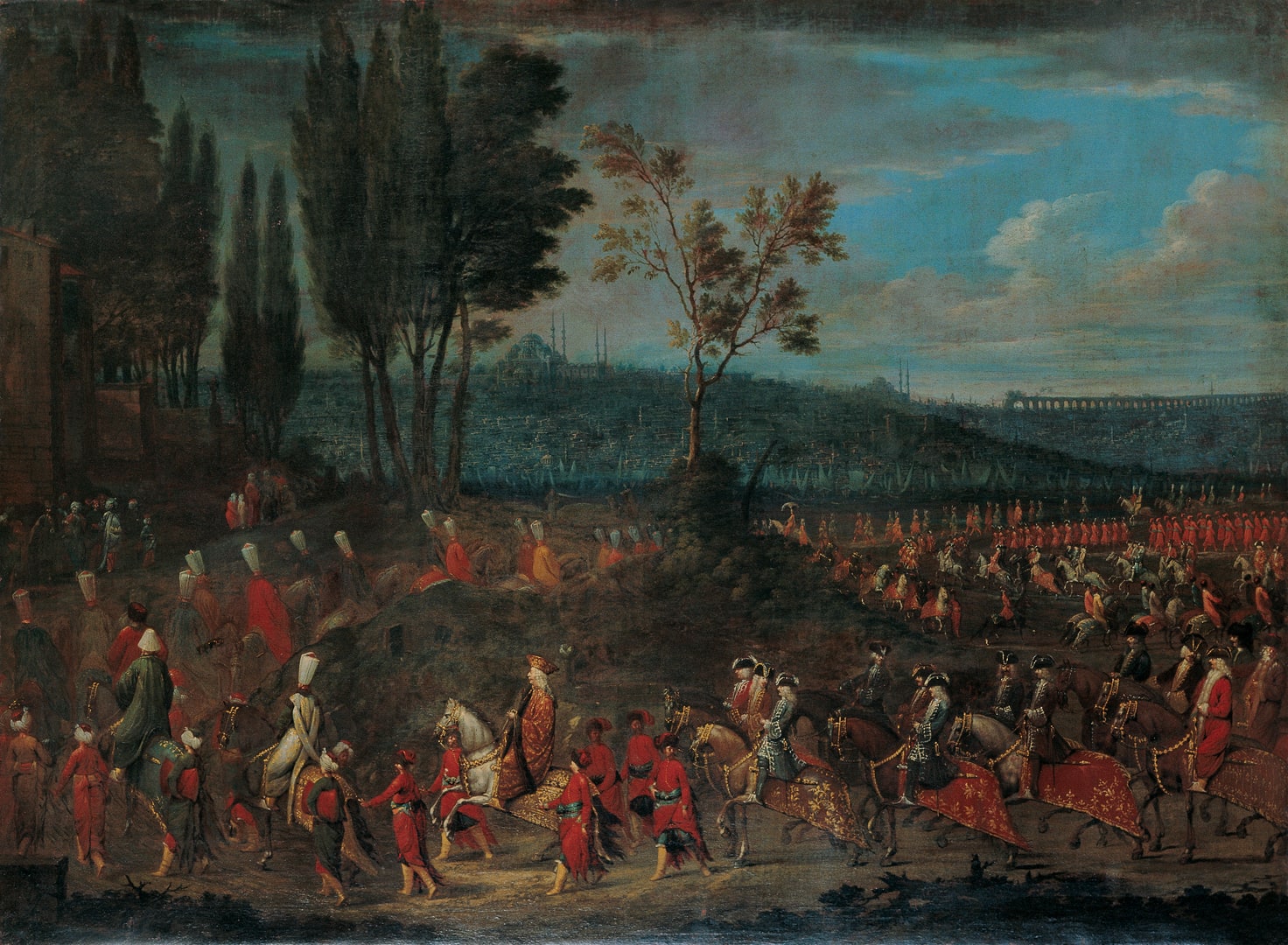 The Ambassadorial Procession, Jean Baptiste Vanmour; Oil on canvas, 88,5 x 120,5 cm
The series of paintings depicting the audience ceremonies of European ambassadors hold a unique place among the works of Jean-Baptiste Vanmour of Valenciennes, who lived in İstanbul from 1699 until his death in 1737. Depicting, in squence, the audience ceremony of a Venetian balio at the Topkapı Palace, this particular series of four paintings is distinct from its counterparts and is of particular importance as it includes a painting that portrays the ambassadorial procession traversing the city, as well as two paintings that bear the signature of the artist. Dressed in clothes unique to Venetian balios, the ambassador in the paintings is presumably Francesco Gritti, who served in İstanbul between 1723 and 1726.
The welcoming of Venetian balios to Ottoman lands would begin with the arrival of the ambassadorial delegation in Gökçeada; the number of ships present in the welcoming ceremony was of considerable importance. Francesco Gritti was greeted with two galleys and the firing of 15 salvos. After being offered a selection of treats, the balio and his retinue, dressed in official attire, would enter the city with a procession attended by the public.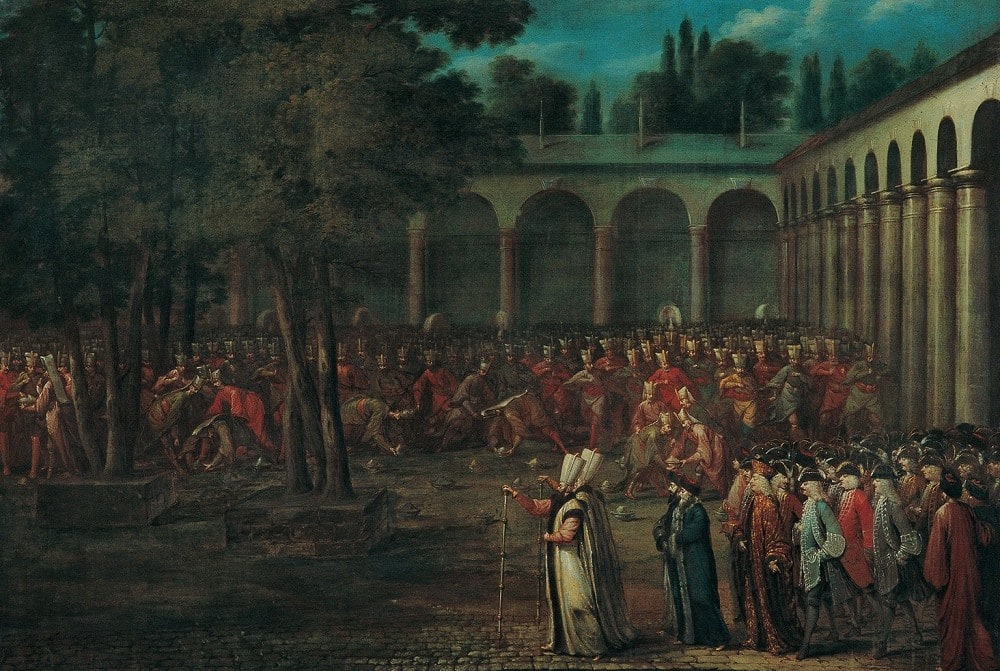 The Ambassadorial Delegation Passing Through The Second Courtyard of Topkapı Palace, Jean Baptiste Vanmour, (1725 ?), Oil on canvas,  90 x 121 cm.
The audience of the ambassadors at the Palace often coincided with the day of ulufe, on which the Janissaries received their pay every three months; as the ambassadorial procession passed through the second courtyard of Topkapı Palace, they would observe the Janissaries, who, having received their pay, would scramble for the plates of food on the ground. Known as "çanak yağması," this event was a demonstration of the army's strength and the soldiers' allegiance to the sultan in power.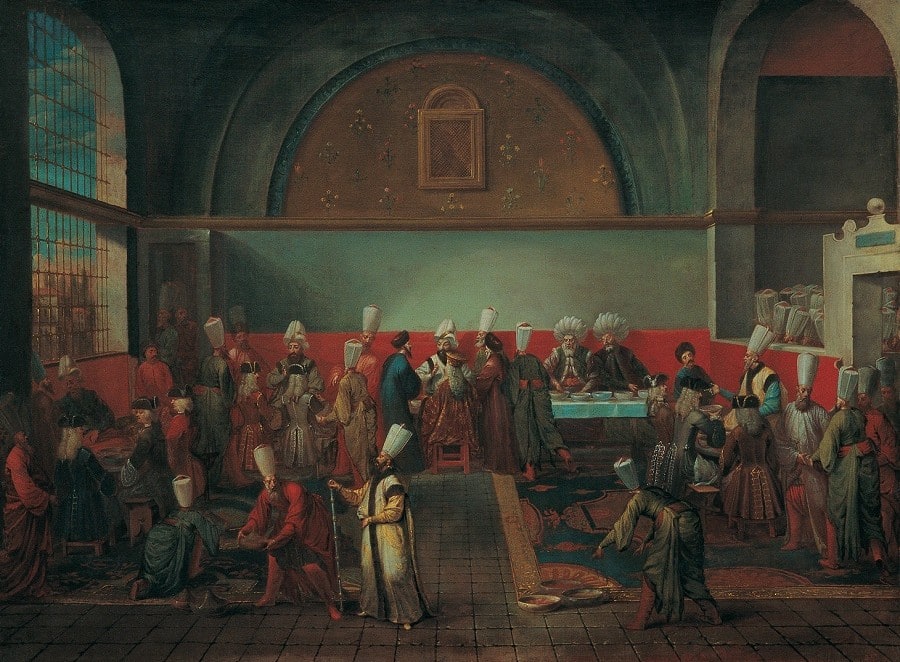 Dinner at the Palace in Honour of an Ambassador, Jean Baptiste Vanmour, (1725 ?), Oil on canvas, 90 x 121 cm.
Later joining the banquet held by the Grand Vizier in Kubbelatı, where the Divan–ı Hümayun (Imperial Council) meetings took place, the ambassador, flanked by his two dragomans, would be seated at the Grand Vizier's table.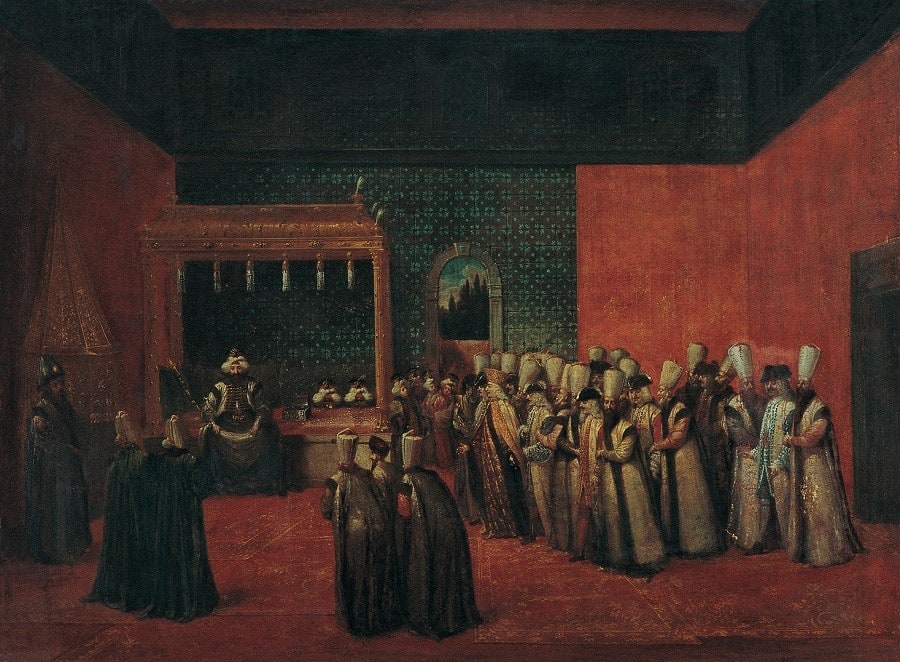 Once the ambassador and his retinue were dressed in special kaftans known as hilat, they would be taken to the Sultan's audience at Arz Odası (Audience Hall). A vizier would receive the ambassador's letter of credentials and the Grand Vizier would place it on the cushion next to the Sultan. Following speeches of mutual good will, the ambassador would bow before the sultan and, walking backwards, leave the Audience Hall.
Click for more information on the collection exhibition Intersecting Worlds: Ambassadors and Painters.