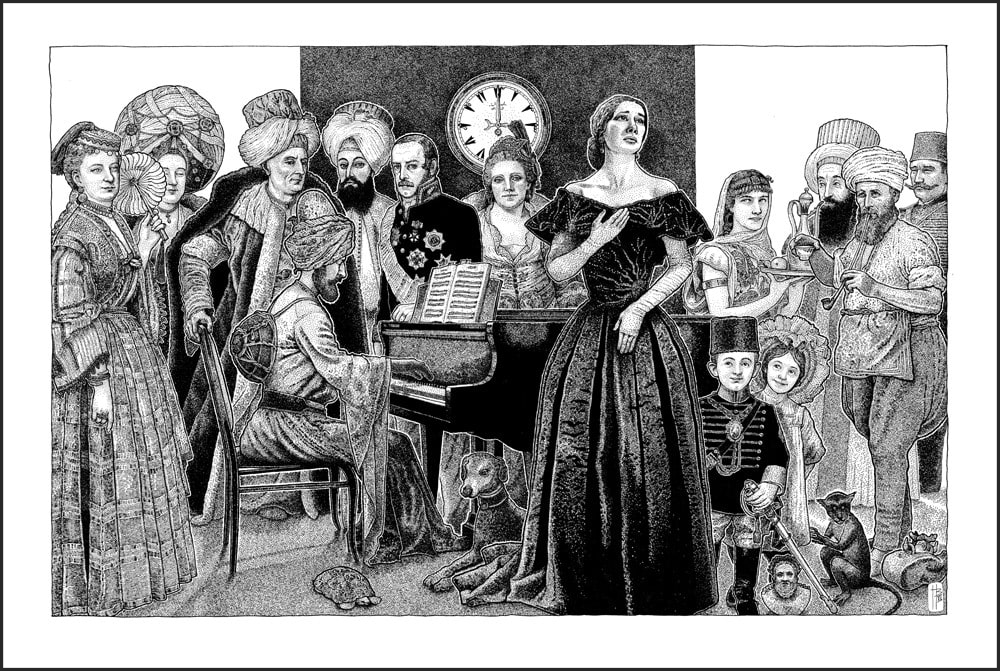 A Night At Pera Museum, Benoît Hamet, December 2015, Technical pen on paper, 21,6 x 33,9 cm.

Celebrating its 10th anniversary this year, Pera Museum invites artist Benoît Hamet to reinterpret key pieces from its collections, casting a humorous eye over 'historical' events, both imagined and factual. This month, for Maria Callas's 92th birthday, Hamet's drawing focuses on Maria Callas' piano with Callas singing in the front to Pera Museum's characters from its collections. When the clock made by Mustafa Sem'i strikes 3, Pera Museum's characters get out of their galleries and gather to listen to Callas.
Currently being exhibited at Pera Café, here's the story of Maria Callas' piano:
After travelling by liner across the Atlantic and than to Athens with the piano, Maria Callas, presented it to her teacher Elvira de Hidalgo. When Elvira de Hidalgo fell seriously ill she gave her piano to Mordo Dinar, a music enthusiast. 
One evening Yiğit Okur listened to Mordo Dinar's account of the piano's story at a dinner given by Suna and İnan Kıraç, and this inspired him to write his novel The Piano. When Mordo Dinar died in 2002 his daughter, who was living in Madrid, wrote to Yiğit Okur saying, "The piano became your novel. I leave it in your charge." Yiğit Okur gave this news to İnan Kıraç, and Mordo Dinar daughter was asked how much she wanted for it. She replied, "One day, when I am visiting İstanbul take me to one of those shabby taverns on Bosphorus. A glass of rakı and a fresh bluefish are the price of the piano. Just let it not be lost and have an owner who appreciates its worth. "İnan Kıraç did not let her down.
This piano at Pera Museum now belongs to all of us.
All of the characters in the drawing are from our collections, except for Maria Callas! Here's a list of the art works they're inspired from:
A Portrait of a Young Woman, Thomas Barbarin, pastel on canvas, 123 x 87cm., second half of 19th century
Enjoying Coffee, Unknown painter (French School), oil on canvas, 112 x 101.5 cm., First half of the 18th Century
Portrait of Charles Gravier Count of Vergennes and French Ambassador, in Turkish Attire, Antoine de Favray, oil on canvas, 141.5 x 113 cm., 1766
Tortoise Trainer, Osman Hamdi Bey, oil on canvas, 221.5 x 120 cm., 1906
Portrait of Antoine Edouard Thouvenel French Consul General in İstanbul, Adolph Diedrich Kindermann, oil on canvas, 99 x 79.5 cm., 1854
Mehmed Said Efendi and his Retinue, George Engelhardt Schröder (the dog and the man on the left of Antoine Edouard Thouvenel), oil on canvas, 113 x 142 cm., 1733 (?)
Portrait of the Charles Gravier Count of Vergennes and French Ambassador, in Turkish Attire, Antoine de Favray, oil on canvas, 141,5 x 113 cm, 1766
Prince Abdürrahim Efendi, Fausto Zonaro, oil on canvas, 136 x 82 cm., 1900
Girl with Pink Cap, Osman Hamdi Bey, oil on canvas, 50 x 40cm., June 1904
A scene from a Turkish Harem, Franz Hermann, Hans Gemminger, Valentin Mueller, Oil on Canvas, 130 x 193,5 cm., 1654
Agora weight from Roman Period
Servant, Jules Joseph Lefebvre, oil on canvas, 131 x 84 cm., 1880
Yusuf Agah Efendi, Carl Fredrik Von Breda, oil on canvas, 240 x 148 cm., 1894 – 1896
Coffee Seller, Abdullah Frères, photo, 23,5 x 19,5, End of 19. century
Fausto Zonaro – The Daughter of the English Ambassador Riding in a Palanquin
Benoît Hamet was born in 1984 in France. He completed his Bachelor and Master's degrees at the European School of Visual Arts Angoulême/Poitiers. He spent one year of his Master's degree on an Erasmus scholarship at the Accademia di Belle Arti di Bologna. He continued working in Angoulême following graduation and illustrated for a variety of French publishers. He currently lives and works in Istanbul.