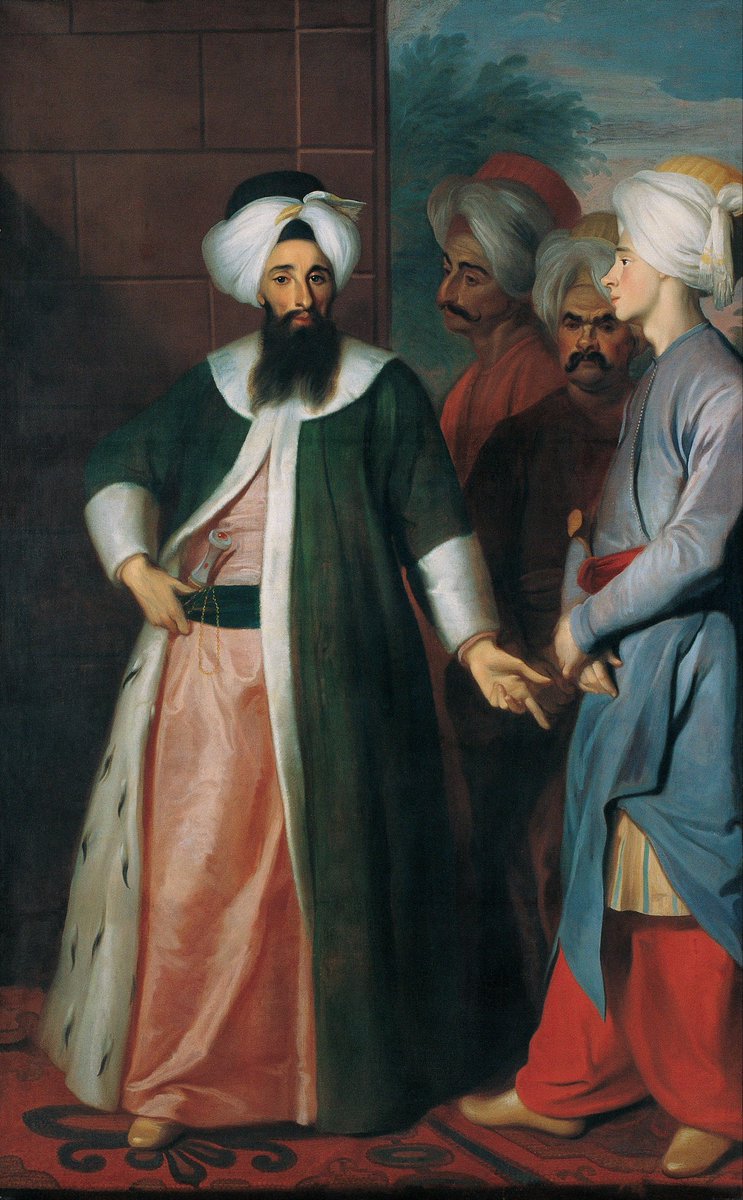 Kozbekçi Mustafa Ağa and His Retinue (1727-1728?), George Engelhardt Schröder. Oil on canvas. (Resim yarım gibi)

When Karl XII of Sweden was defeated by Tsar Peter the Great of Russia in 1709, he fled to the Ottoman Empire and settled in Bender with his entourage for five years. During this long stay, all his expenses were covered from the Ottoman budget; he was put on a salary and given loans. When Grand Vizier Damat İbrahim Paşa undertook the financial restructuring of the Ottoman State in 1727, he sent Kozbekçi Mustafa Ağa to Stockholm with a retinue of 23 people to settle Sweden's debts. Greeted with much enthusiasm and ostentatious ceremonies, the envoy and his legation stayed at the extant Insenstiernska House in Sweden. At the end of the 15-month stay, which was no doubt further prolonged by unfavorable weather conditions, Kozbekçi Mustafa Ağa returned to İstanbul empty handed despite the promises and expressions of good will. In November 1732, seasoned Ottoman diplomat Mehmet Said Efendi set out for the same mission. Mehmet Sait Efendi had visited Paris with his father Yirmisekiz Mehmet Çelebi; he was well versed in European politics and was recognized for his involvement in the establishment of the first printing house in the Ottoman Empire. Reaching Stockholm with his legation of 43 in May 1733, Mehmet Said Efendi conveyed, in his Sefaretname (literally, book of embassy mission), the grand ceremonies held in his honor, the meetings on the settlement of debts, his observations on Stockholm and Sweden, as well as the information he collected. Apart from the Sefaretname, another important source on this visit is the letter the Ottoman ambassador wrote to Comtesse Hedwig de la Gardie in French. Although Mehmet Said Efendi failed to collect the debt –which at the time was calculated as 25,000 kuruş– and received a letter of guarantee instead, he did observe a potential alliance between Russia and Sweden—a possibility that troubled the Ottomans. In the ensuing years, the debt in question was settled once Sweden gave the Ottoman State a war ship and guns in parallel with the developments regarding a commercial treaty between the two countries.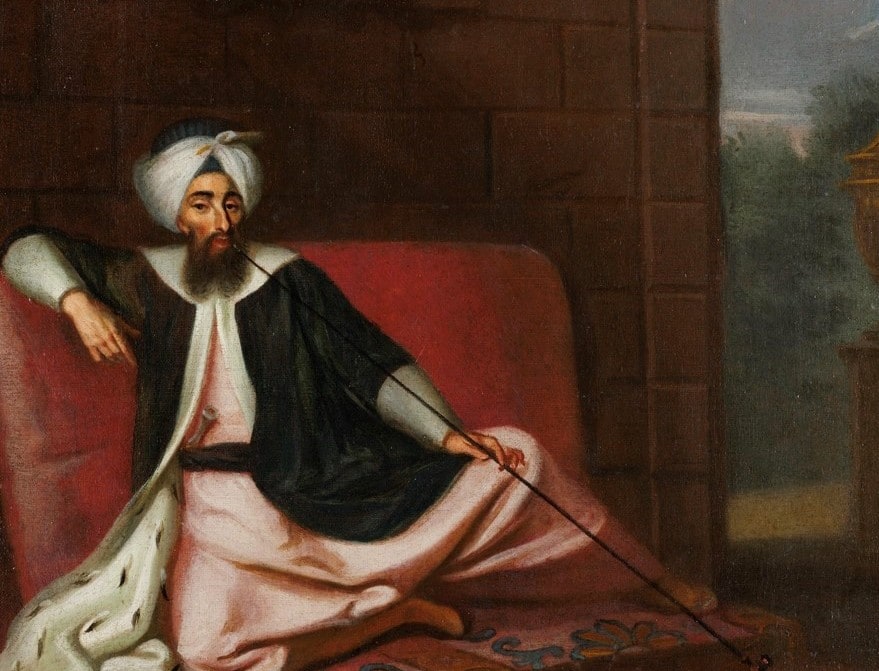 Mehmed Said Efendi, Painter Unknown (School of George Engelhardt Schröder), 18th century. Oil on canvas.
Kozbekçi Mustafa Ağa, Mehmet Said Efendi, and their respective legations were the subjects of monumentally sized portraits painted by Schröder, artist to King Fredrik I. Several elements, such as the figures representing the legations of the ambassadors, are repeated in the paintings. Furthermore, smaller replicas of these compositions were executed by artists of the Schröder School. 
Click for more information on the collection exhibition Intersecting Worlds: Ambassadors and Painters.