"The portrait tells us that there is an inner and an outer dimension of the human condition; it provides—or should provide—information about both the physical and psychological character of an individual." 
Virginia Torrente – The Portrait: Expanded Identity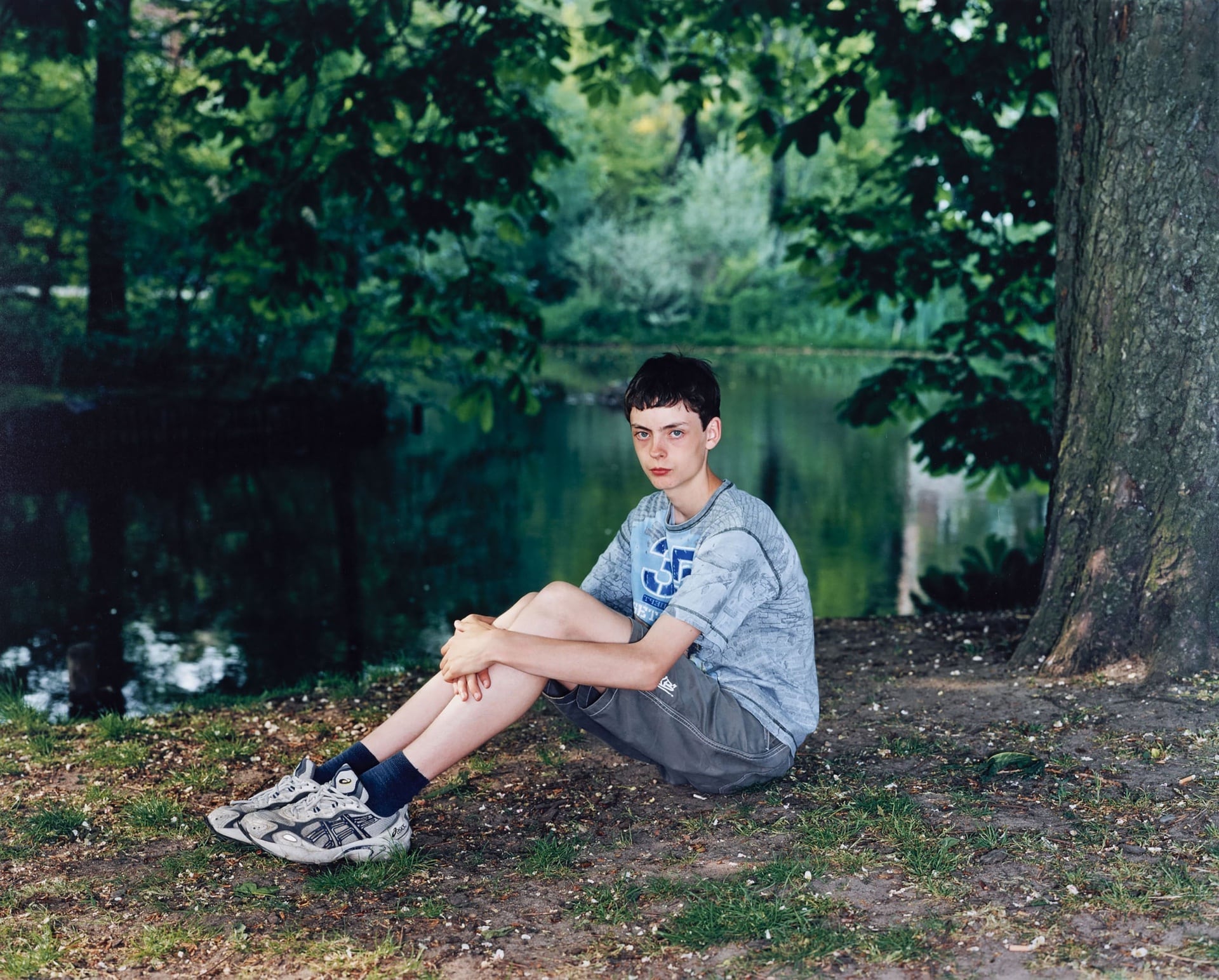 Rineke Dijkstra, Vondelpark, Amsterdam, May 12, 2006,
Chromogenic colour print, 80 x 100 cm. 
The exhibition Look at Me! Portraits and Other Fictions from the "la Caixa" Contemporary Art Collection examines portraiture, one of the oldest artistic genres, through a significant number of works of our times. Through the exhibition we will be sharing about the artists and sections in "Look At Me!". The first artsit we we are sharing about is Rineke Dijkstra, exhibitied under the section "Emotion on Stage"! 
Rineke Dijkstra's work Vondelpark, Amsterdam, May 12, 2006 belongs to the Park Portraits series made up of portraits of kids and teenagers in the parks of different cities. In this perfectly balanced composition the teenager adopts a relaxed pose, and yet the representation of this harmony arouses a certain uneasiness. Its simplicity is deceitful, as the truth is there is no naturalness, only pure artifice. The young man is confined to a very deliberate composition and frame. It is supposedly a classical portrait that follows in the tradition of landscape painting to create a context for the sitter. Even the intensity of the gaze he directs at the viewer demanding we look at him evokes that of Flemish paintings, where the eyes of sitters seem to follow the beholder.
Artist's Bio
(b. 1959, Sittard, Netherlands) lives and works in Amsterdam, Netherlands. Dijkstra's masterfully composed portraits encapsulate universally relatable truths about our lived experience as social beings, our bittersweet and carefully rehearsed induction into the world of humanity. Dijkstra's photography is known for the beauty and virtuosity of her work, and the way she balances pose, detail and chance to create her stunning compositions. Her photographs, marked by their technical mastery, combine the objective gaze of social portrait photography with an arresting emotional dimension. Since her first solo exhibition, at de Moor in Amsterdam, Dijkstra has shown at the Sprengel Museum Hannover; Museu d'Art Contemporani de Barcelona; Art Institute of Chicago; Stedelijk Museum in Amsterdam; the Rudolfinum in Prague; Museum fur Moderne Kunst, Frankfurth; Guggenheim Museum; San Francisco Museum of Modern Art. She has received much recognition for her work, including the Kodak Award, Nederland; the Art Encouragement Award, Amstelveen; the Werner Mantz Award, the Citibank Private Bank Photography Prize; and the Macallan Royal Photography Prize. 
Look at Me! Portraits and Other Fictions in The "a Caixa" Contemporary Art Collection  exhibition took place at Pera Museum between 07 December 2017 - 11 March 2018.