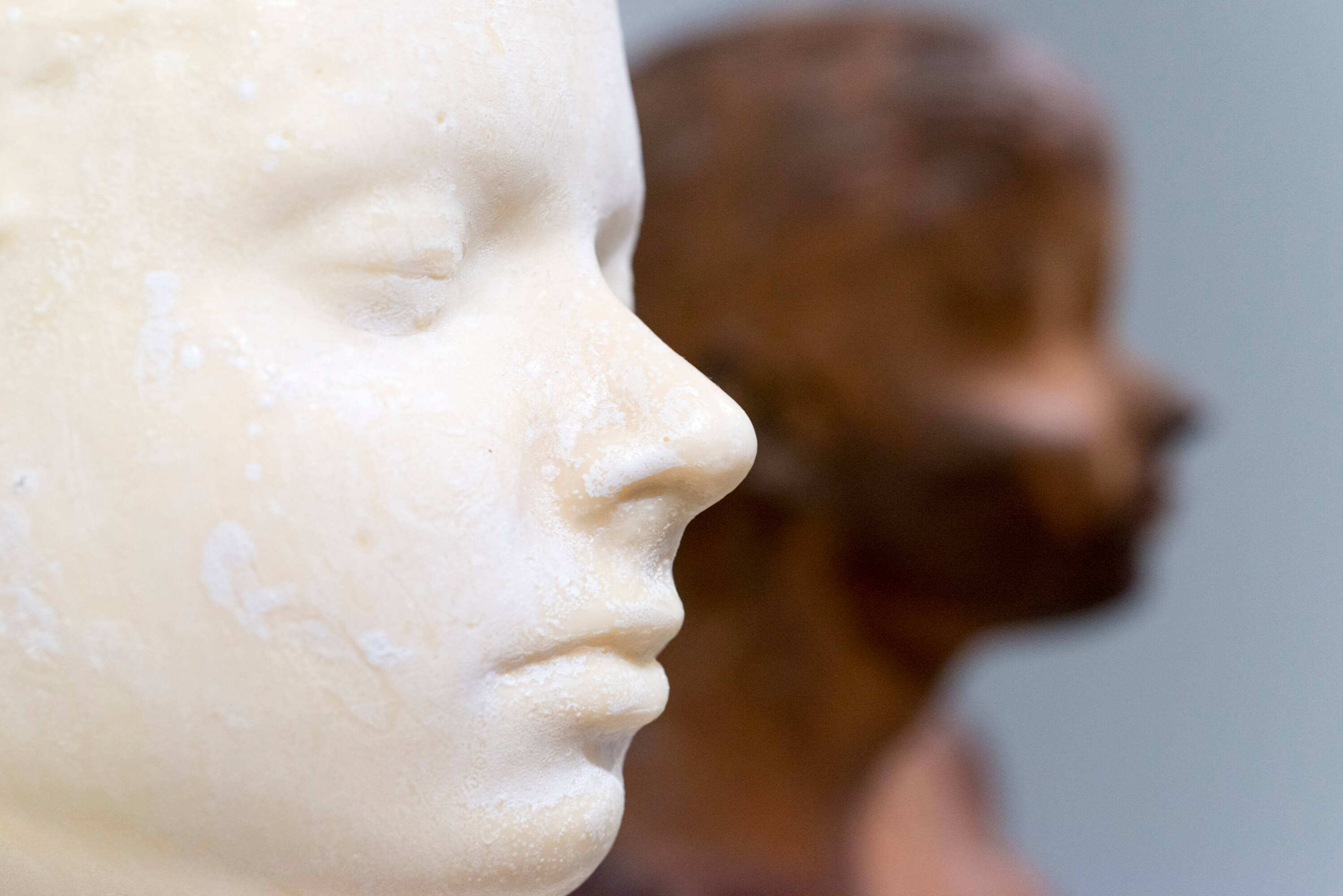 The exhibition Look at Me! Portraits and Other Fictions from the "la Caixa" Contemporary Art Collection examines portraiture, one of the oldest artistic genres, through a significant number of works of our times. Through the exhibition we will be sharing about the artists and sections in Look At Me!. This time we are sharing about Janine Antoni , exhibited under the section "The Conventions of Identitiy"!
In the nineties, Janine Antoni began to focus on the construction of identity. These sculptures were made from an exact mould of her own bust in the way of classical sculpture. Their most surprising quality is that they are made of chocolate and soap, materials that are virtually consumable and with which she assumes her own vulnerability and the transience of existence.
Indeed, once the busts were completed, Antoni licked the chocolate and washed herself with the soap of her self-portrait. The traces of this action disfigured the appearance of the busts, partially blurring their features. In this way the artist erases her own image and transforms the narcissistic impulse of self-portrayal into a sort of self-catharsis.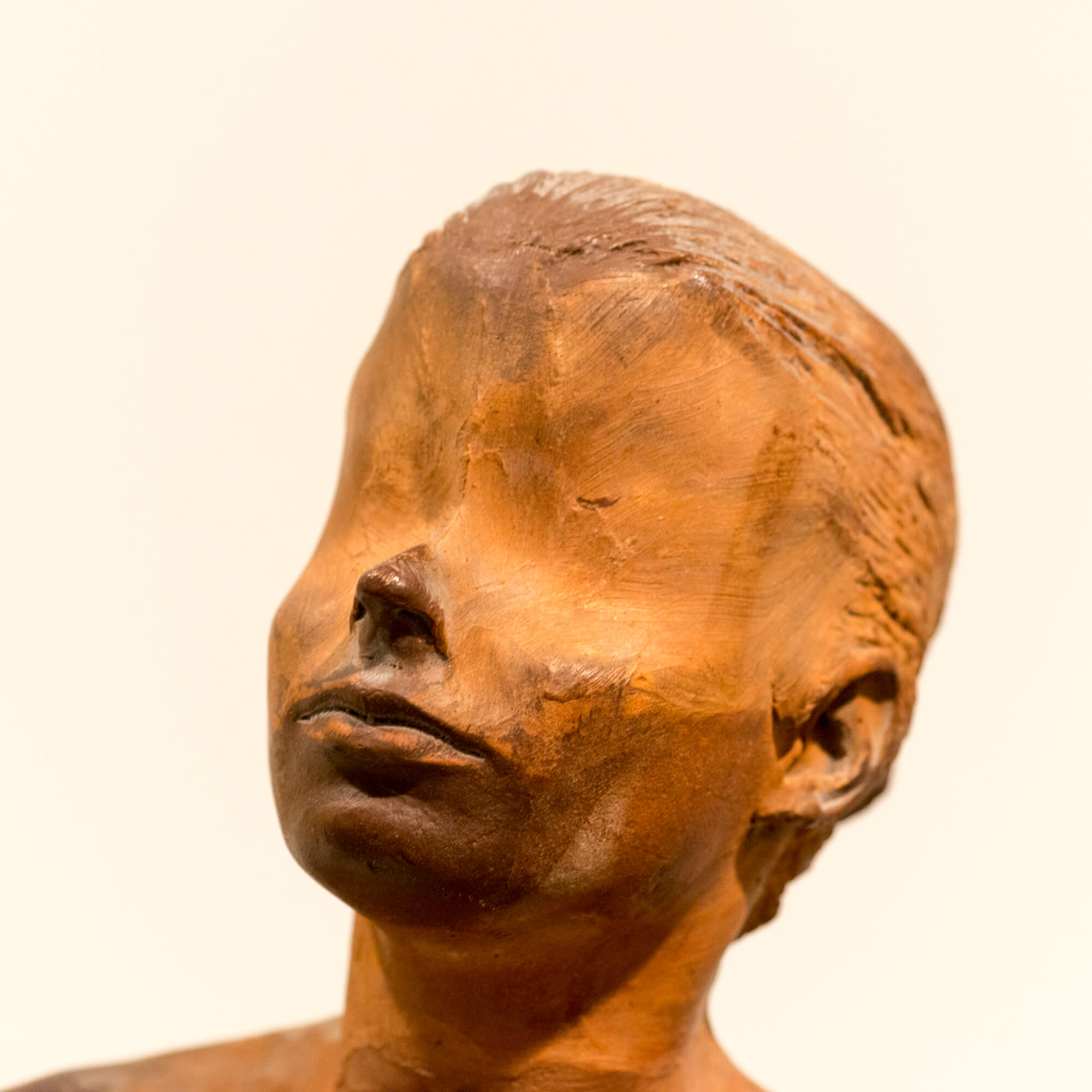 Janine Antoni & Luhring Augustine, Lick and Lather,
1993, One licked chocolate and washed soap self-portrait busts,
Each (approximately) 60,96 x 40,64 x 33,02 cm

Artist's Bio

(b. 1964, Freeport, Bahamas) lives and works in New York, USA. She creates work in performance art, sculpture, and photography. Antoni's works focus mostly on process and the transitions between the making and finished product. She often uses her body, as an entity or paying particular attention to body parts as tools, utilizing her mouth, hair, eyelashes, and, through technological scanning, the brain, to perform everyday activities to create her artwork. Her work blurs the distinction between performance art and sculpture. Antoni has exhibited at numerous major institutions including the Whitney Museum of American Art, New York; Museum of Modern Art, New York; San Francisco Museum of Modern Art; The Mattress Factory, Pittsburgh; the Hirshhorn Museum and Sculpture Garden, Washington, DC; The Reina Sofia, Madrid, Spain; The Irish Museum of Modern Art, Dublin; Magasin 3 Handelshögskolan, Stockholm; Haywood Gallery, London, Sammlung Goetz, Munich, Germany. She has also been represented in several international biennials such as the Whitney Biennial; Venice Biennale; Johannesburg Biennial; Gwangju Biennial, South Korea; Istanbul Biennial; S.I.T.E. Santa Fe Biennial: Project 1 Biennial, New Orleans; and Kochi-Muziris Biennale, India. Selected public collections include MoMA, New York, NY; The Whitney Museum of American Art, New York; The Israel Museum, Jerusalem, Israel; Guggenheim Museum, New York, NY; The San Francisco Museum of Modern Art, San Francisco, CA; Art Institute of Chicago, Chicago, IL; Hirshhorn Museum and Sculpture Garden, Washington DC; Magasin 3 Stockholm Konsthall, Stockholm, Sweden; Sammlung Goetz, Munich, Germany; The New Museum, New York, NY; Astrup Fearnley Museet for Moderne Kunst, Oslo, Norway; and The Museum of Contemporary Art, Los Angeles, CA.