The exhibition Look at Me! Portraits and Other Fictions from the "la Caixa" Contemporary Art Collection examines portraiture, one of the oldest artistic genres, through a significant number of works of our times. Through the exhibition we will be sharing about the artists and sections in Look At Me!.
This time we are sharing about Cindy Sherman, exhibited under the section "The Conventions of Identity"!
In her photographs, Cindy Sherman acts as a "woman disguised as a woman", playing female roles as defined by a male gaze. In this case, the photograph is inspired by the horizontal, two-page layout made popular by magazines like Playboy, featuring images of women in erotic poses. In 1981, Artforum magazine commissioned Sherman to create a series of 12 photographs entitled Centerfolds which staged and photographed teenagers in dramatically lit close-ups where the frame seems to press in on them. They are usually sitting or lying down and appear vulnerable, caught in situations where we get the sense that something disconcerting is taking place. In Untitled #85, that impression is conveyed by the tense body language of the innocent-looking blonde girl whose eyes are fixed on something outside the frame, completely oblivious to the spectator's gaze. At the last minute, Artforum decided not to publish the photographs for fear that they would be misunderstood. Even so, the exhibition of the twelve resulting images sparked a heated debate about the fetishism of the female image.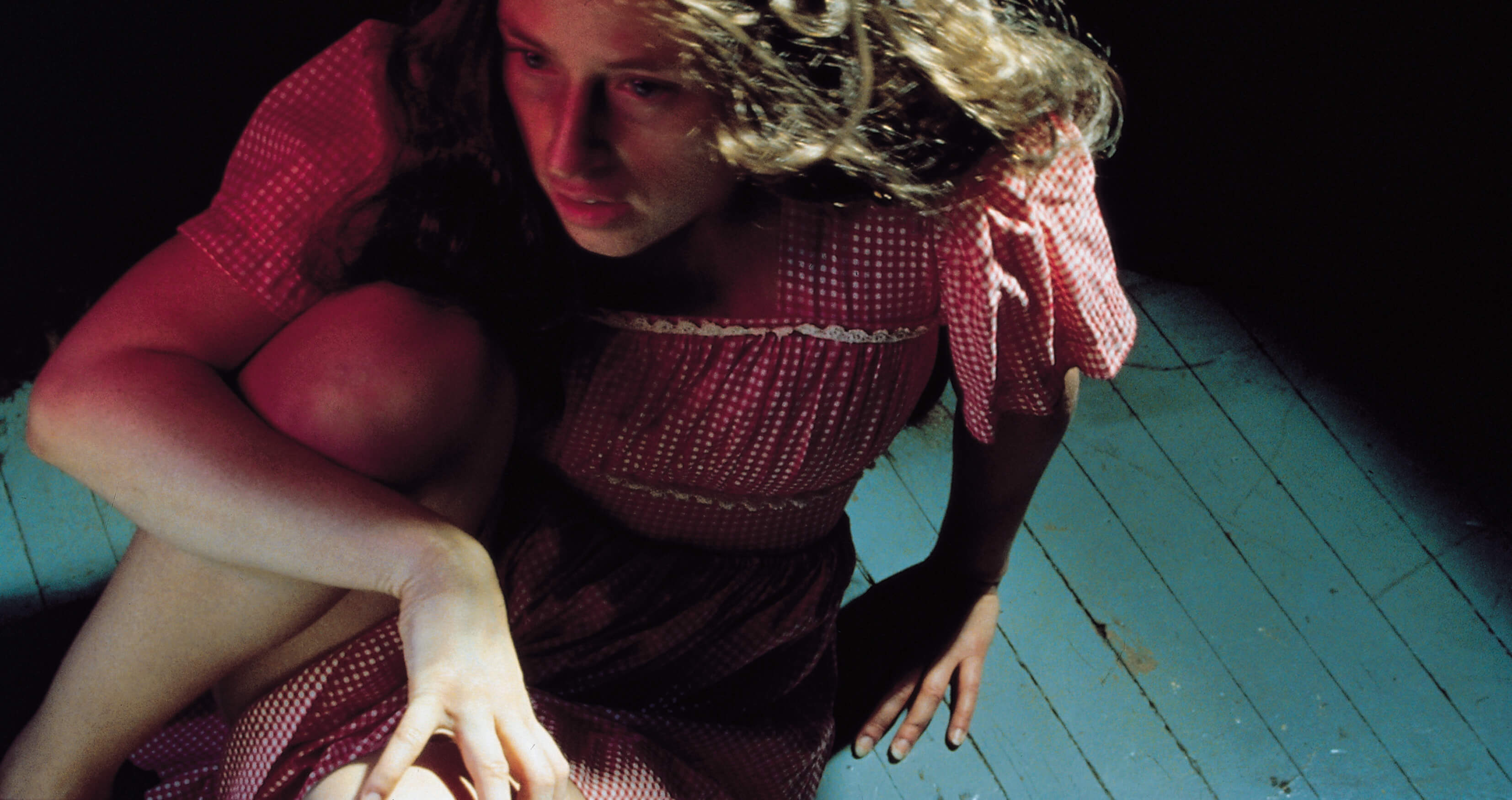 Cindy Sherman, Untitled #85, 1981, Chromogenic colour print, 62,5 x 126 cm.
Artist's Bio
Cindy Sherman (b.1954, Glen Ridge, NJ) lives and works in New York, NY. Considered one of the most influential artists of her generation, she came to prominence in the late 1970s with a group of artists known as the Pictures Generation. Her 2012 retrospective at the Museum of Modern Art, New York, traveled to the San Francisco Museum of Modern Art; Walker Art Center, Minneapolis; and the Dallas Museum of Art. Additional recent exhibitions include the inaugural exhibition at the Broad Museum, Los Angeles; me Collectors Room Berlin / Stiftung Olbricht; Sammlung Goetz, Munich; and Untitled Horrors, Astrup Fearnley Museum, Oslo, which traveled to Moderna Museet, Stockholm, and Kunsthause Zurich. Sherman has participated in four Venice Biennales, co-curating a section at the 55th exhibition. Additionally, her work has been included in five iterations of the Whitney Biennial, two Biennales of Sydney, and the 1983 Documenta. She has been the recipient of the Praemium Imperiale, an American Academy of Arts and Letters Award, a MacArthur Foundation Fellowship, and a Guggenheim Memorial Fellowship.