The exhibition Look at Me! Portraits and Other Fictions from the "la Caixa" Contemporary Art Collection examines portraiture, one of the oldest artistic genres, through a significant number of works of our times. Through the exhibition we will be sharing about the artists and sections in Look At Me!.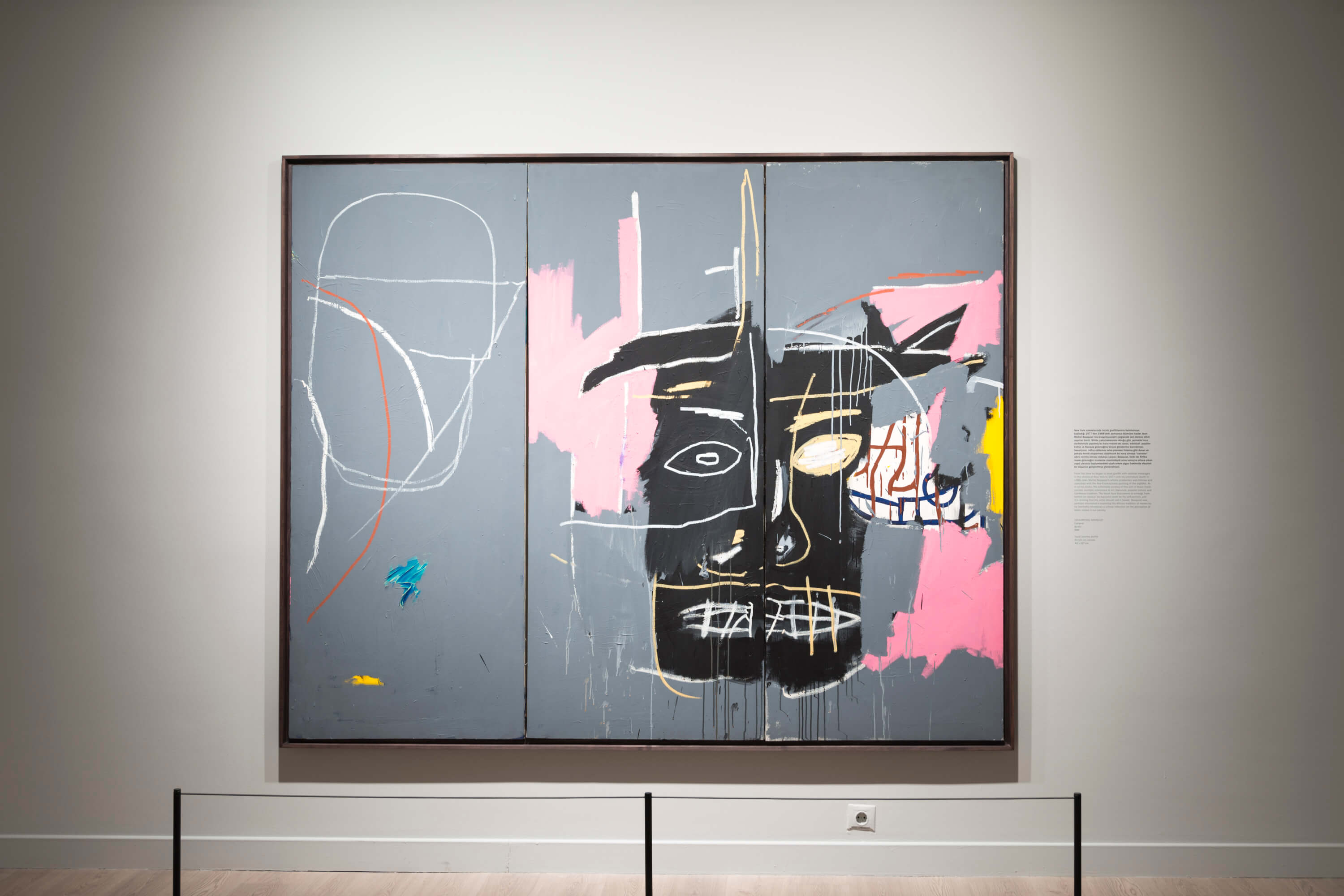 Jean-Michel Basquiat, Beast, 1983, Acrylic on canvas, 183 x 227 cm. 
From the time he began to draw graffiti with satirical messages in the streets of New York in 1977 until his premature death in 1988, Jean-Michel Basquiat's artistic production was intense and coincided with the Neo-Expressionist painting of the eighties. As in all his works, the schematic strokes of this sort of black mask contain multiple references to art, literature, popular culture and Caribbean tradition. The black face that seems to emerge from behind an opaque background could be his self-portrait, and it is striking that the artist should call it 'beast'. Basquiat was perhaps interested in exploring the African tradition of masks but he inevitably introduces a critical reflection on the perception of black males in our society.
Artist's Bio
(b. 1960 Brooklyn, New York, USA) lived and worked in Manhattan, NYC, USA – (d.1988) Basquiat first achieved fame as part of SAMO, an informal graffiti duo who wrote enigmatic epigramsin the cultural hotbed of the Lower East Side of Manhattan during the late 1970s where the hip hop, post-punk, and street art movements had coalesced. Basquiat's art focused on "suggestive dichotomies", such as wealth versus poverty, integration versus segregation, and inner versus outer experience. He appropriated poetry, drawing, and painting, and married text and image, abstraction, figuration, and historical information mixed with contemporary critique. By the 1980s, he was exhibiting his neo expressionist paintings in galleries and museums internationally. Major exhibitions of Basquiat's work have included The Whitney Museum of American Art; Fruitmarket Gallery, Edinburgh; Institute of Contemporary Arts, London; Museum Boijmans Van Beuningen, Rotterdam; Kestnergesellschaft, Hannover; Whitney Museum of American Art; Des Moines Art Center; Montgomery Museum of Fine Arts, Alabama; Brooklyn Museum, New York; Museum of Contemporary Art, Los Angeles; Museum of Fine Arts, Houston; Museo de Arte de Puerto Rico (MAPR), Barbican Centre.