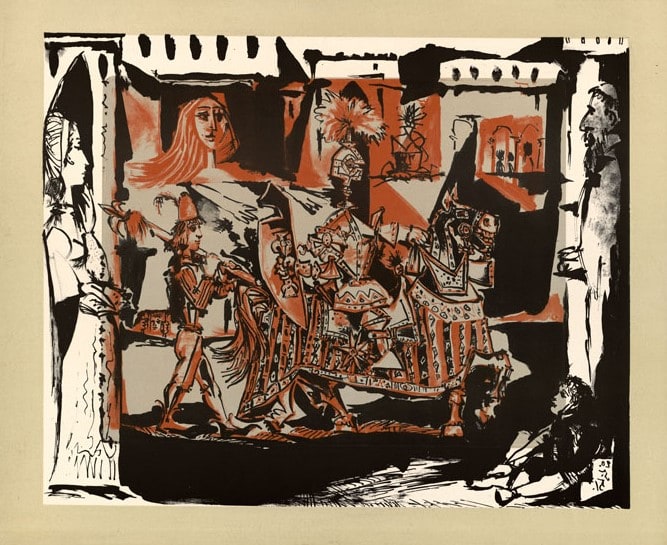 'THE DEPARTURE', VALLAURIS, 20 MAY 1951. FOUR COLOURS. ©SUCCESSION PICASSO 2014.
"The disasters of war were perpetuated in plain daylight, with no mystery about them. Picasso, who according to Tristan Tzara considered a painting to be just a sketch, remained obsessed with his own evocations for a long time afterwards. He continued drawing knights in armour, glimpsed in the course of his exploration of the past. He draws them on caparisoned horses wearing tooled battle harness with exquisite edging, their heads hidden inside fantastical helmets with visors, prancing, accompanied by a page, passing in front of a window in which a beautiful lady in a tall, conical head-dress can be seen. Picasso seems to revel strangely in recreating the complicated motifs on the helmet, the links in the armour, the horse's caparison. In the course of drawing, he moved further and further away from his source of inspiration: the horror of the robots. Humour takes the place of emotion. He continues to make drawings, paintings and etchings of knights and pages at play. Kahnweiler believes that it was not only his own painting that inspired this odd procession. 'I also suspect that a series of illustrations for Ivanhoe that appeared in L'Humanité at this time must have made him think of this'. When Kahnweiler went to visit Picasso in Vallauris in March, he found him still working on a lithograph of a knight and a page, which he said was 'very Pinturicchio.'" – Antonina Vallentin [1]
'THE DEPARTURE', VALLAURIS, 12 MARCH 1951. INK WASH, PEN AND SCRAPER ON ZINC. ©SUCCESSION PICASSO 2014.
The series known as The Departure of the Knight is a special case in Picasso's graphic output given its particular theme: the apparent departure for reasons unknown, whether to a joust, a battle or the Crusades themselves, of a medieval knight accompanied by his page, in some of the different engravings shown in an urban landscape with their departure being observed by a lady and some young people. This theme of chivalry is truly unusual in Picasso's work, and all the more so given the number of variations he produced on the theme.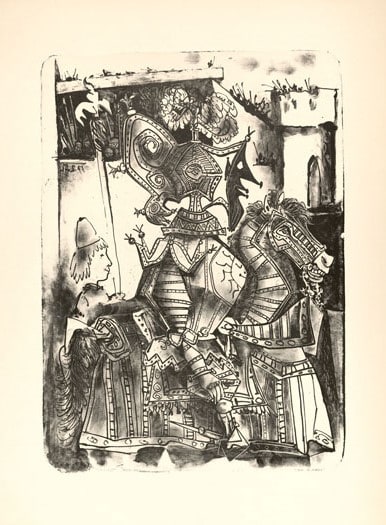 'THE KNIGHT AND THE SQUIRE', VALLAURIS, 17 FEBRUARY 1951. PENCIL, PEN AND INK WASH AND SCRAPER ON STONE. ©SUCCESSION PICASSO 2014.
The elaborate helms bring to mind the eloquent frames inserted by Sergei M. Eisenstein in his film Alexander Nevsky (1938) in which, with his fantasy designs, he caricaturised the thriving Nazism of the time…
[1] Antonina Vallentin, Vida de Picasso (Buenos Aires: Librería Hachette), p. 368.