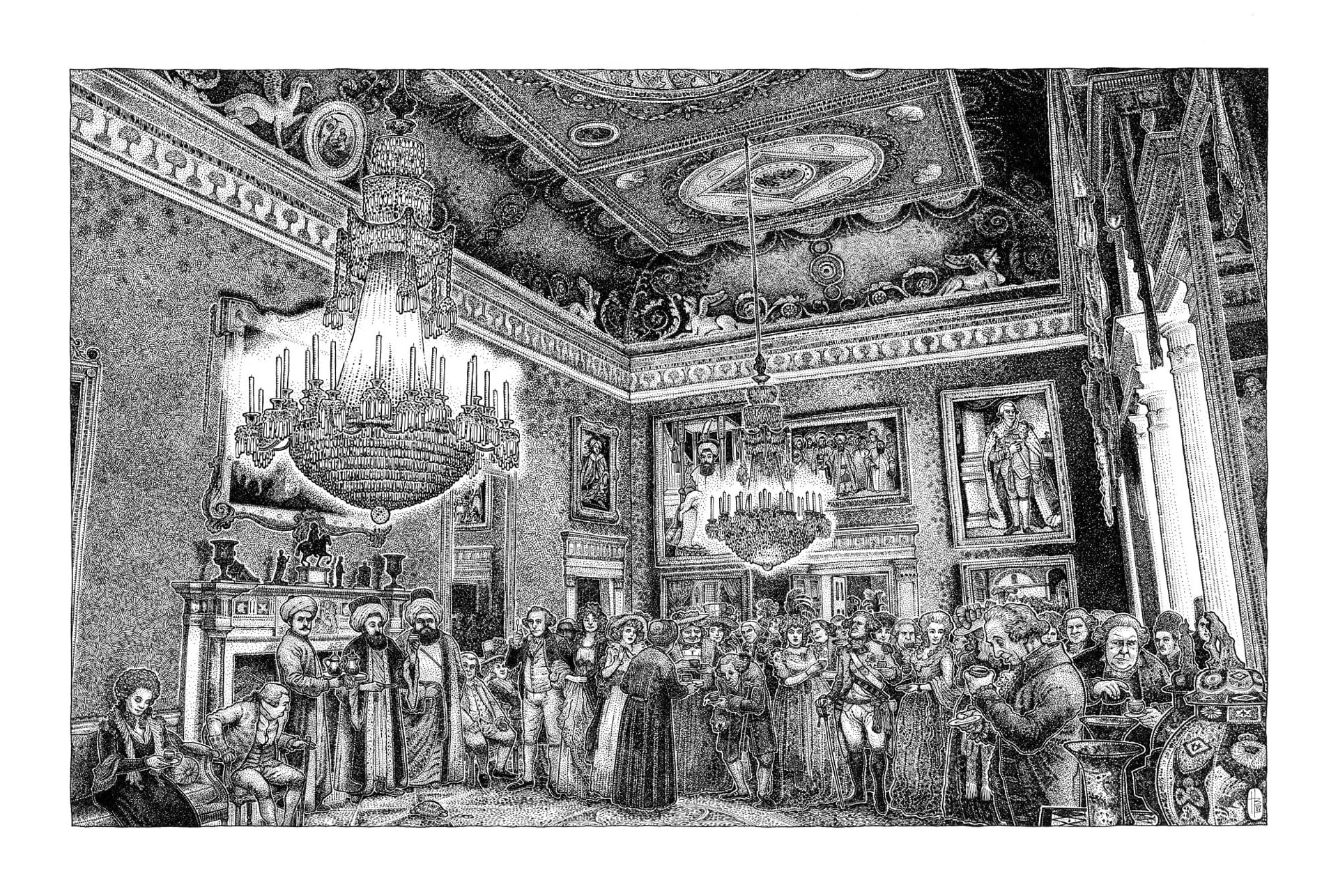 Celebrating its 10th anniversary this year, Pera Museum invites artist Benoît Hamet to reinterpret key pieces from its collections, casting a humourous eye over 'historical' events, both imagined and factual. Each month we will witness an episode from the visit of Yusuf Agah Efendi, the first ambassador of the Ottoman State to England. Passing through Austria, Germany, and Belgium, his delegation arrived in England by way of sea in 1793. Ambassador during the reign of the Mad King George III, we imagine just what might have happened during formal occasions as two vastly different cultures met.
This month Hamet's intricate drawing tells the imaginary story of the introduction of Turkish coffee to the British aristocracy. As the ambassador and his aides present this new way of preparing coffee to the court, scroll through their reactions: here someone looks delighted, there someone is dozing. And here – here one gentleman has decided to spice things up a bit by adding a spot of brandy.
See how many paintings from the Suna and İnan Kıraç Foundation Orientalist Painting Collection you can spot on the walls – tell us which ones you find. Don't forget to check out our collection exhibition Coffee Break if you haven't already – this unique selection from the Kütahya Tiles and Ceramics Collection investigates the various routines, rituals, and relationships centred on coffee, as well as concepts associated with modernism, such as public space, social roles, and economics, through an examination of coffee culture and Kütahya ceramic production.
Benoît Hamet was born in 1984 in France. He completed his Bachelor and Master's degrees at the European School of Visual Arts Angoulême/Poitiers. He spent one year of his Master's degree on an Erasmus scholarship at the Accademia di Belle Arti di Bologna. He continued working in Angoulême following graduation and illustrated for a variety of French publishers. He currently lives and works in Istanbul.