Although traditionally used as a medium for functional or decorative objects, ceramic has become a medium that is increasingly used by contemporary. Here is the work of some important contemporary ceramic artists from around the world!
Grayson Perry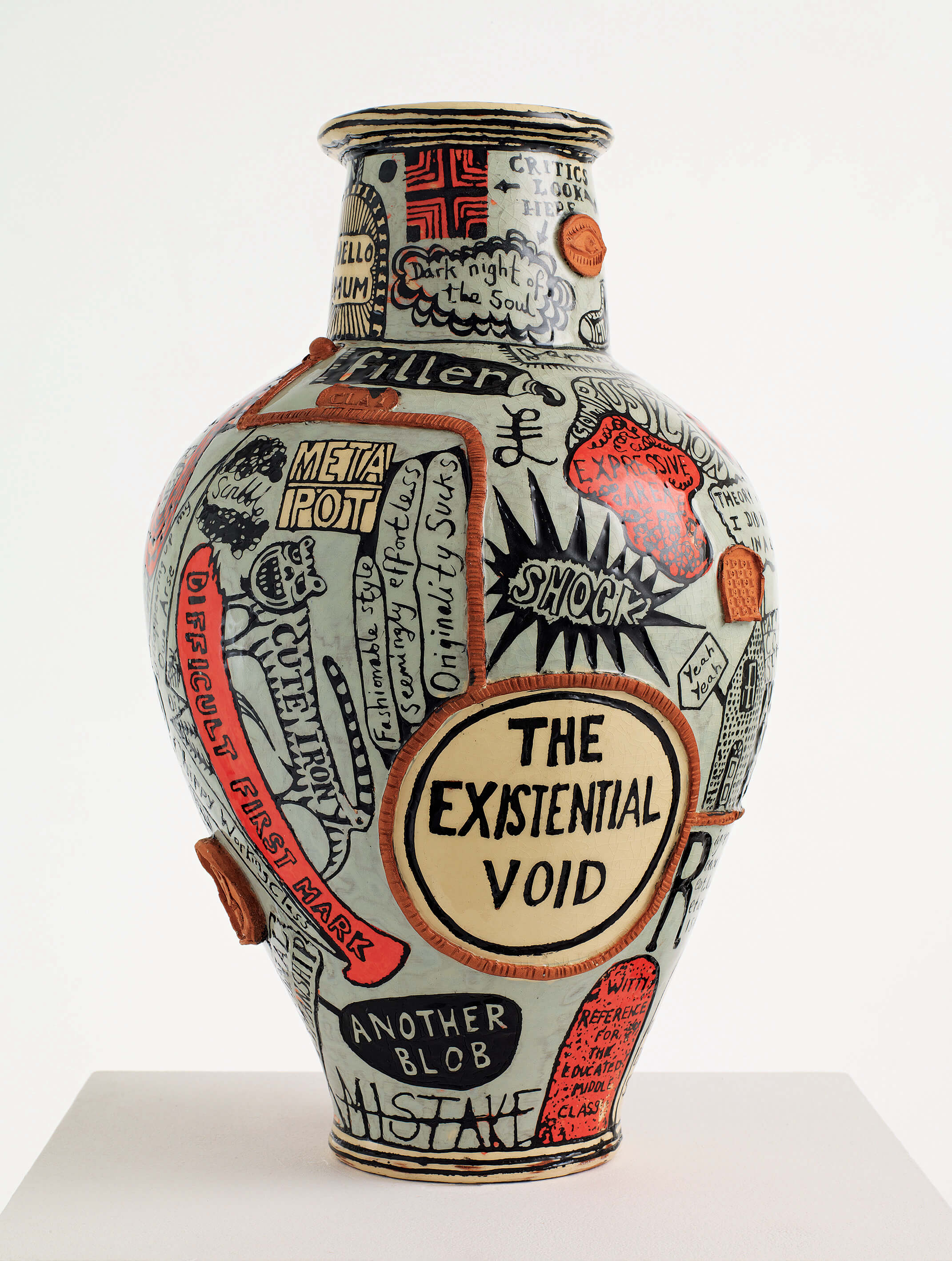 Grayson Perry, The Existential Void, 2012
"I like the whole iconography of pottery. It hasn't got any big pretensions to being great public works of art, and no matter how brash a statement I make, on a pot it will always have certain humility."
Grayson Perry
Grayson Perry was born in 1960 in Essex. He received the prestigious Turner Prize in 2003, which was the first time it was given to a ceramic artist. He was introduced to the Turkish audience at Pera Museum with a solo show in 2016 titled "Grayson Perry: Small Differences". He is known for his ceramic vases, which have classical forms and are decorated in bright colors, depicting subjects at odds with their attractive appearance. There is a strong autobiographical element in his work, where we often see Perry's alter ego Claire. His work draws from Greek pottery and folk art. He uses the traditional method of coiling, as well as glazing, incision and embossing, and photographic transfer. Perry's ceramics are highly expressive: he often comments on the British social structure. His work carries the traditional craft-like nature of ceramics to a conceptual contemporary art form.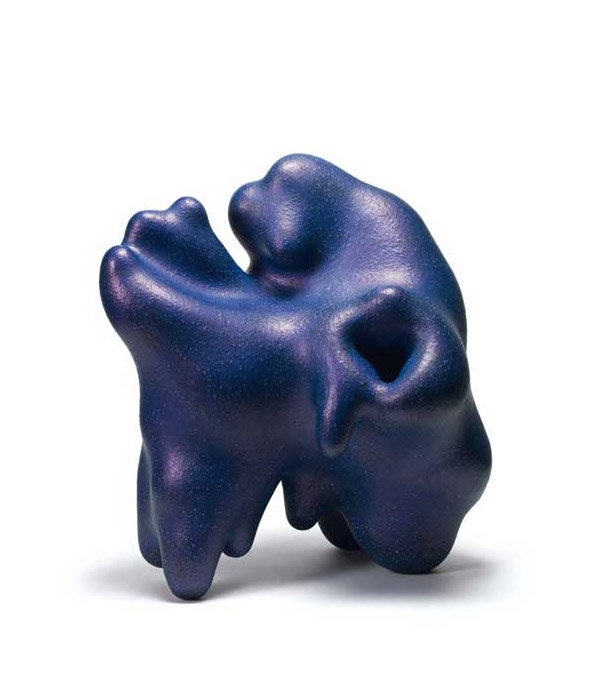 Ken Price, Underhung, 1997
"The color thing, it's very intuitive; it's not some sort of formula. It's how they feel, really."
Ken Price
Ken Price was born in 1935 in Los Angeles. He uses fired clay to create abstract shapes. The painted colorful layers are usually not glazed, but sanded. He is one of the important figures who contributed to the change of the traditional perception of ceramics as craft. He approached ceramics from a contemporary point of view and challenged the traditional use of ceramics as functional objects. In the 1960s Price was at the center of LA's avant-garde art scene. Price's inspirations included: Bauhaus, Japanese ceramics, classic Southwestern pottery, jazz music and counter cultures of the 1960s.
Arlene Shechet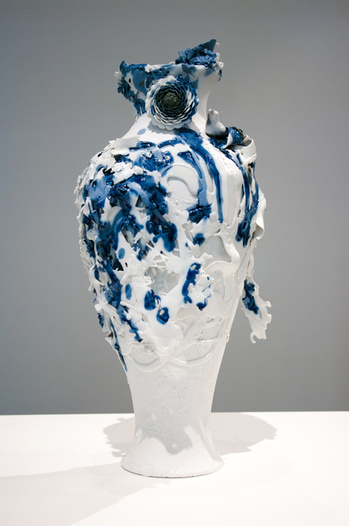 Arlene Shechet, Masterpiece II, 2013 
"It's the formless becoming form. I'm looking to catch a moment in there." 
Arlene Shechet  
Arlene Shechet was born in 1951 in New York City. She has an experimental approach to ceramic sculpture where she challenges the limits of color, gravity and texture. She is inspired by traditional forms and color use, but she combines her ceramic works with plinths that are made of wood, steel or concrete. She was an artist in residence in Mesissen Porcelain Manufactory in Germany in 2012, where she produced ceramic sculptures with white surfaces and refined aesthetic associated with traditional Meissen porcelain. She brought together original Meissen olds and her own molds of those molds to create idiosyncratic forms and glazed surfaces built up with multiple firings.
Ai Weiwei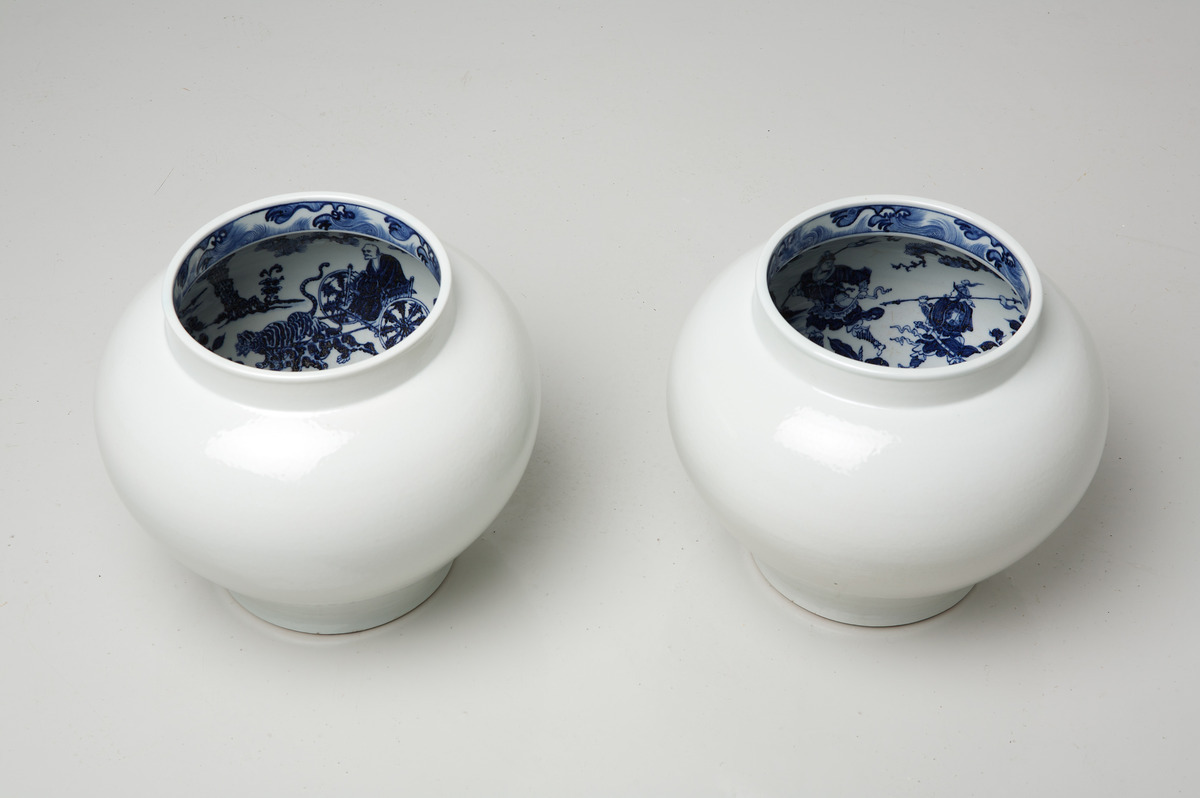 Ai Weiwei, Ghost Gu, 2007 

"I'm a freak of technical control." 
Ai Weiwei 
Born in 1957 in Bejing, Ai Weiwei became a globally known political activist as well as an artist. His exhibition "Ai Weiwei On Porcelain", that brings together his work that draws from Chinese and Greek pottery ornamentation and Egyptian wall paintings, continues at the Sakıp Sabancı Museum. Ai's Chinese background allows him to use traditional methods and patterns of ceramics to create contemporary forms and express political opinions. One of his famous ceramic installation Sunflower Seeds displayed 100 million handmade and painted porcelain sunflower seeds that weighted about 150 tons and were made by Jingdezhen artisans. Jingdezhen was known for this particular traditional method in which a thirty-step procedure was used. Ai Weiwei used the region's traditional approach to porcelain to challenge the "made in China" concept, raising questions about the labor aspect of the work.
 Betty Woodman
Betty Woodman, Azrec Vase and Caerpet #2, 2012

"A potter makes something that lives in a situation." 
Betty Woodman
Betty Woodman was born in 1930 in Norwalk. Woodman is known for her vibrant ceramic sculptures. She began working with ceramics in the 1950s. She states that ceramics was always a macho world, but she explored the possibilities of the medium by introducing new techniques and combining it with different media, especially painting. She became interested in the Mediterranean clay tradition in the early 50s and found the experience of doing the same thing that had been done since 3000 BC, thrilling. Her work carries elements of her fascination with the Mediterranean, as well as a constant experimentation and urge to explore new methods. She combines unusual materials with slip glaze that was used on ancient ceramics.
Bertozzi & Casoni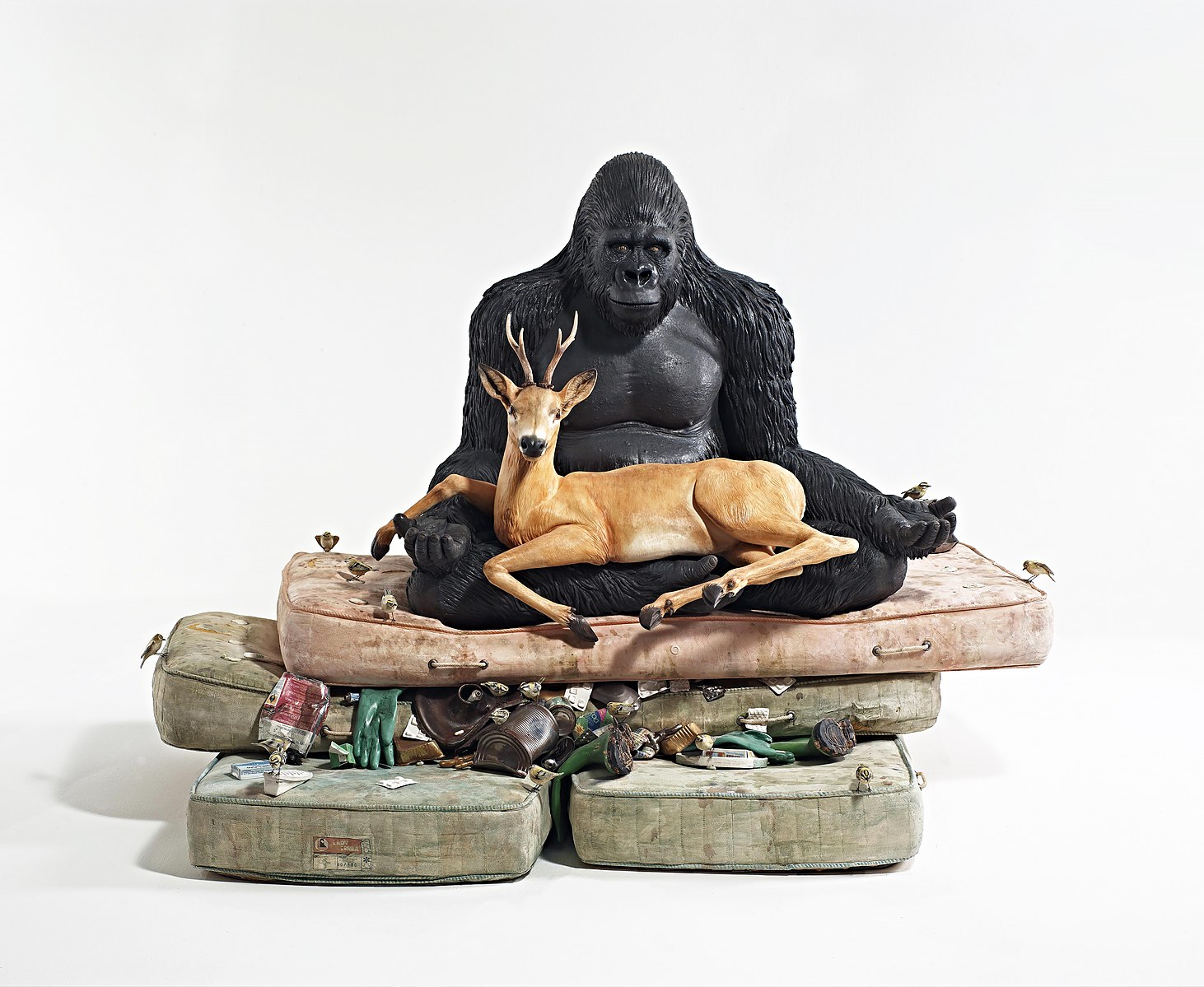 Bertozzi & Casoni, Regeneration, 2012, ceramic polychroma 
 
"It is in decay where you can perceive true life, where you can see a human being's essence, not in the glossy image which is simply a wonderful and deceptive coating."
Bertozzi & Casoni
Giampolo Bertozzi was born in 1957 in Bologna and Stefano Del Monte Casoni was born in 1961 in Lugo di Romagna. Bertozzi & Casoni was founded in 1980 by coming together in Imola. Since their early studies at the Faenza Ceramics Institute, their interests have turned to tradition and dialogue in art. Anticipating the possibility of painted sculpture in ceramics, they experimented with sculpture. Then, the duo, who attended the Bologna Academy of Fine Arts, focused on the formation of "new ceramics" and produced their first works using small and thin polychrome majolica. The duo, whose work is the focus of attention of many art critics and museums, explores the wastefulness of contemporary society between compositional surrealism and formal hyper-realism, without excluding the cultural and the artistic.
Alev Ebüziyya Siesbye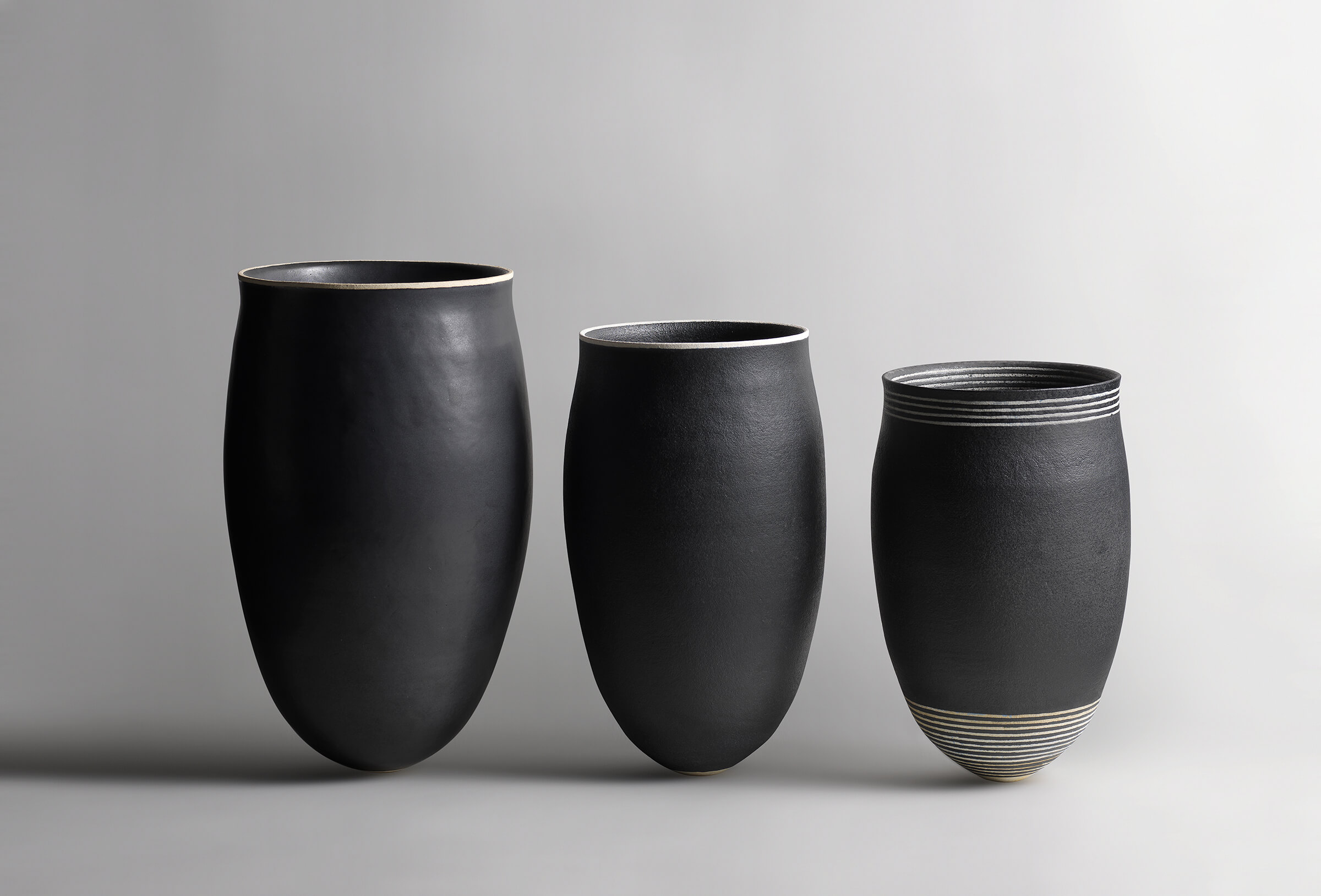 Alev Ebüzziya Siesbye, Untitled, 2019-2020, h 40.5 cm, r 21.5 cm, h 36 cm, r 18 cm, h 33 cm, r 19 cm. Photography: Hadiye Cangökçe 

"Plain is the world's most complicated thing. Because to reach it one needs to go through and to put things through many filters…"
Alev Ebüzziya Siesbye 
Siesbye was born in Istanbul in 1938. The artist, who completed her education in England entered the sculpture department at Mimar Sinan Fine Arts University in 1956 in Istanbul, became a student of Füreya Koral, and also worked in her workshop. In the following years, she became a designer at Eczacıbaşı Ceramic Factory and at the Royal Danish Porcelain Factory in Copenhagen. The artist, who established her first workshop in Copenhagen in 1969, moved her workshop to Paris in 1987. The artist, who has about 3,000 works in various collections today, tries to perfect the forms and traditions that have continued for centuries in her works.
Katsuyo Aoki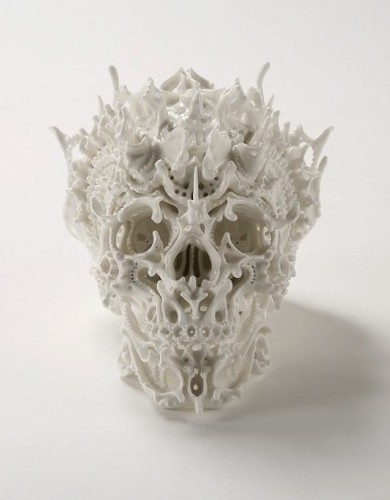 Katsuyo Aoki, Predictive Dream XXIV, 210 × 140 × 220 mm, 2011, Porcelain
"The decorative styles and forms I allude to and incorporate in my works each contain a story based on historical backgrounds and ideas, myths, and allegories." 
Katsuyo Aoki

Aoki was born in 1972 in Tokyo, Japan. The artist, who graduated from the Ceramics Department of Tama Art University, produced works emphasizing the ornamentation, craft and narrative features that were tried to be eliminated with the influence of modernism. Aoki tries to construct a complex language of expression. While the exaggerated exterior surfaces of his works express the inner World of humans, he questions our relationship with life and death. The artist draws the audience in a different dimension with his spiritual works that suggest fantastic narratives. She creates large ceramic plates by using the blue-white painting technique of skull motifs, which are among her well-known works.
Bouke De Vries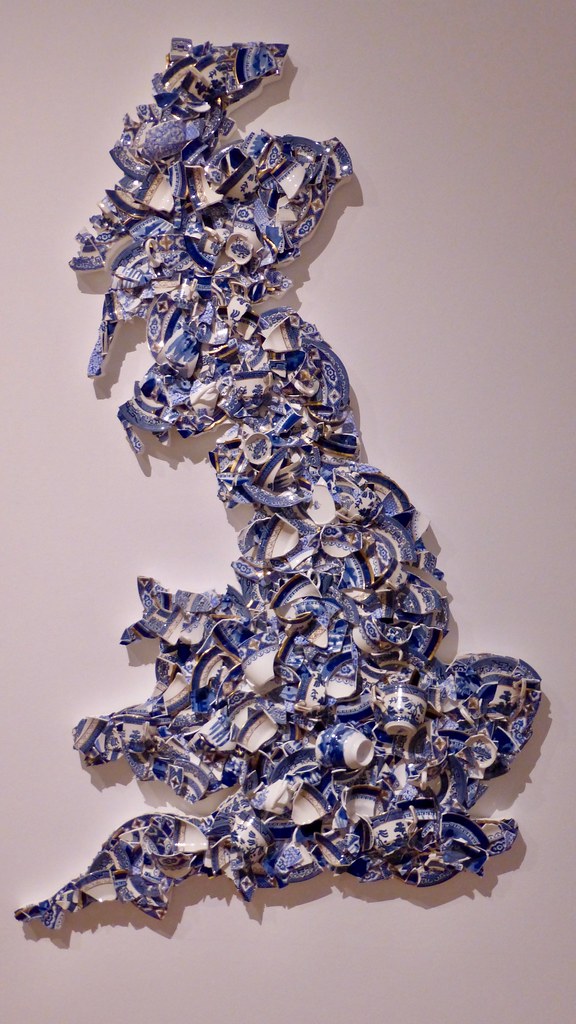 Bouke De Veries, Tea time Britain, 2019, 19th and 20th century blue and white English transfer wares, 1500 x 950 mm 
"Creative. Iconoclastic. Ancient. Modern. Serious. Funny."
Bouke De Veries 
He was born in 1960 in Utrecht, Netherlands. After studying at Eindhoven Design Academy and Central Saint Martin's in London, the artist, who worked with names such as John Galliano and Stephen Jones, headed to the ceramic conservation and restoration department at West Dean College. Rather than building ceramics, he prefers to demolish them. In this way, new values ​​and stories are instilled in a ceramic object, emphasizing its new status. The artist, who was introduced to the Kintsugi technique during his years of working in conservation, still produces works using this technique today. The artist, who not only uses this technique but also plays with it conceptually, uses pieces that are pieced together with gold plating.
Magdalene Odundo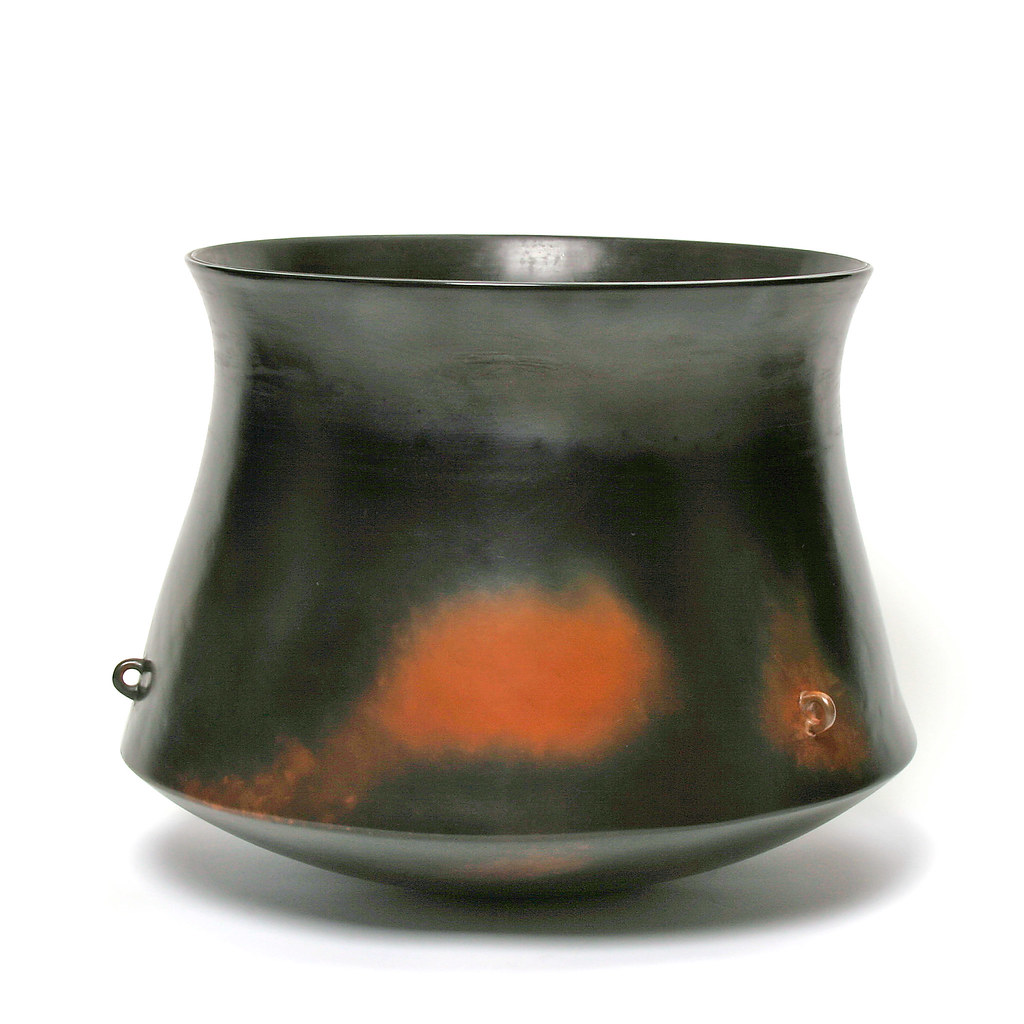 Magdalene Odundo, Vessel Series IV, no.1, 2006, Red clay, carbonized and multi-fired

"Of all mediums, clay is the most versatile, pliable and human."
Magdalene Odundo
She was born in Nairobi Nigeria in 1950. She graduated from the graphic design and art department at Kabete National Polytechnic University. She moved to England in 1971 to concentrate on graphic design. Her interest in ceramics began during her years in England, and she studied traditional handmade pottery techniques at the pottery training center she visited in Abuja during her trip to Nigeria between 1974-1975. The artist, who produces her best-known ceramics using the wrapping technique, produces each of her works by finishing, lining and re-polishing. She fires each piece of art she produces in an oxidizing environment, allowing it to acquire red and orange colors. These techniques, in addition to being used by the ancient Greeks and Romans, are also inspired by countries such as China and Mexico. The artist, whose works usually take their form from the human body, frequently uses the female body in her works.
Take a look at our Kütahya Tiles and Ceramics Collection to find out about ceramics that is traditionally used as a medium for functional or decorative objects!