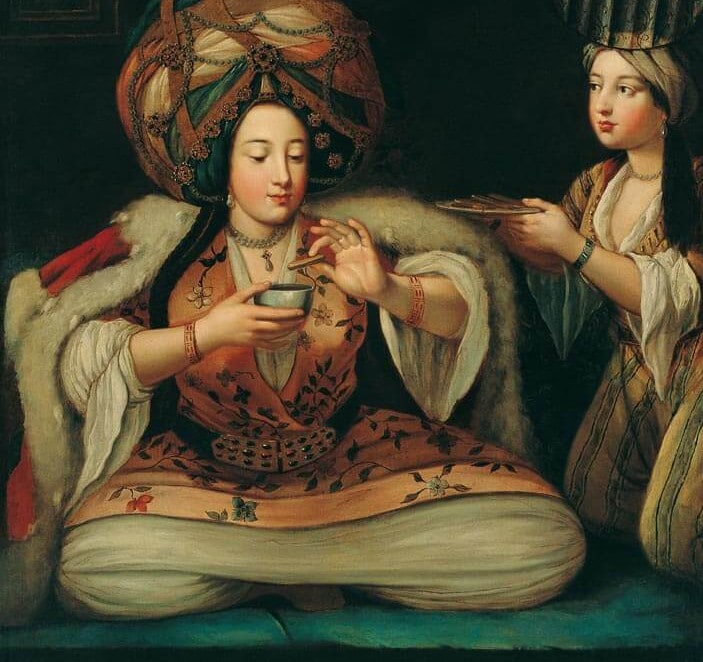 Enjoying Coffee, Unknown Painter (French School), First half of the 18th century, Oil on Canvas, 112 x 101,5 cm.

Due to its existence behind closed doors, the lifestyle and attires of the women in the Harem have been one of the most fascinating topics for western painters and art enthusiasts alike. In earlier periods, the outfits of the sultans, especially the headdresses were depicted partly relying on verbal commentaries and visual resources, and partly relying on semi-imaginary configurations.

From 18th century on, an album of engravings called "Recueil Ferriol," based upon Jean-Baptiste Vanmour's paintings, became the primary visual source material. In the 19th century, with the spread of printed media including visual material, the proliferation of photography and such techniques, and the increase in the number of people visiting the East on account of tourism, the circulation of visual information accelerated. At times, painters would base their ideas on pieces of clothing they found from the bazaar or their neighborhood, take these items back to their countries, and dress their models with them to produce Orientalist paintings.
The changes in the style of headdresses women wore have been one of the principal projections of the modernization of the Ottoman society onto paintings. We have prepared a selection for you from the sceneries found in the Suna and İnan Kıraç Foundation Orientalist Painting Collection!
In this painting, an Ottoman lady drinking coffee and her servant are depicted in dresses in the fashion of those days. The source of its inspiration is "Turkish Girl Drinking Coffee on the Divan", an engraving found in Receuil de cent estampes répresentant differentes nations du Levant illustrated by Vanmour. The difference is that the servant offering the coffee is not standing, but squatting to the left of her lady. Both the necklace around the neck of the lady and the ornate headdresses are copied from the pictures of two women in the book Reisen van Cornelis de Bruyn first published in 1698 by Cornelis de Bruyn, a Dutch traveler and painter who came to the Ottoman Empire in the 17th century.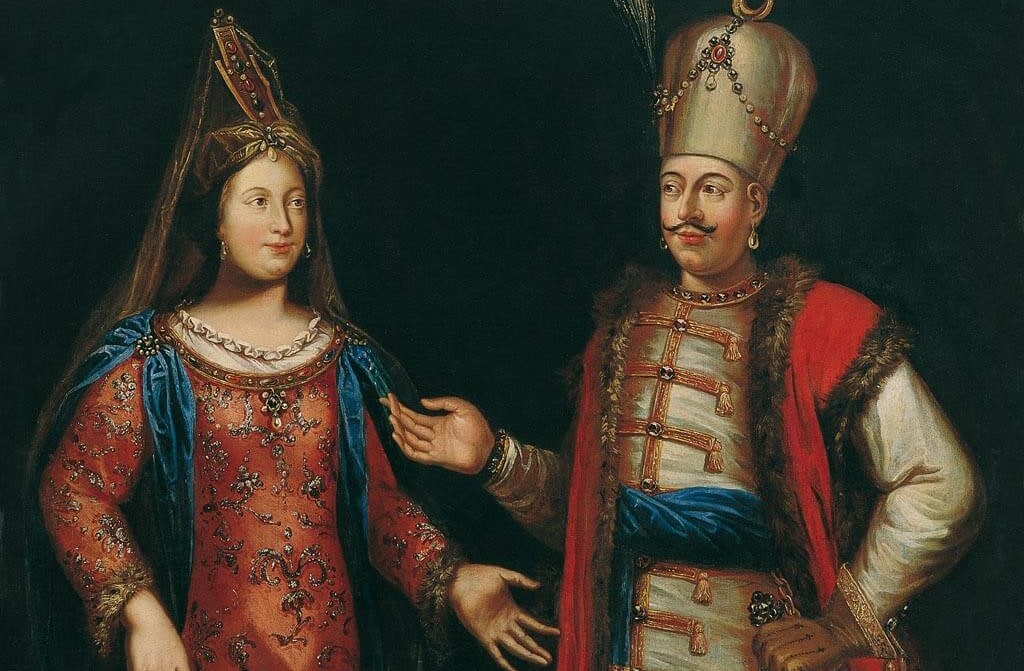 The Ottoman Sultan and His Haseki (Favourite Wife), Painter Unknown, First half of the 18th century, Oil on canvas, 97 x 130,5 cm.
The painting depicts an Ottoman sultan and his haseki in front of a dark background. The two have their hands extended towards each other. The sultan is wearing a red kaftan with fur trimming, over a bejeweled robe with gold embroidery. His head is covered with a bejeweled selimî kavuk, with âlem on the top. The haseki is wearing a red robe with silver embroidery and she has a tall cap decorated with emeralds and rubies, and a hanging veil on the back. The first time this type of tall cap, with the veil hanging from the back, was depicted, was in Jean Jacques Boissard's album of costumes, dated 1581 and titled Habitus Variorum Orbis Gentium. The use of such caps was still widespread in the 17th century. The style of this painting is very similar to Enjoying Coffee in the exhibition and might have been produced in the same studio.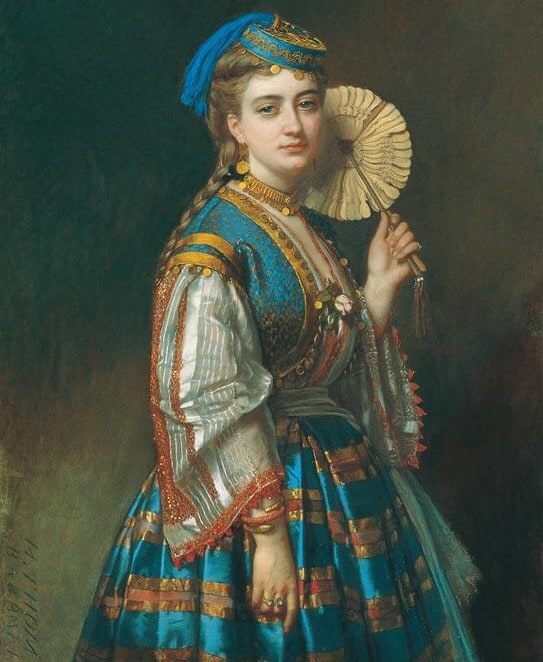 Portrait of dd Young Woman, Thomas De Barbarin, Second half of 19th century, Pastel on canvas, 123 x 87 cm.

The upper part of the costume of this young woman, posing against a dark background with a fan in her hand, reflects Ottoman female fashion.  The woman is wearing a short waistcoat, the borders of which are decorated with gold sequins, over her light shirt with red embroideries; she has pink roses in front of her collar and a long belt wrapped around her waist.  Her hair is in tresses and her head is covered with a short, fez-like cap of the same color as her waistcoat, with gold embroidery and borders decorated with gold coins.  As for jewelry, her gold necklace, long earrings, snake-shaped bracelet and rings with precious stones, are noteworthy.  Her striped taffeta skirt with its heavy pleating, is in European style.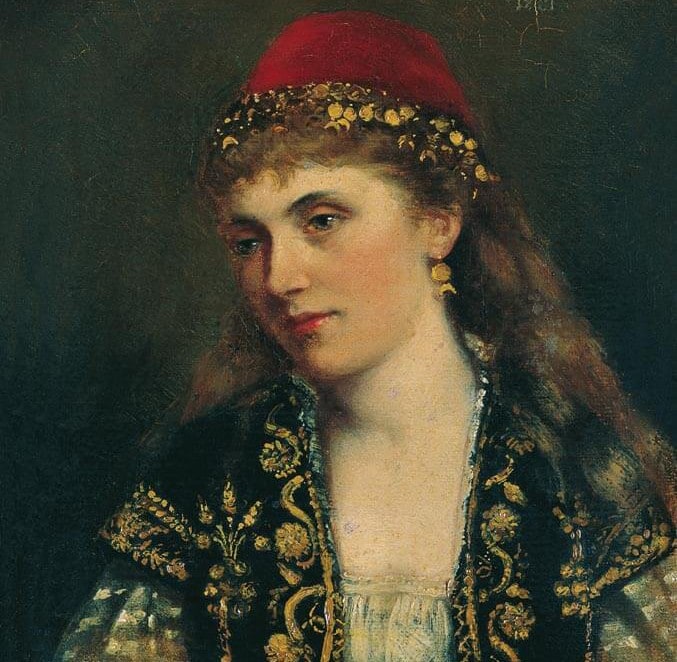 Portrait of A Woman, Bertha Von Bayer, 19th century, Oil on canvas, 20,5 X 17,5 cm.

The young woman in this bust portrait in front of a dark background, is wearing a white waistcoat embroidered with gold floral motifs over a raw silk crepe undershirt and has earrings with golden crescent pendulums. The border of her short fez-like cap, which was widespread in Ottoman lands during the 19th century, is decorated with gold coins and crescents similar to those in her earrings.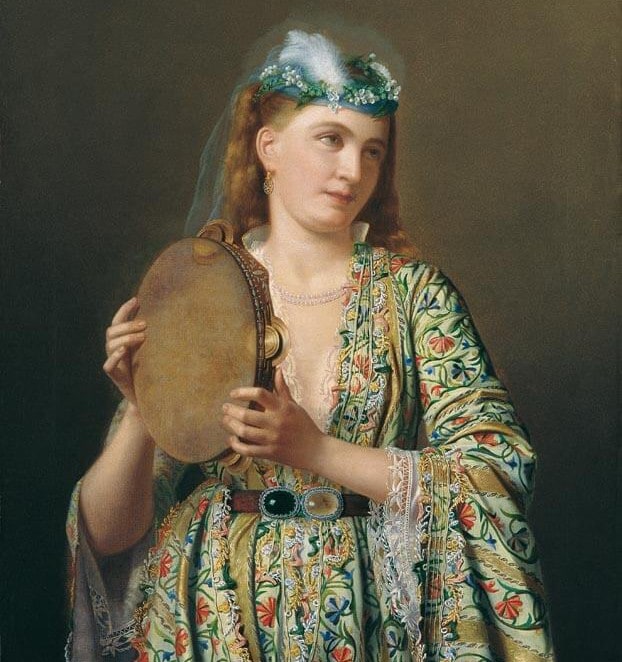 Portrait of A Lady of the Court Playing the Tambourine, Pierre Désiré Guillemet, 1875, Oil on canvas, 98 x 79 cm.

This painting is one of the four half-length portraits of the artist painted in 1874-1875, and depicting young women of the Ottoman Court. The model in this painting, one of four paintings the artist did between 1874 and 1875 depicting the ladies of the Ottoman Court, has been depicted in a half-length portrait. Her dress has been emphasized by means of a neutral background. She is wearing a dört etek robe, made of savai fabric. Part of her undershirt with embroidered borders is visible from her large sleeves and around the edges of her robe. Her robe has a floral pattern with lively colors and her belt has a clasp with a two large stones.    in a silver setting. Her chestnut colored hair flows down to her shoulders; she wears two strands of pearls around her neck and a gold earring with pearls and gems. On her head she wears a cap of blue fabric, decorated with small white flowers, plumes and tulle.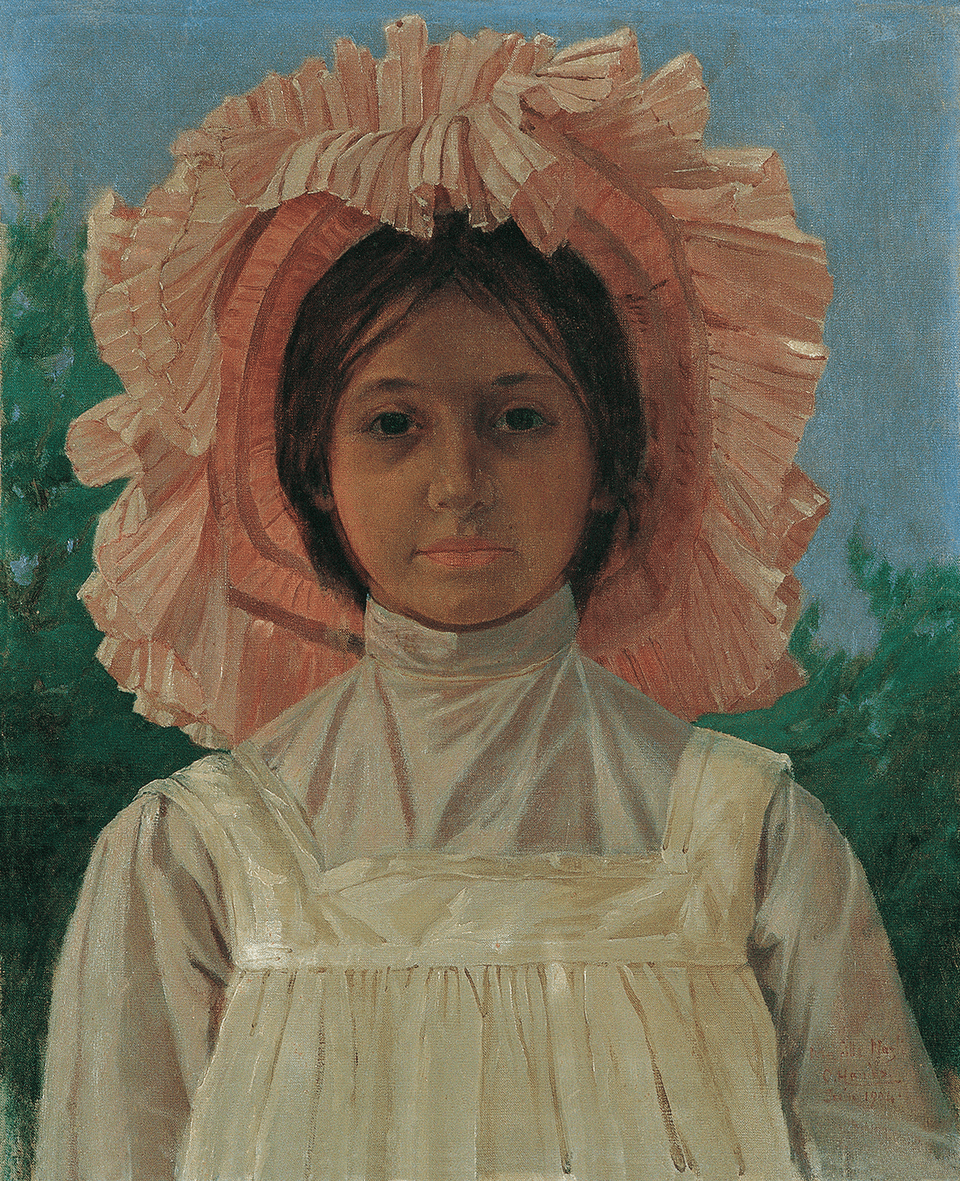 Girl With Pink Cap, Osman Hamdi Bey, June 1904, Oil on canvas, 50 x 40 cm.
Osman Hamdi Bey was known as a painter of the human figure more than anything else and was also a very accomplished portraitist.  The people whose portraits he painted were generally his acquaintances or members of his family. His daughter Nazlı was one of his favorite models. In this painting Nazlı is eleven years old, and she has been portrayed in the open air, wearing a white dress with straight collar and a pink cap with frills on its borders. In these types of portraiture Osman Hamdi Bey used a more impressionistic and naturalistic style, unlike that used in his 'orientalist' paintings. "Ma fille Nazli" is written at the lower right corner of the painting.