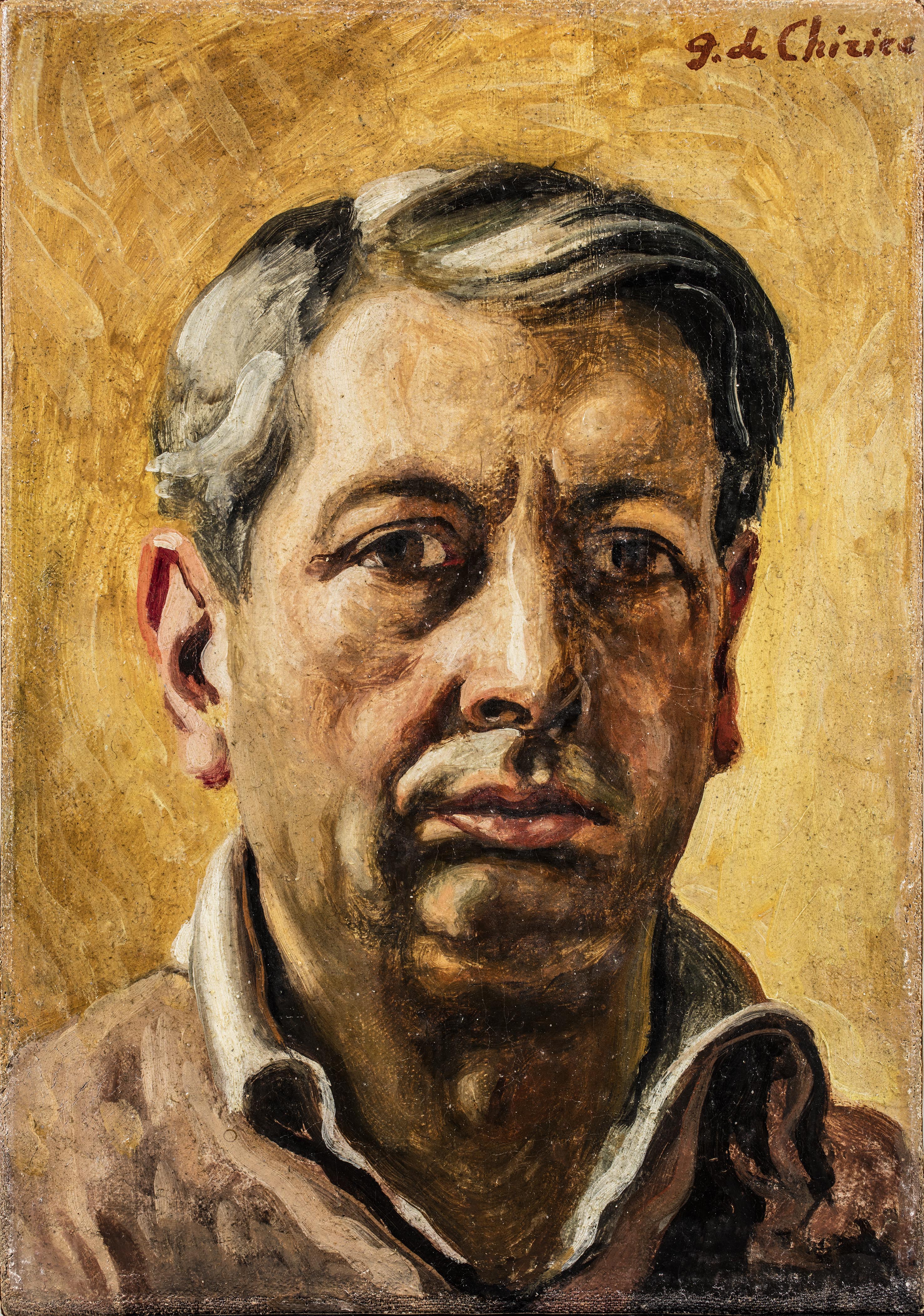 Self-Portrait, 1935
Oil on canvas
26,5 x 18 cm
Fondazione Giorgio e Isa de Chirico Collection, Rome (Env.188)

From Illuminated Naturalism to the Old Painting Technique

De Chirico's bright days in Paris came to an unexpected end when the wave of economic hardship caused by the Great Depression reached the shores of Europe. The Parisian art market and its seemingly unrelenting passion for high-priced contemporary art had been slashed like a knife. From the mid to late 1920s, the subjects the artist dealt with became difficult to find buyers; with the encouragement of Isabella Pakszwer, whom he had just met, de Chirico started to use great masters once again with a new energy, using more traditional subjects and painting techniques in her artistic production. De Chirico spent 1936-1937 in New York in search of a more productive place. After the difficult years of selling his works in Europe, the artist soon began to take advantage of the appropriate American art market. On his return to Europe he lived in Italy from time to time in Paris; the reason for this was his hatred of the fascist regime and its racist laws. In June 1937, he received the news of their mother's death from his brother.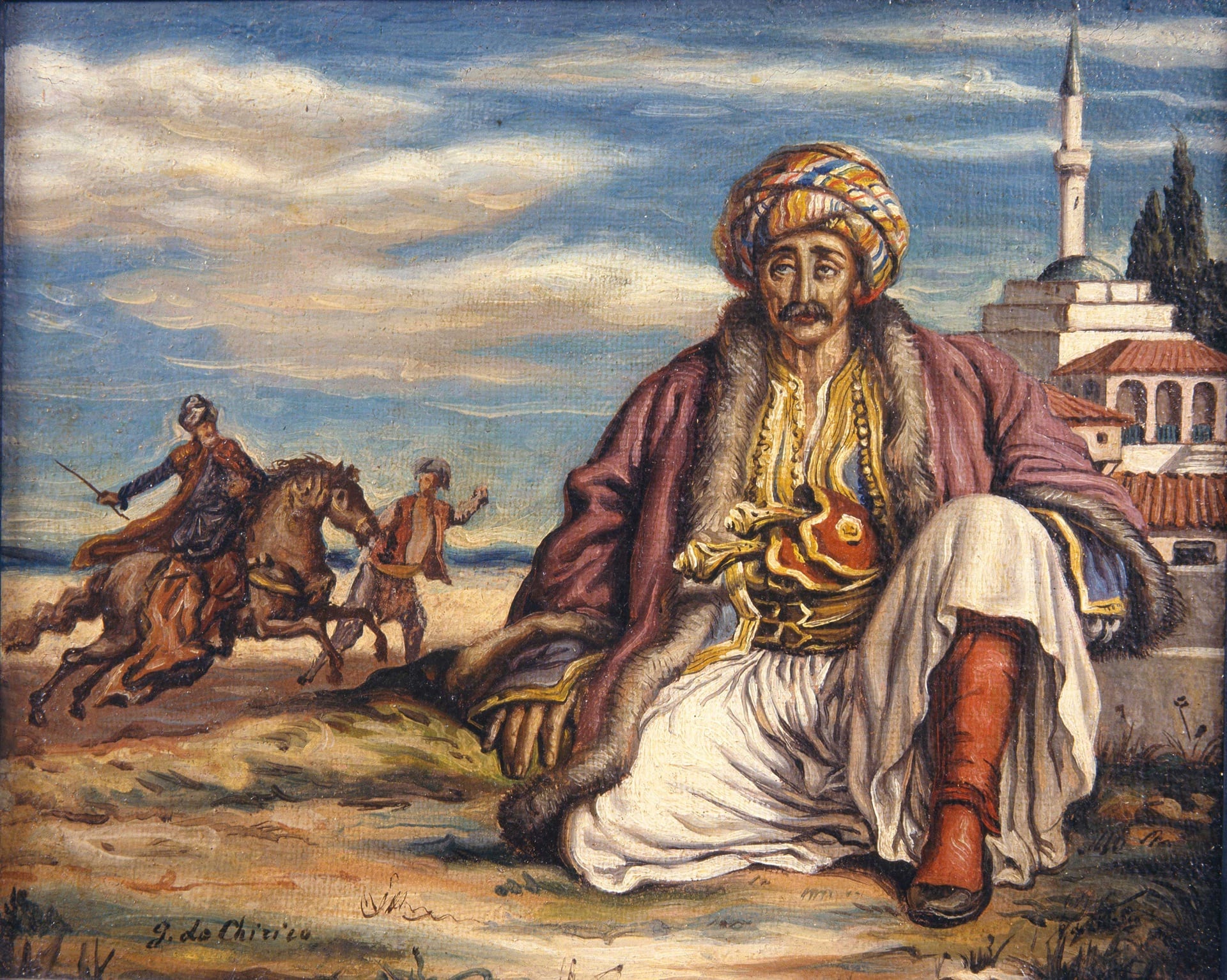 The Turk, 1935. Oil on canvas, 36,5 x 46 cm. Fondazione Giorgio e Isa de Chirico Collection, Rome (Env.234)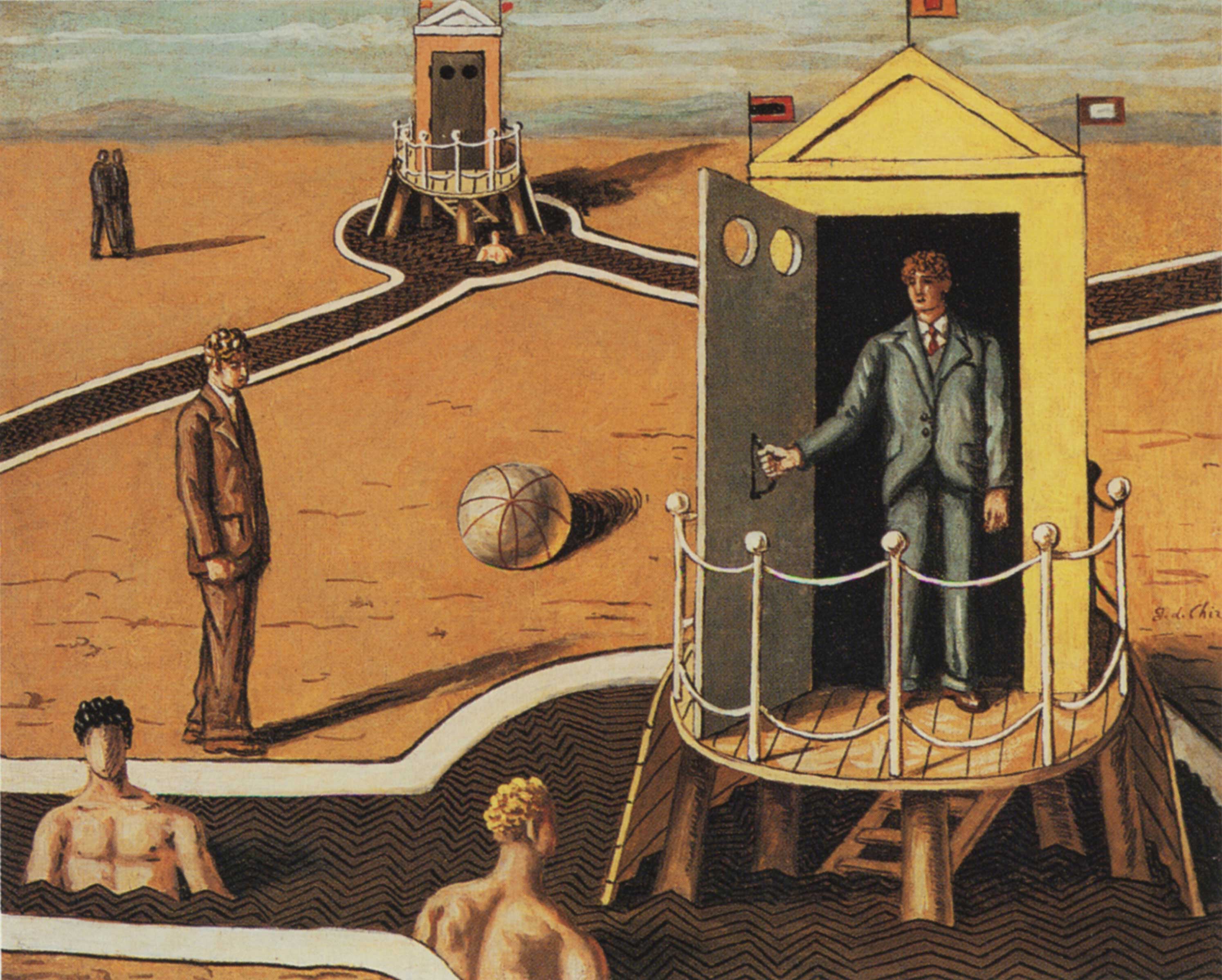 RES.14. Visit to the Mysterious Baths I, 1935 Private Collection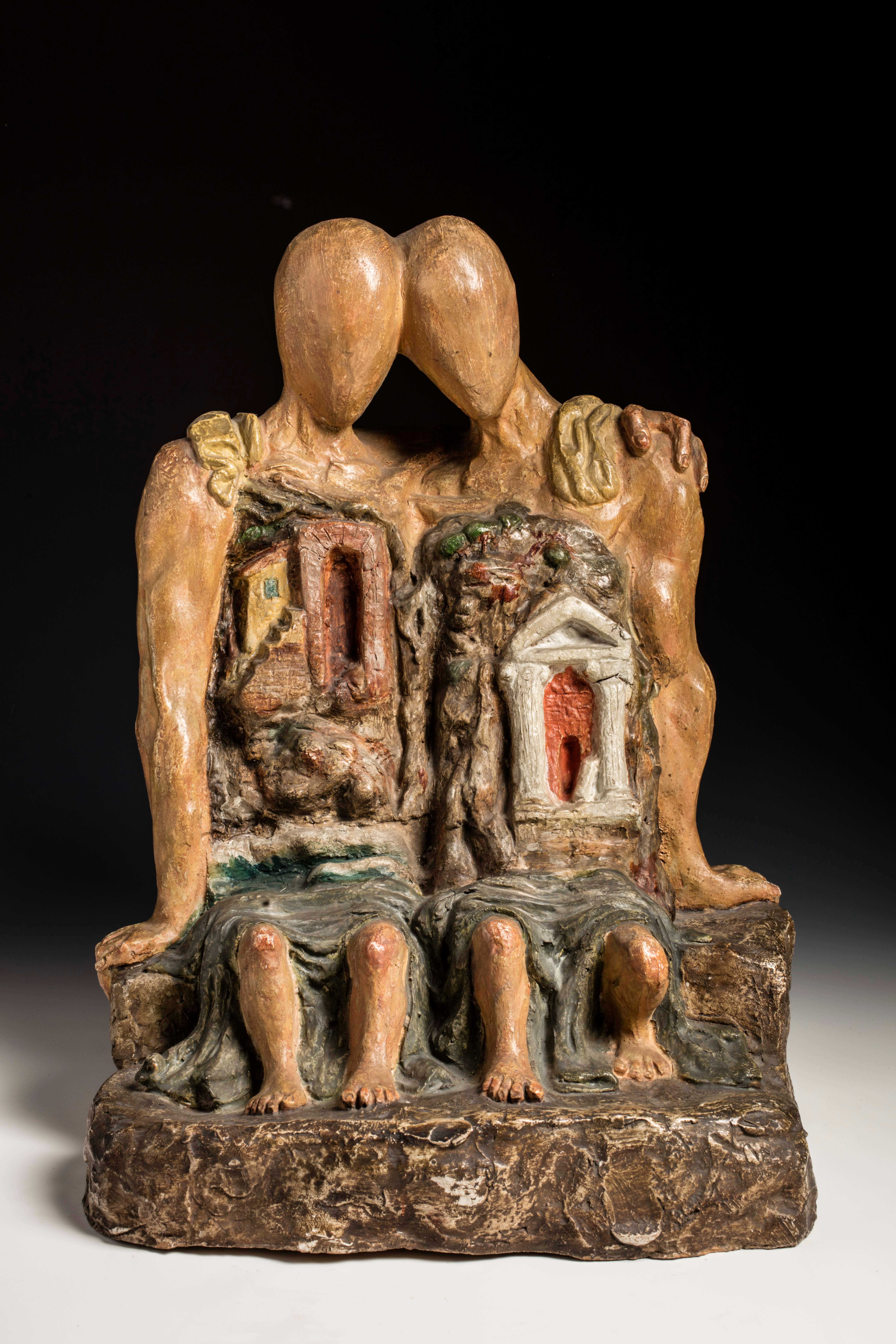 The Archaeologists, 1940
Polychrome terracotta
28 x 22 x 23 cm
Fondazione Giorgio e Isa de Chirico Collection, Rome (Env. S58) )

De Chirico's Statues

De Chirico returned to Italy in January 1938 and settled in Milan; then, outraged by Italy's race laws, he set out for Paris. When Italy went to war, he had to return from France. He exhibited his works in the 3rd National Art Quadrenale in Rome. During the war, the Florentine antiques dealer and friend Luigi Bellini hosted de Chirico and Warsaw-born Russian-born Isabella at her home. In Florence, he began making terracotta sculptures: Archaeologists, Hector and Andromachhe, Hippolytos and his Horse and a Pietà. In 1944, he settled in Rome and in 1947 Piazza di Spagna No.31 and there, he set up his studio and home where he would live for the rest of his life.

De Chirico began dealing with sculpture at a relatively late stage of his career, in the 1940, when he was 52, and in the middle of the Second World War; he made terracotta sculptures of distinguished heroes of his artistic vocabulary — such as Ariadne, the Rider on His Horseback, and the Archaeologists. According to the artist: "If a sculpture is solid, it is not sculpture. The sculpture should be soft and warm; thus, it not only has all the softness of the painting, but also all the colors of the painting. Beautiful sculpture is always like painting. " These early attempts to make sculptures were short-lived, and the artist returned to sculpture only in 1968, at the age of 80. This time, he made bronze casting of previous terracotta works and expanded the scope of his sculptural vocabulary with figures such as Hector and Andromakhe.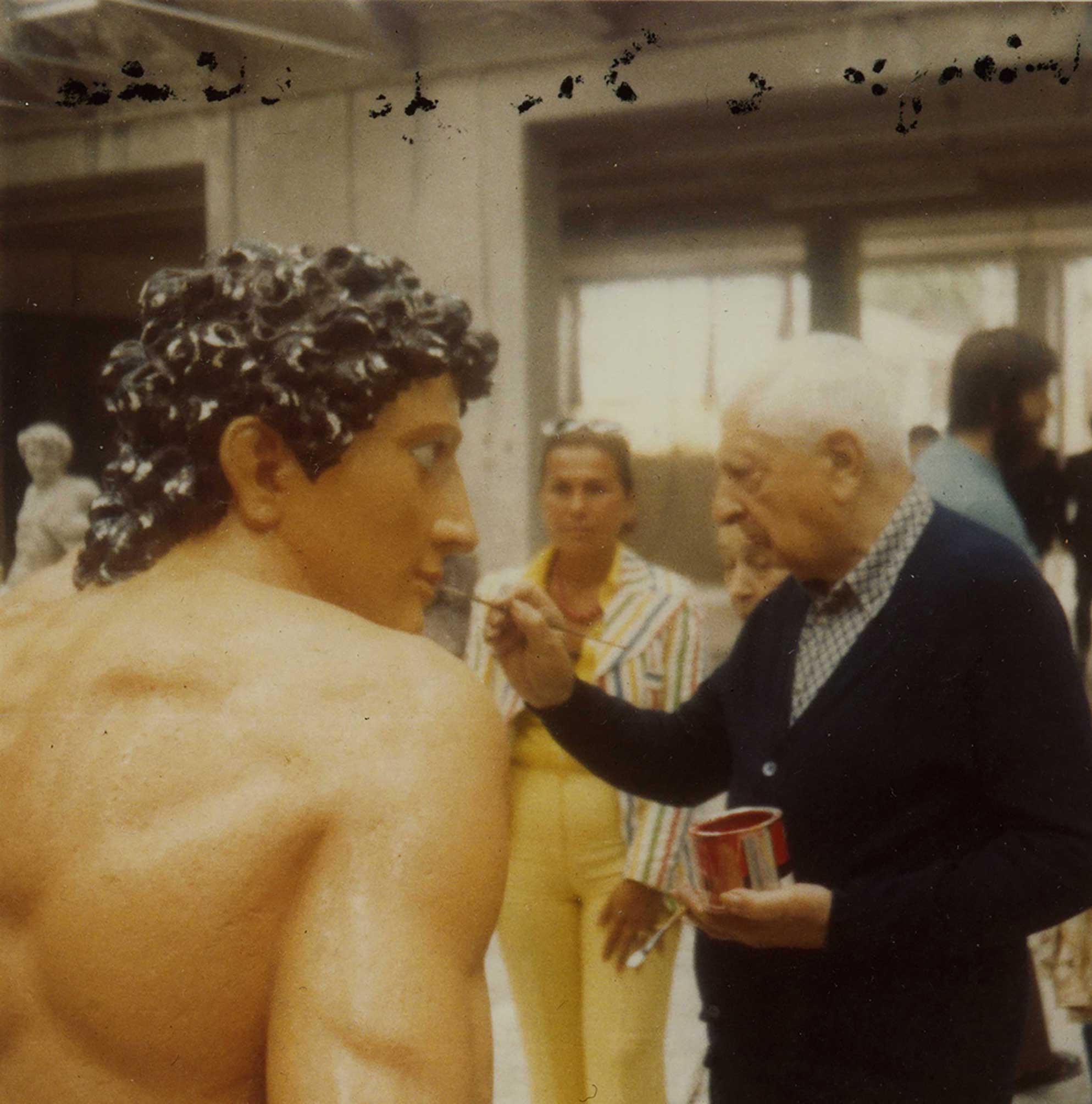 Res.16. De Chirico Painting One of the Bather Statues, 1973
Metaphysics 101

In 1945, he published his autobiography, The Memoirs of Giorgio de Chirico, and the Modern Art Comedy, which consists of critical writings. At the end of 1948, he was elected an honorary member of the Royal Society of British Artists, and opened a personal exhibition in this association the following year. On May 5, 1952, his brother Alberto Savinio died.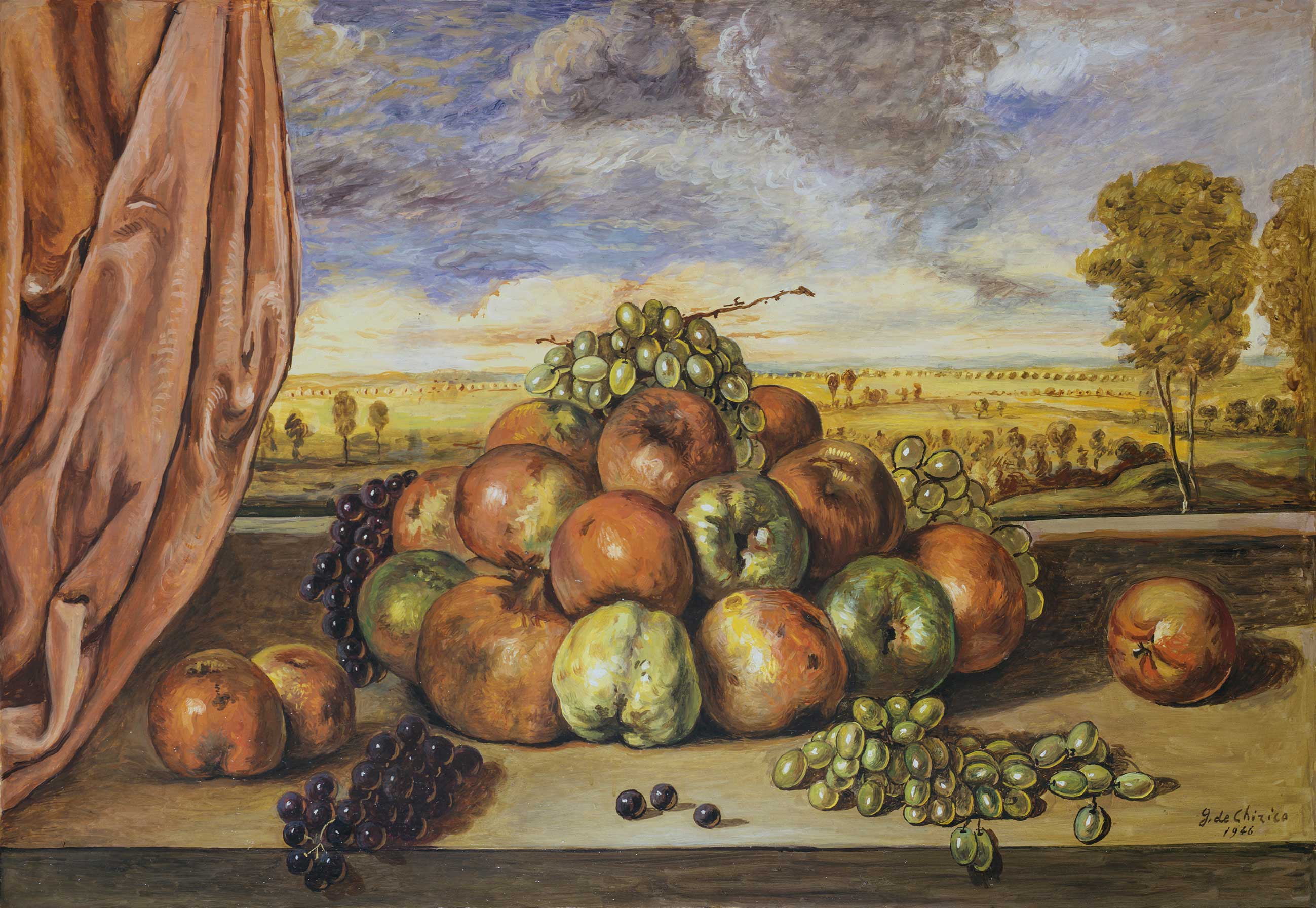 Still-Life, Fruit In a Landscape with Red Curtain, 1946. Oil on canvas, 70 x 100 cm. Fondazione Giorgio e Isa de Chirico Collection, Rome (Env.50)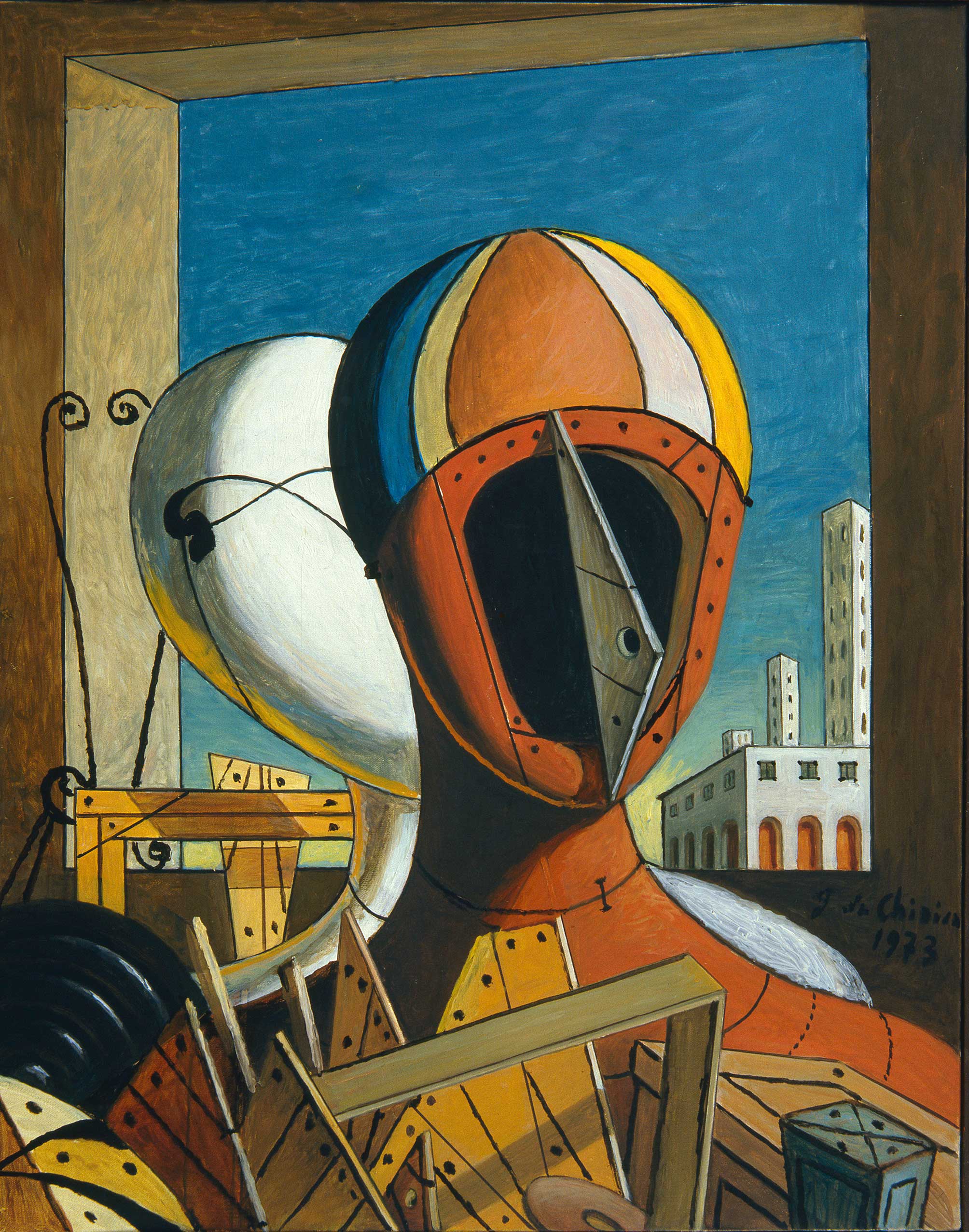 The Masks, 1959
Oil on canvas
50,5 x 40 cm
Fondazione Giorgio e Isa de Chirico Collection, Rome (Env.333)

In 1965 he illustrated Manzoni's Fiancées novel, and in 1968 Quasimodo's translation of the Iliad. In the late 1960s, he started making bronze sculptures. In 1968, at the age of 80, he entered a research phase known as Neo-metaphysical Art. In this phase, he reconsidered the classical subjects in his works such as Italy Square, Mannequin, Metaphysical Interior, Archaeologists and the Sun in the Knight, which he presented in the 1910s, 1920s and 1930s, with bright colors and different from the disturbing mood seen in the early metaphysical period. He reinterpreted with atmospheres. With a deep sense of poetry, new subject combinations appeared in innovative spatial compositions such as Italy Square and the Metaphysical Interior, now featuring mythological figures such as Minerva and Mercurius. In 1970, an important retrospective exhibition of his art was held at the Palazzo Reale in Milan. In 1972, de Chirico through the Eyes of de Chirico was opened in the New York Cultural Center. The exhibition, which he went to New York for its opening, included 182 works from the artist's painting, drawing, sculpture and lithography collection. In 1973, he created the Mysterious Pool design at Sempione Park in Milan for the 15th Triennial. He was elected to the Academy of France in 1974. Giorgio de Chirico died in Rome at the age of 90 on 20 November 1978.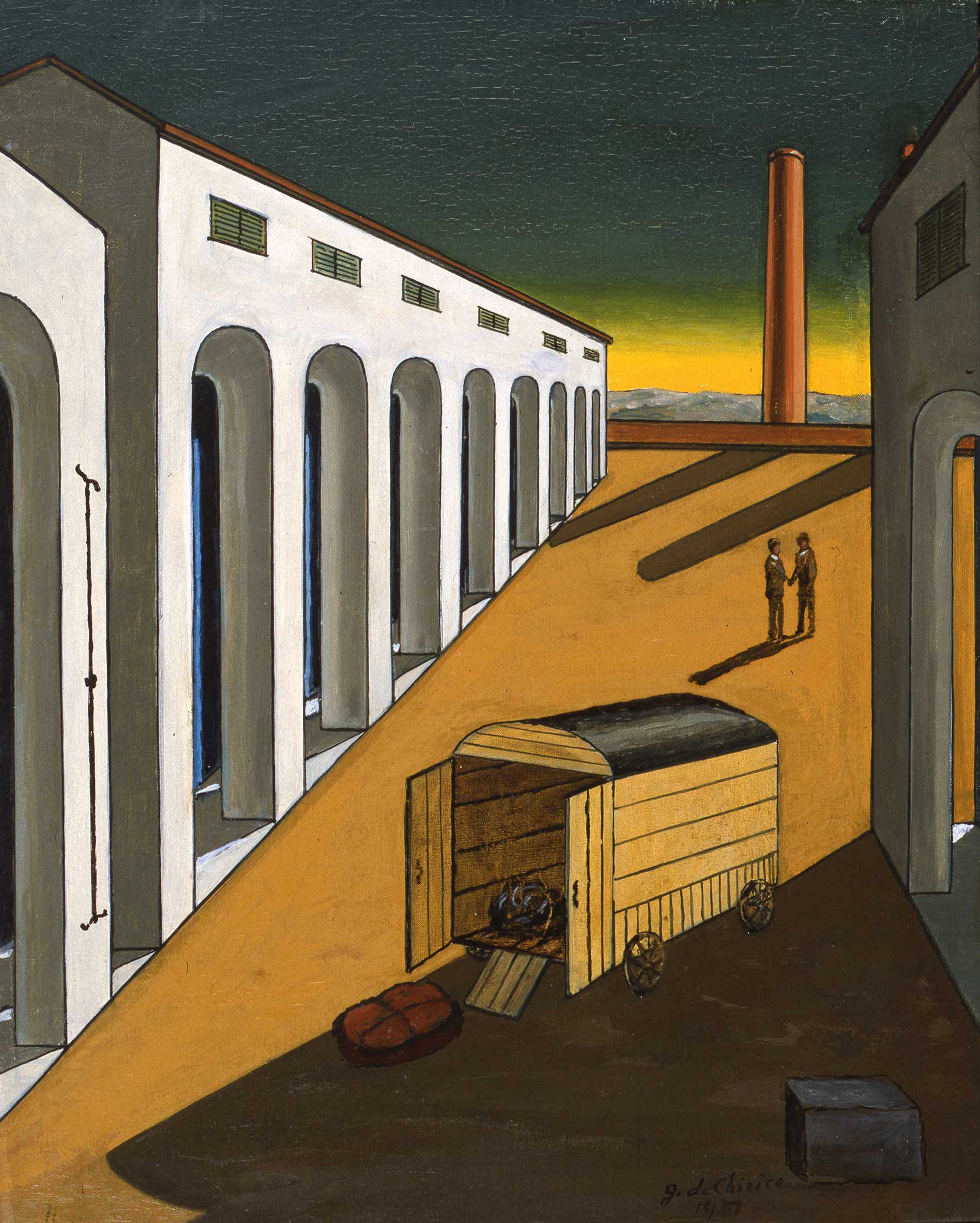 Arrival of the Moving Van, c. 1965 (signed "1951" Oil on canvas 50 x 40 cm Fondazione Giorgio e Isa de Chirico Collection, Rome (Env.60)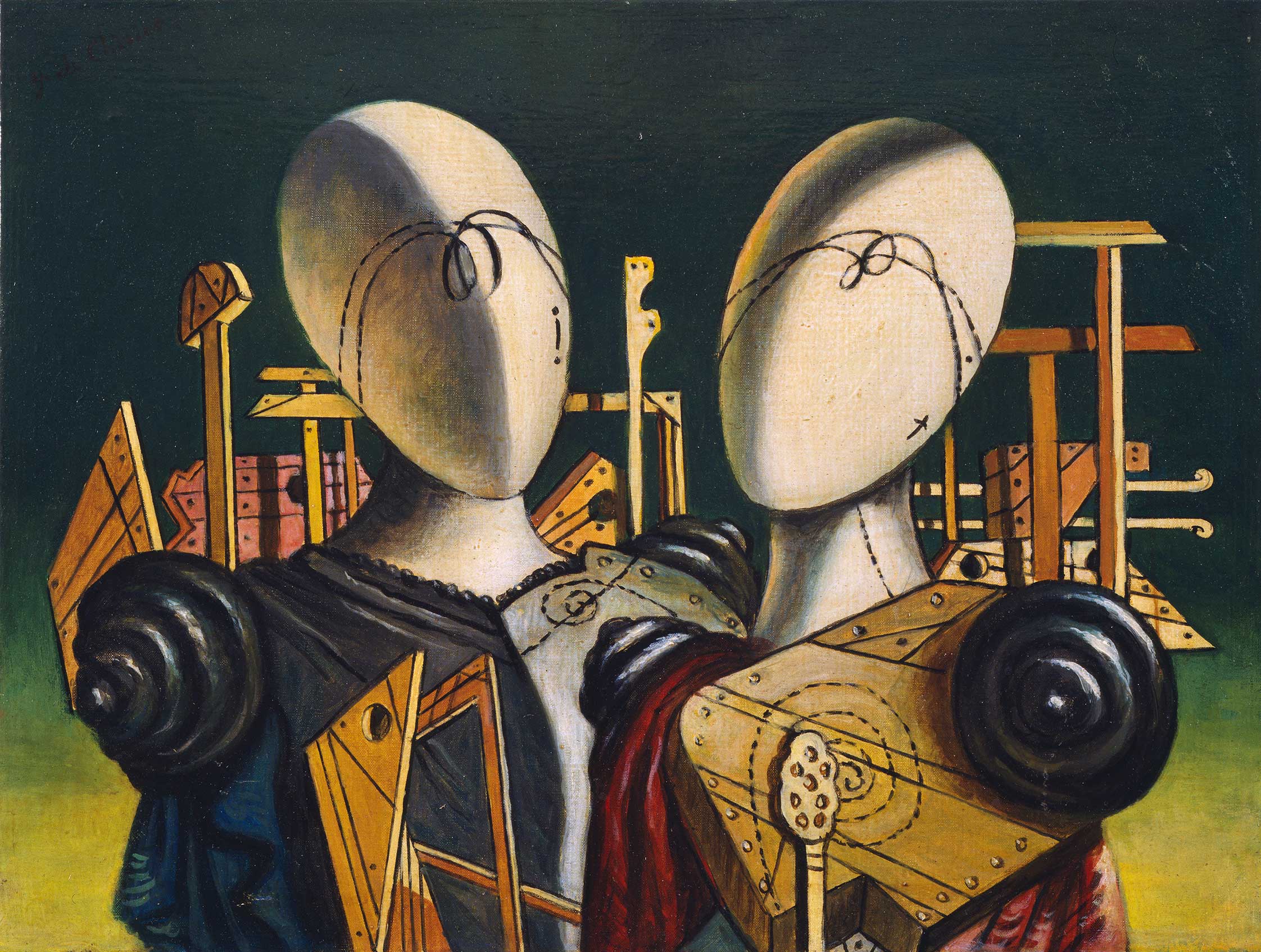 Hector and Andromache, 1970 Oil on canvas 30 x 40 cm Fondazione Giorgio e Isa de Chirico Collection, Rome (Env.3)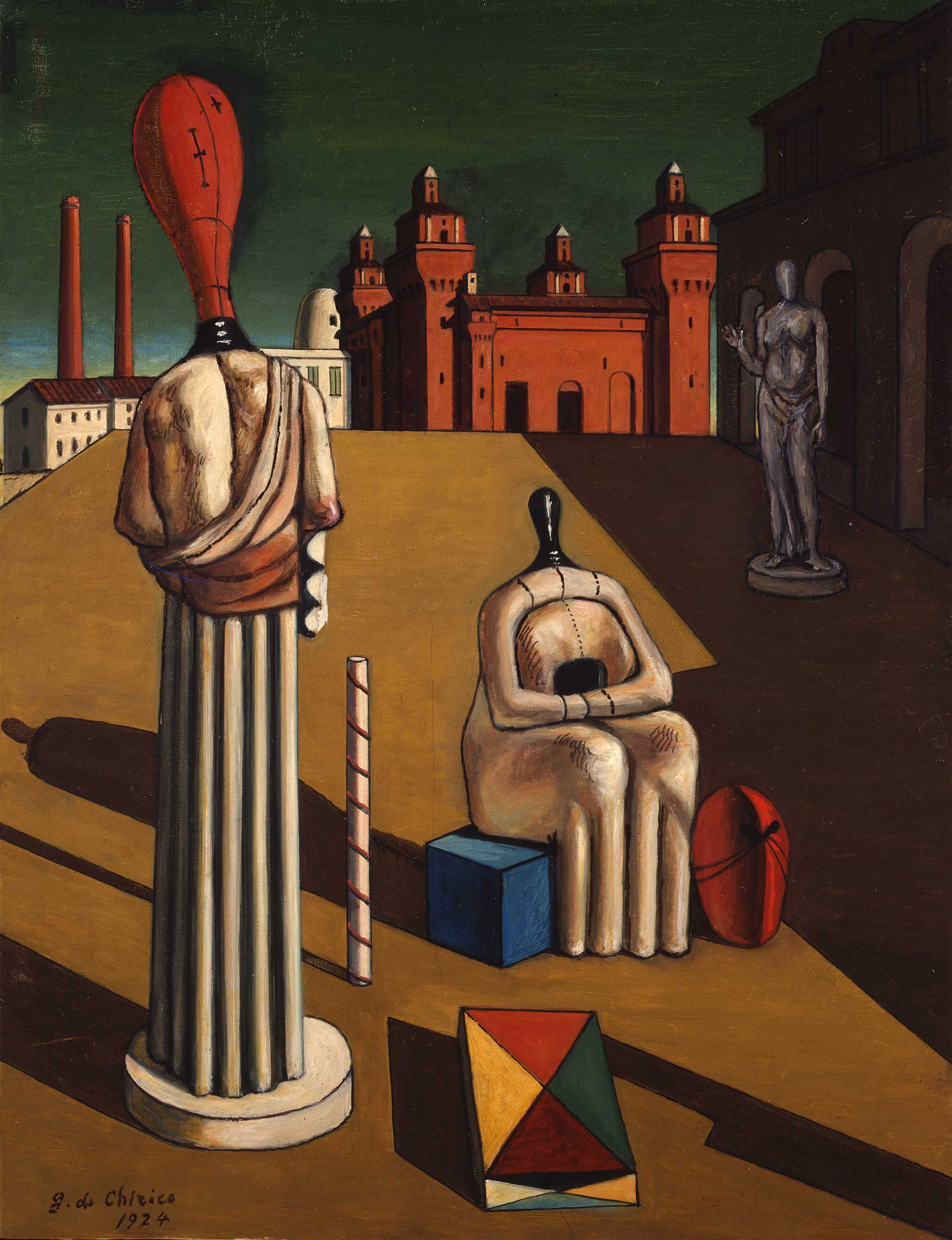 The Disquieting Muses, c. 1974 (signed "1924".) Oil on canvas 65 x 50 cm Fondazione Giorgio e Isa de Chirico Collection, Rome (Env.138)