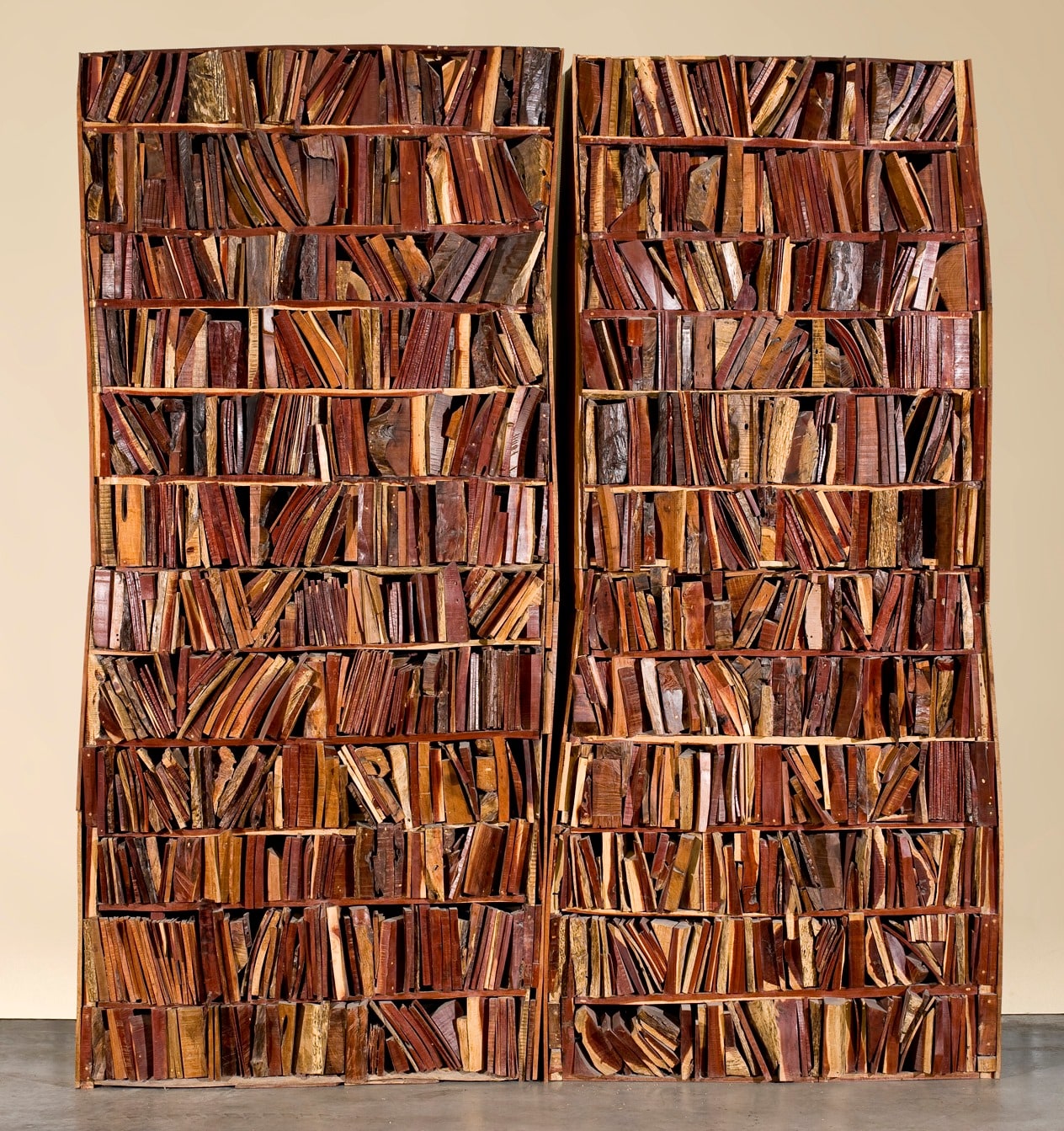 Bookcase, 2006. Wood, 322 X 290 cm.

If Manolo Valdés's paintings convey a search for materiality, his sculpture does so even more. Today, sculpture has taken over most of his workspace, his time, and his efforts.

In their ruinous aspect, Valdés's wooden sculptures are very similar to the sewn-up sackcloth pieces. They are precarious assemblies of scraps of wood—with wooden wedges joining the pieces. "The wood is cut and broken into slivers and fragments," says Valdés. With these embedded fragments, often of different tones, Valdés creates, as Kosme de Barañano wrote, a kind of three-dimensional mosaic. First he selects the wood while it is still green; the planks are then twisted and manipulated until they acquire the Baroque quality required by the artist. The way he works the wood is similar: after using a lathe to turn and hollow out the green wood of his Grecian urns, he deforms and cracks and finally breaks the wood into pieces, which he then painstakingly reconstructs. In this way, a table with books piled on top is re-created as the broken, rough ruin of an everyday piece of furniture. The bookcase series, begun by Valdés in the mid-1990s, also gives the impression of something marvellously dilapidated.

The ruin acquires monumental proportions in his public sculptures, from his Lady of Elx, created for Valencia and later installed on Park Avenue in New York, to the Menina of Alcobendas. I have visited Valdés's studio on the calle Ortega y Gasset, an old garage remodelled by Antón García Abril, and I have seen those great ancient goddesses resting there as if recently unearthed after centuries of undisturbed sleep.

The head is a planet around which invisible satellites orbit, like the rings of Saturn. The head is an upright vase of strange flowers. The head is an anvil beaten by the smithy's hammers. The head is a belfry where storks make their nests. The head is a fortified tower with armed warriors peeping out from its ramparts. The head is an island containing a forest of skyscrapers. These sculpted heads, with their infinite and overwhelming headdresses, are connected to the heads of Valdés's portraits or of his graphic artwork—such as the series Woman with a Hat, in which the same heads appear, wearing headdresses that depict a sketch by Picasso for the young ladies of Avignon, the portrait of Olga with a mantilla, or a Cubist still life.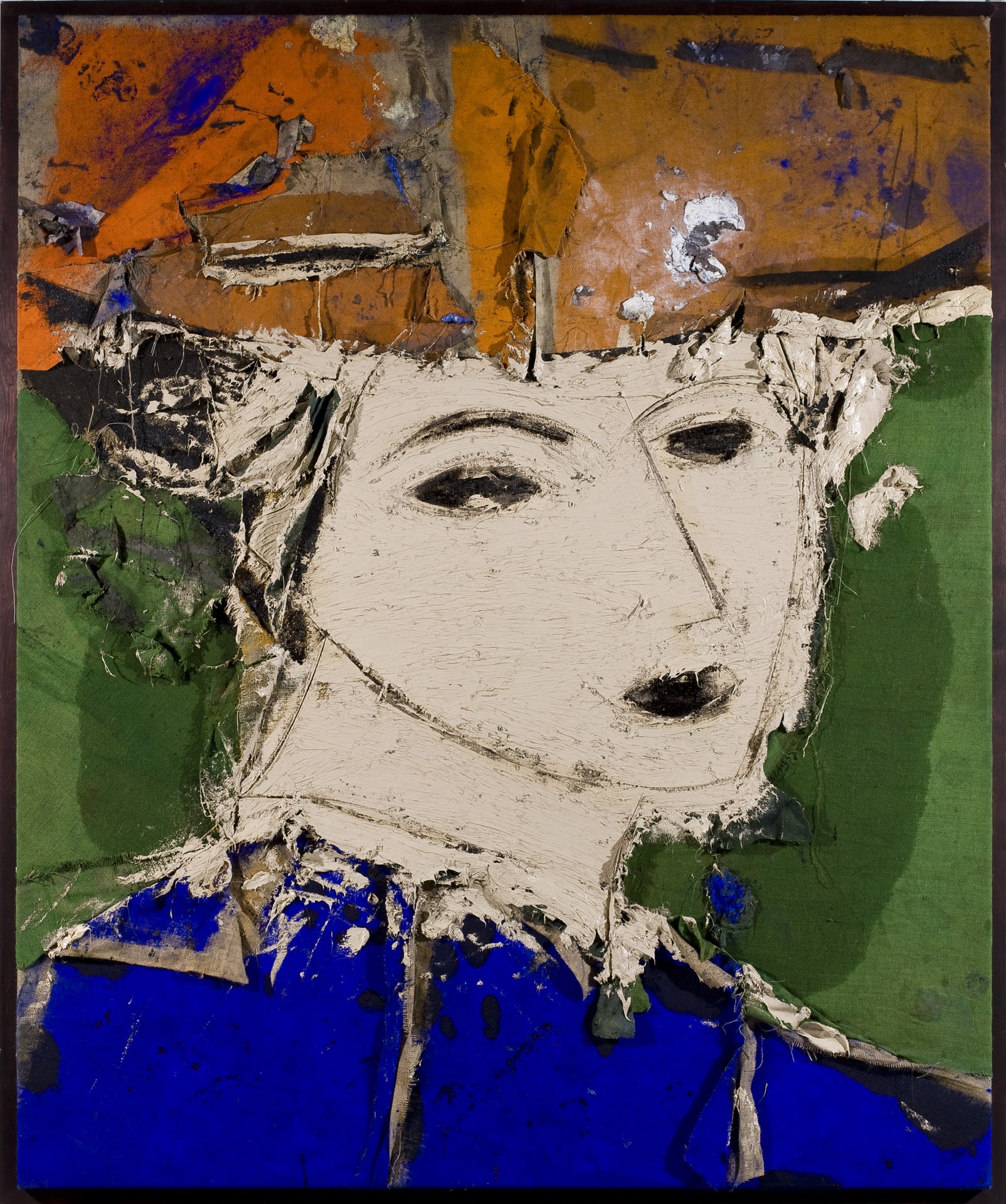 Lady with Orange Hat, 2009. Oil On Burlap, 239,5 X 200,5 cm.

Yet Valdés is fully aware that the head is the most sculptural part of our anatomy. Modern artists discovered this in the Cubist period, at the same time and for the same reason that they were motivated to make still lifes (in other words, objects) the central theme of the new discipline of sculpture. Picasso was aware of this, with his heads of Fernande; so was Naum Gabo, with his constructed heads; and so was Brancusi, with his Sleeping Muse and many other heads reduced to mere ovoid shapes with barely any detail on their surfaces. These artists did away with the bust as a sculptural genre once and for all, because a bust implies that the rest of the body is missing—and is, therefore, incomplete. The head, on the other hand, presents itself as self-sufficient and perfectly independent, and does not even hint at anything outside of itself.

The heads of Valdés have both a systole and a diastole. They boast a compact solidity; they are a hermetic mass, the perfect concentration of Brancusi's heads. And yet their finishing touch is an almost explosive crown that bursts into the surrounding space. The crown allows the sculpture to open up into the area around it. The crowns are infinitely varied—they can be aerial, subtle, and transparent structures or simply solid blocks of material; they can be ridged, tubular, complex, or orbital. The variations on the headdresses or crowns allow Valdés to suggest an infinite number of characters. They may be books, fans, or seashells, or reminiscent of a queen, a reader, or an elegant female.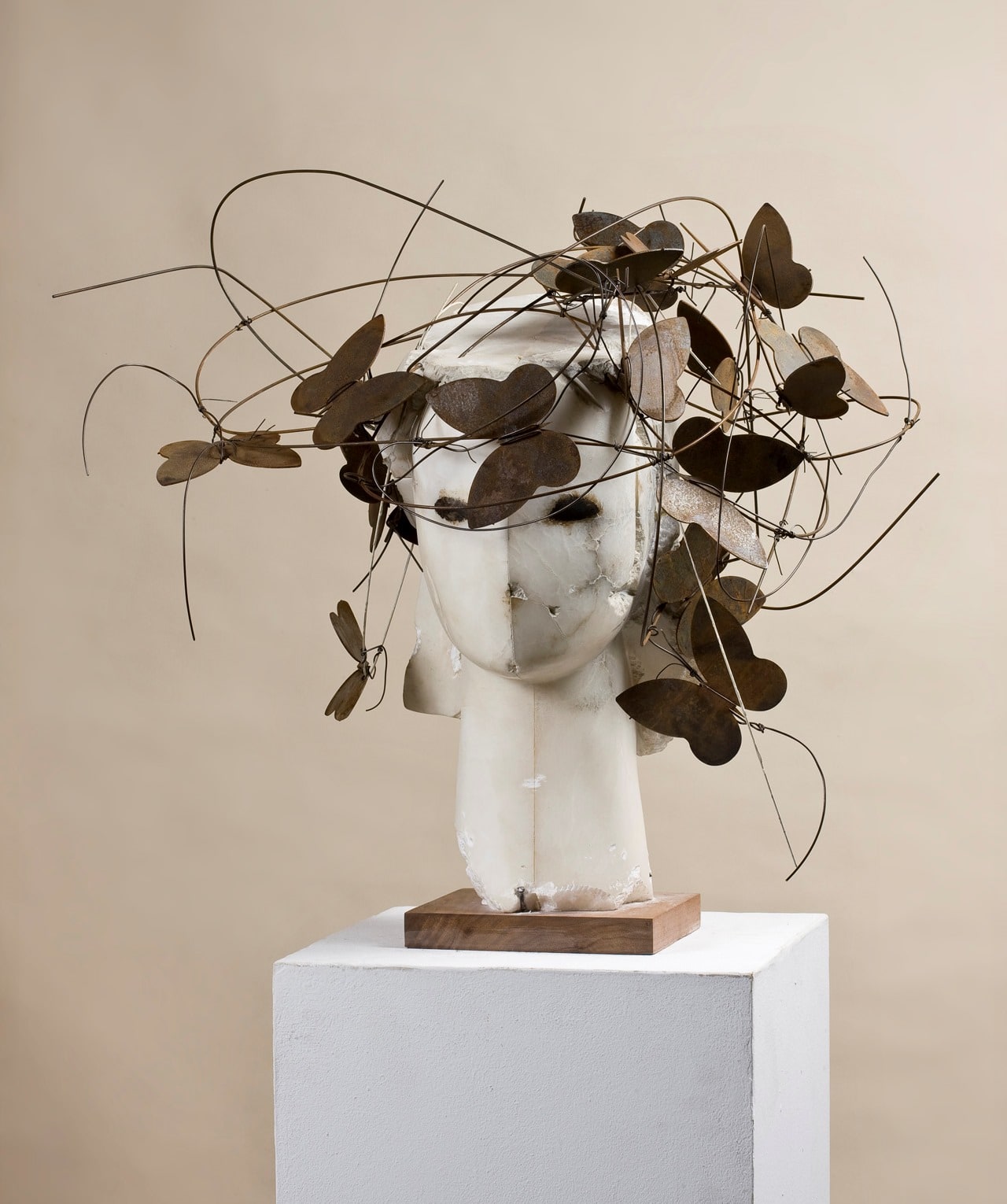 Head II, 2011. Alabester and Iron, 61 X 76 X 61 cm.

Each of these featureless heads, as Antonio Muñoz Molina pointed out in a text written for one of Valdés's exhibitions at Marlborough, is like "an immemorial idol of the Cyclades or Easter Island, and its height and solid shape make its presence powerful and overwhelming, like a vestige of an indecipherable divinity." Each of these heads rises up like a monument of a long-lost civilization, like a remnant of a remote and ancient world.

- Guillermo Solana, Chief Curator, Thyssen-Bornemisza Museum, Madrid