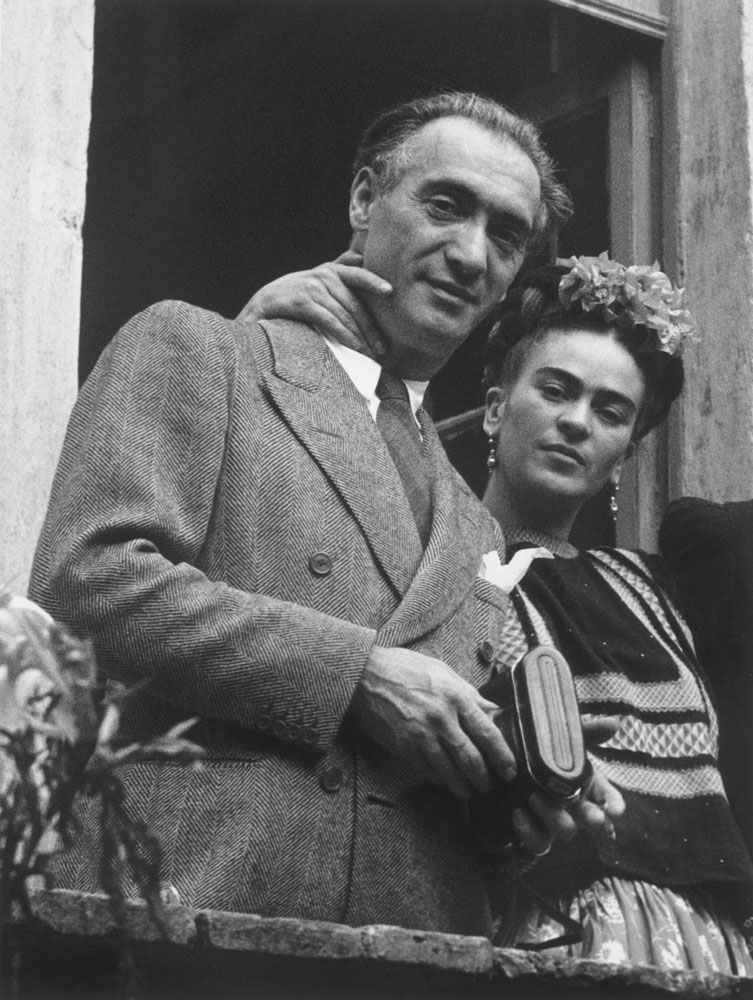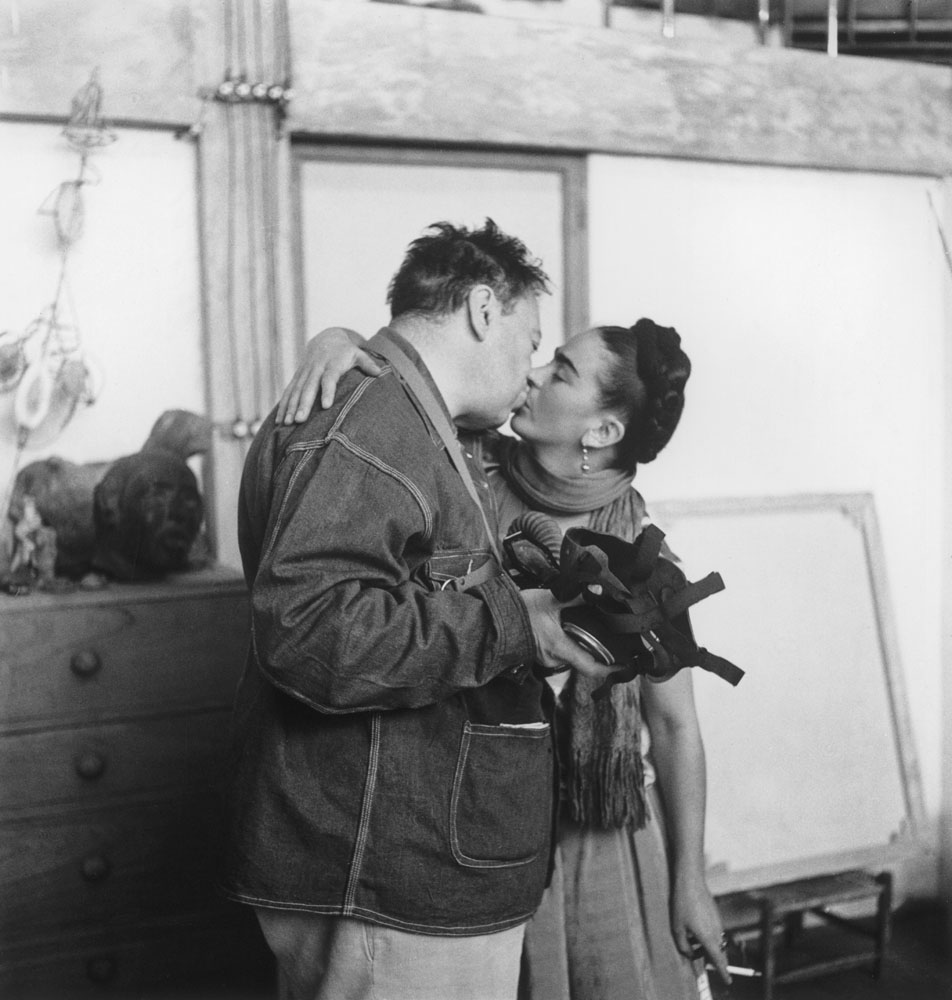 1-FRIDA WITH NICK, COYOACAN, 1939. NICKOLAS MURAY PHOTO ARCHIVES.
2- FRIDA AND DIEGO KISSING, COYOACAN, 1938. NICKOLAS MURAY PHOTO ARCHIVES.
When Nickolas Muray met Frida Kahlo, in May of 1931, Frida had been married less than two years to the famous Mexican mural painter Diego Rivera. She was one year away from developing the groundbreaking iconography that would bring her fame, but had already begun the series of surgeries that in time destroyed her body. Nick, on the contrary, had arrived at the pinnacle of his career and was at the top of his craft, where he remained for the next twenty years.
At the time, Diego was in San Francisco, packing to return after a stay in California, where he had been painting a commission mural for the Stock Exchange, and Frida was alone in Mexico. The fateful encounter that began as a flirtation between these two stunning personages became a passionate attachment that lasted some ten years. Nick had arrived in Mexico vulnerable, injured from the relationship with his third wife, Monica, needing to be needed and open to Frida's neediness. Frida, chronically empty, who craved a man with the desire to give her absolute attention and fill her emptiness, must have found in Nick the perfect lover. Their desire for each other dovetailed.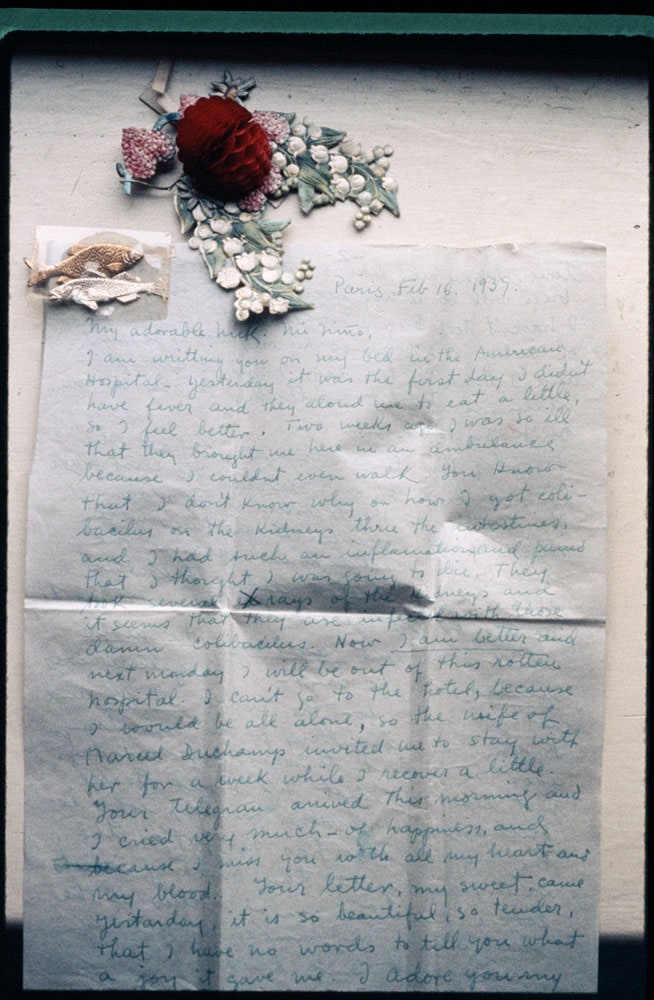 REPRODUCTION OF A LETTER FRIDA WROTE TO NICK, AND THE TRINKETS SHE INCLUDED IN THE ENVELOPE, 1939. COURTESY OF NICKOLAS MURAY PHOTO ARCHIVES.
When Nick returned to New York, he brought with him a letter from Frida, a drawing, and a reverie. In the letter, dated May 31, she wrote, "Nick, I love you like I would an angel… I will never forget you, never, never. You are my whole life." The drawing, a self-portrait, shows her holding hands with Diego and with a fetus lightly drawn on her abdomen, over her dress. It should have made Nick think twice: why would a woman give to a lover a self-portrait, pregnant, holding hands with her husband? Had Nick been less infatuated and more realistic, rather than believing her words, he would have trusted what he saw, which was that she was unavailable for what he wanted from her: a commitment to a serious relationship. But he was blinded by a reverie shaped by his naïve and wishful thinking. And for the next ten years he held fast to a dream that seemed so real that he could not see it for what it was: a mirage. Their affair was carried out in secret during his frequent visits to Mexico.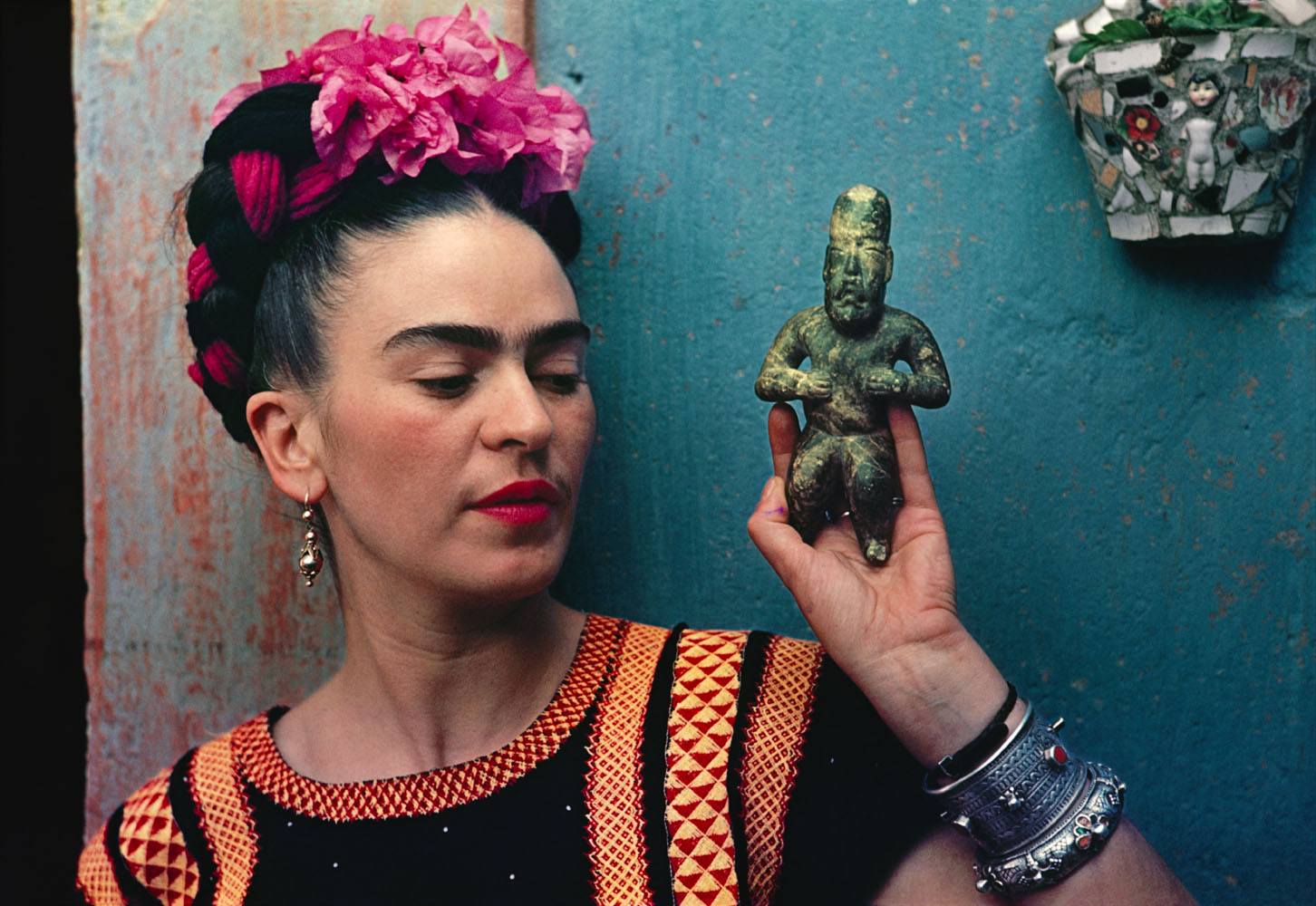 FRIDA WITH OLMECA FIGURINE, COYOACAN, 1939. NICKOLAS MURAY PHOTO ARCHIVES.
In 1939, after Diego began divorce proceedings, Nick was ready to step in and Frida, he believed, seemed more than ready to oblige. Of the many memorable portraits he took of Frida, one simplifies her to her essence. Taken in the patio of her home in Coyoacán, Frida holds an Olmeca figurine in her left hand. Her face is turned toward it so the viewer can compare her lips with those of the figurine. What is not immediately apparent if one does not look closely is a broken pottery plate that hangs on the wall; in the center is a porcelain doll, her body cracked in several parts.
The love affair that haunted Nick for the rest of his life (it was not exposed until sixty years later when their letters and photos were found) came to a sad end in December of 1940, when Frida and Diego remarried. Nick was no fool, only a man in love. At last, he had had enough. Being in a relationship with Frida was like moving endlessly in a loop: one got nowhere. Still, in the last letter written at the end of the affair, he ended it with hope: "Please write me soon. Your Nick."
She never wrote back.
Salomon Grimberg
Curator of Nickolas Muray