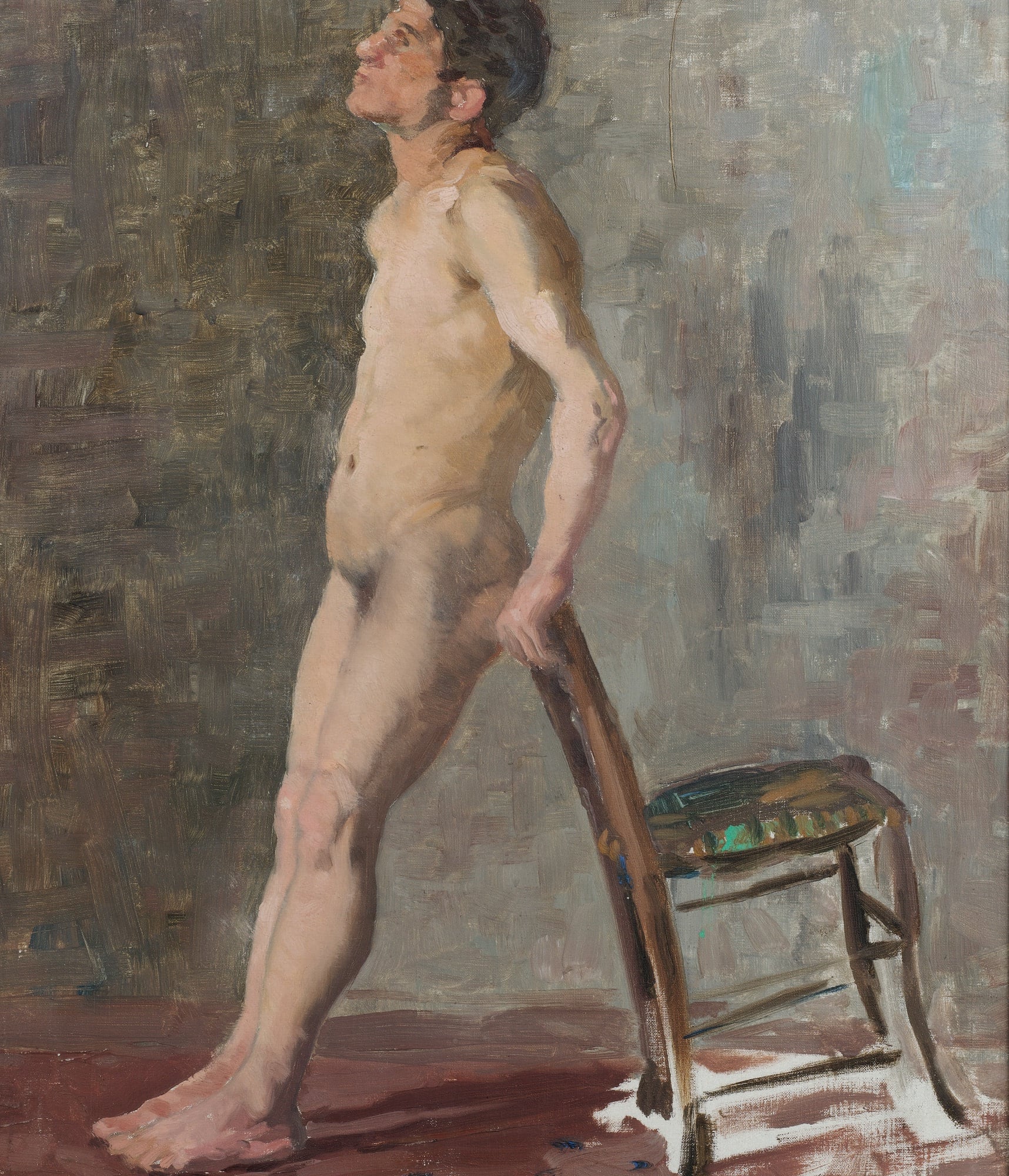 İzzet Zi̇ya
Young Man at the Studio, Undated
Oil on canvas
45 x 37 cm
Private Collection
Men were the first nudes in Turkish painting. The majority of these paintings were academic studies executed in oil paint; they were part of the education of artists that had finally attained the opportunity to work from the live model. The gender of the models constituted an obstacle in the way of characterizing these paintings as 'nudes'. The 'nude' in Turkish painting was associated with the nudity of women. Although there is nudity in the paintings İzzet Ziya Bey showed as of the first Galatasaray Exhibition in 1916, his works, which often included male figures, were not categorized as 'nudes' despite the presence of nudity. The female nudes of Namık İsmail and İbrahim Çallı displayed for the first time at the Galatasaray Exhibition of 1922, on the other hand, were regarded as the beginning of a new period in art history. During this tumultuous period coinciding with the years of the Armistice (1918-1922), Ottoman artists also staged a grand revolution in the artistic sense.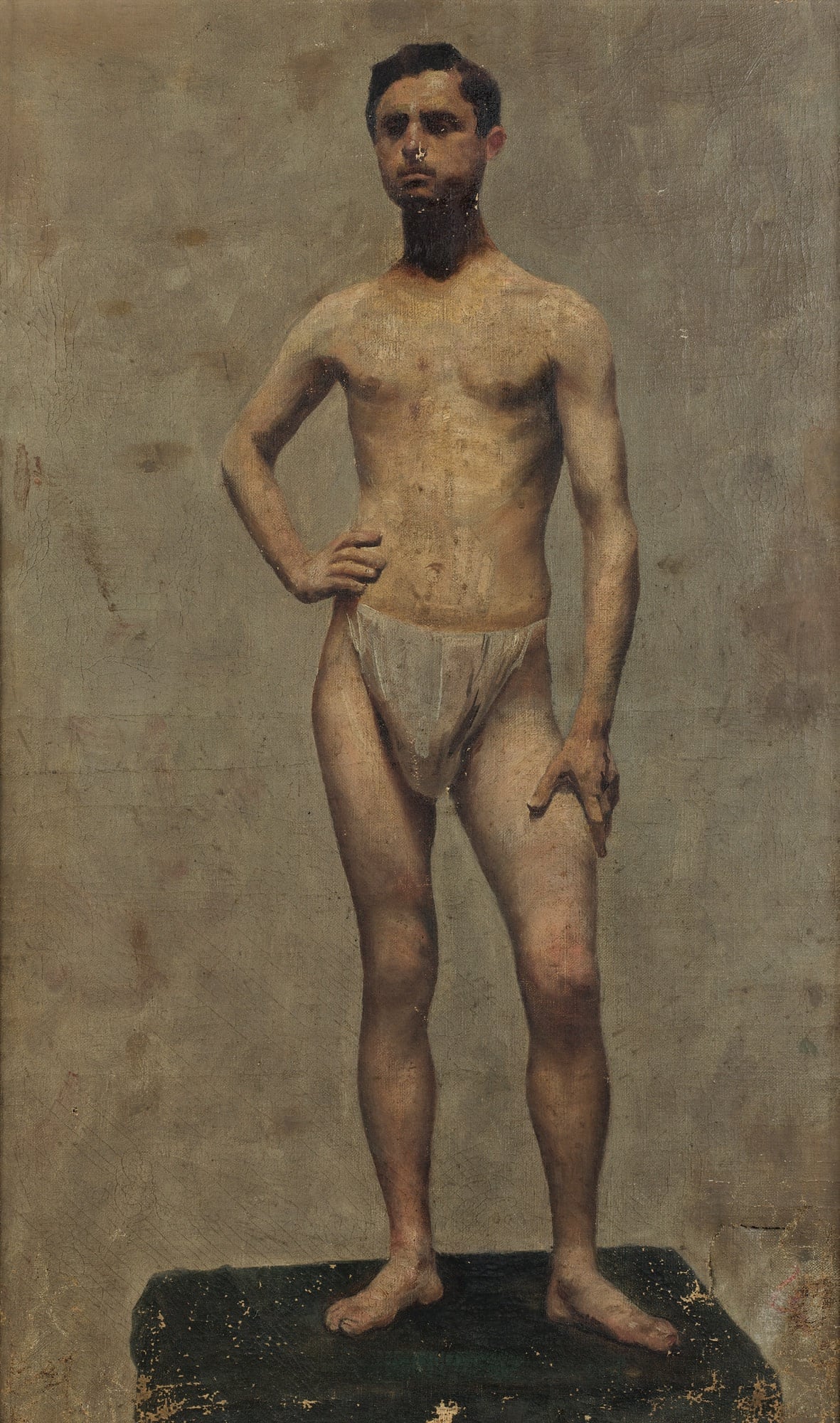 Hi̇kmet Onat
Male Model, Undated
Oil on canvas
71 x 43 cm
Merey Collection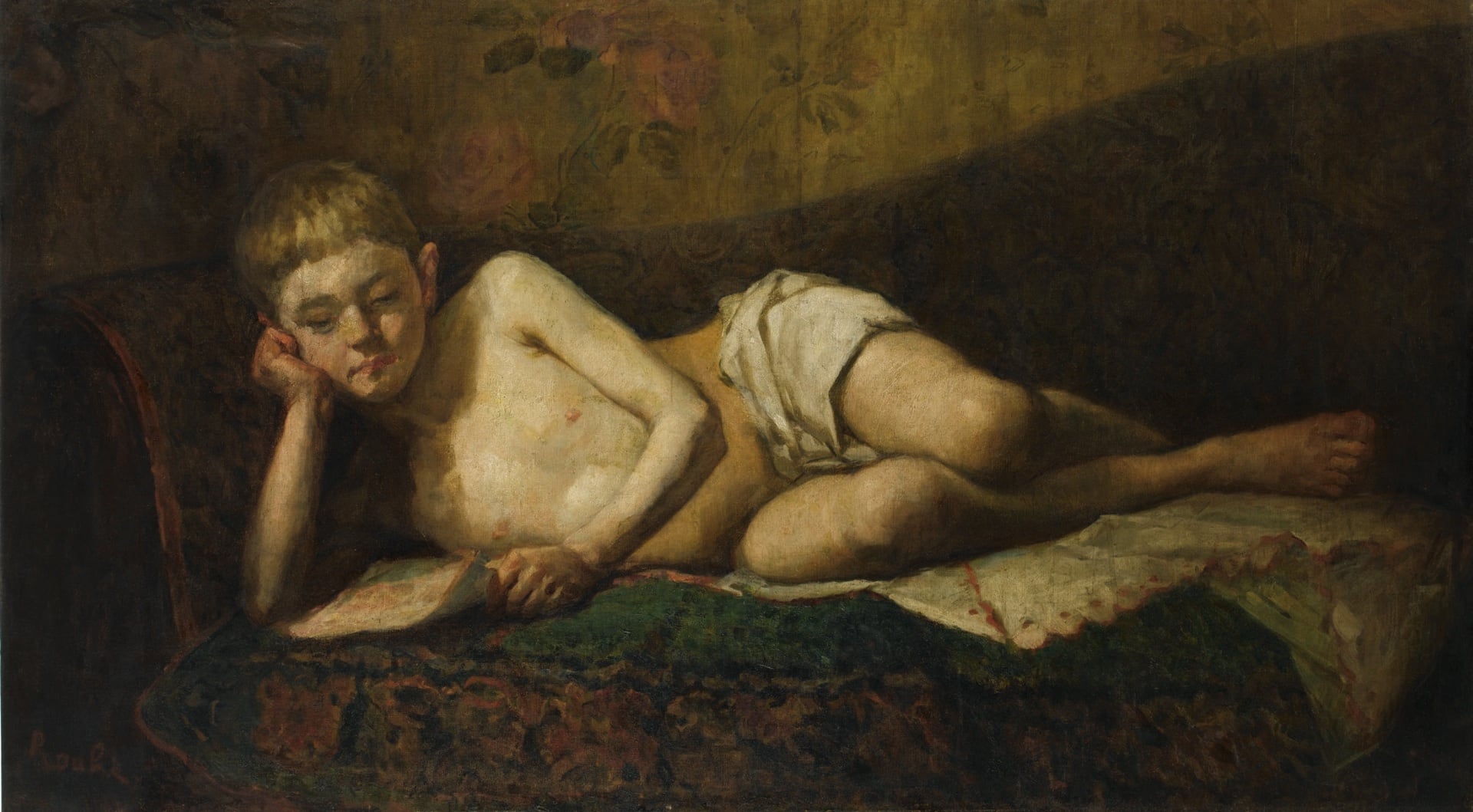 Mehmet Ruhi̇ Bey (Arel)
Nude, Undated
Oil on hardboard
43 x 71 cm
Sakıp Sabancı Museum's Painting Collection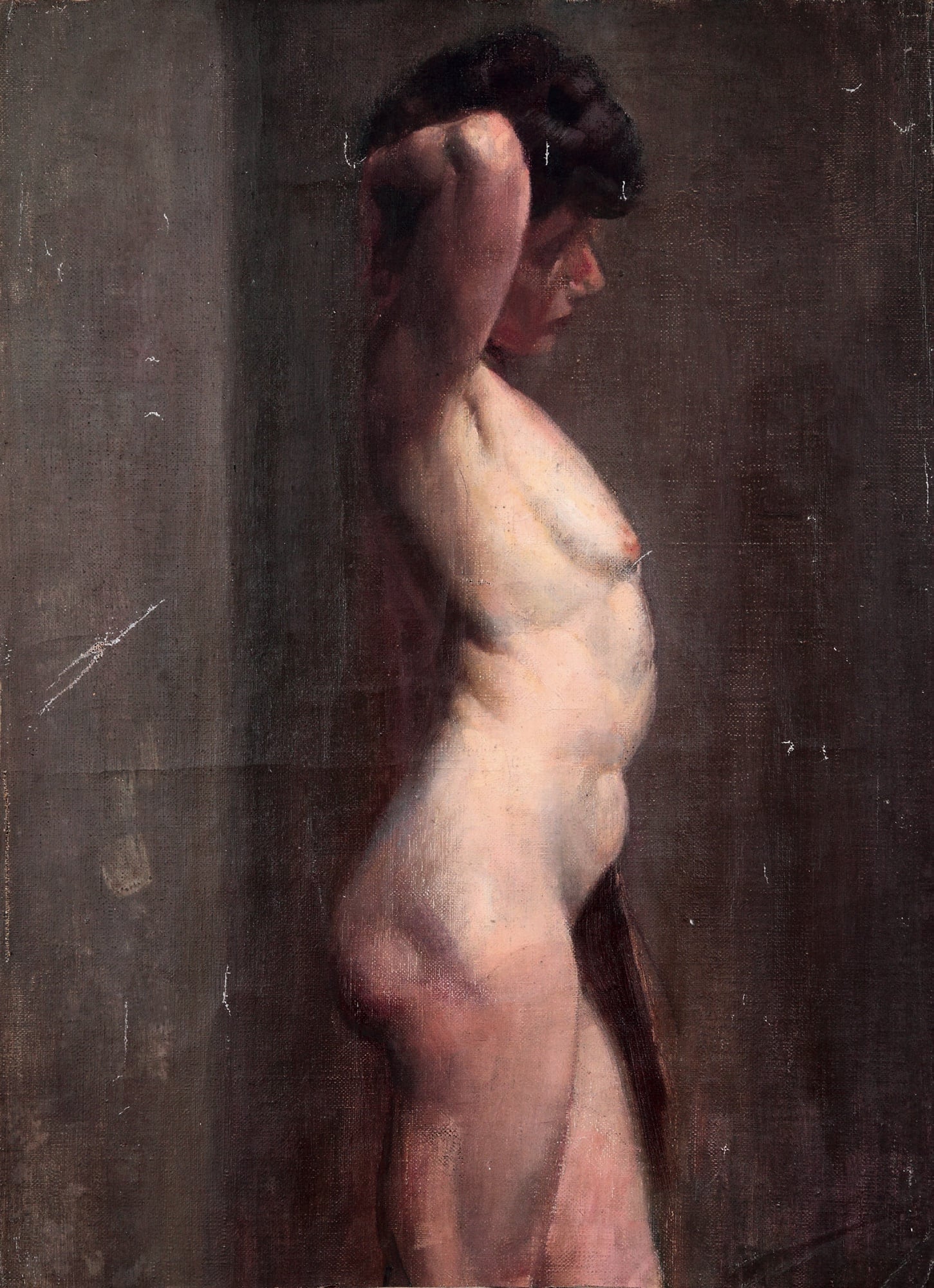 Hüseyi̇n Avni̇ Li̇fi̇j
Nude Female Model, 1909-12
Oil on canvas
53 x 37,5 cm.
Belkıs-Erdal Aksoy Collection
Apart from the unique nudes of İzzet Ziya Bey (1883-1936), the male nudes dating to this period are works executed at Sanayi-i Nefise Mektebi between 1906 and 1910 or in Paris between 1910 and 1914. Having made persistent attempts towards working with live nude models at Sanayi-i Nefise Mektebi, some works by Mehmet Ruhi Bey (Arel) (1880-1931) and Hikmet Onat (1882-1977) are among the rare examples to have survived to date. The figures in these paintings appear not to have been subjected to the rich 'artistic' repertoire of poses reserved for female nudes.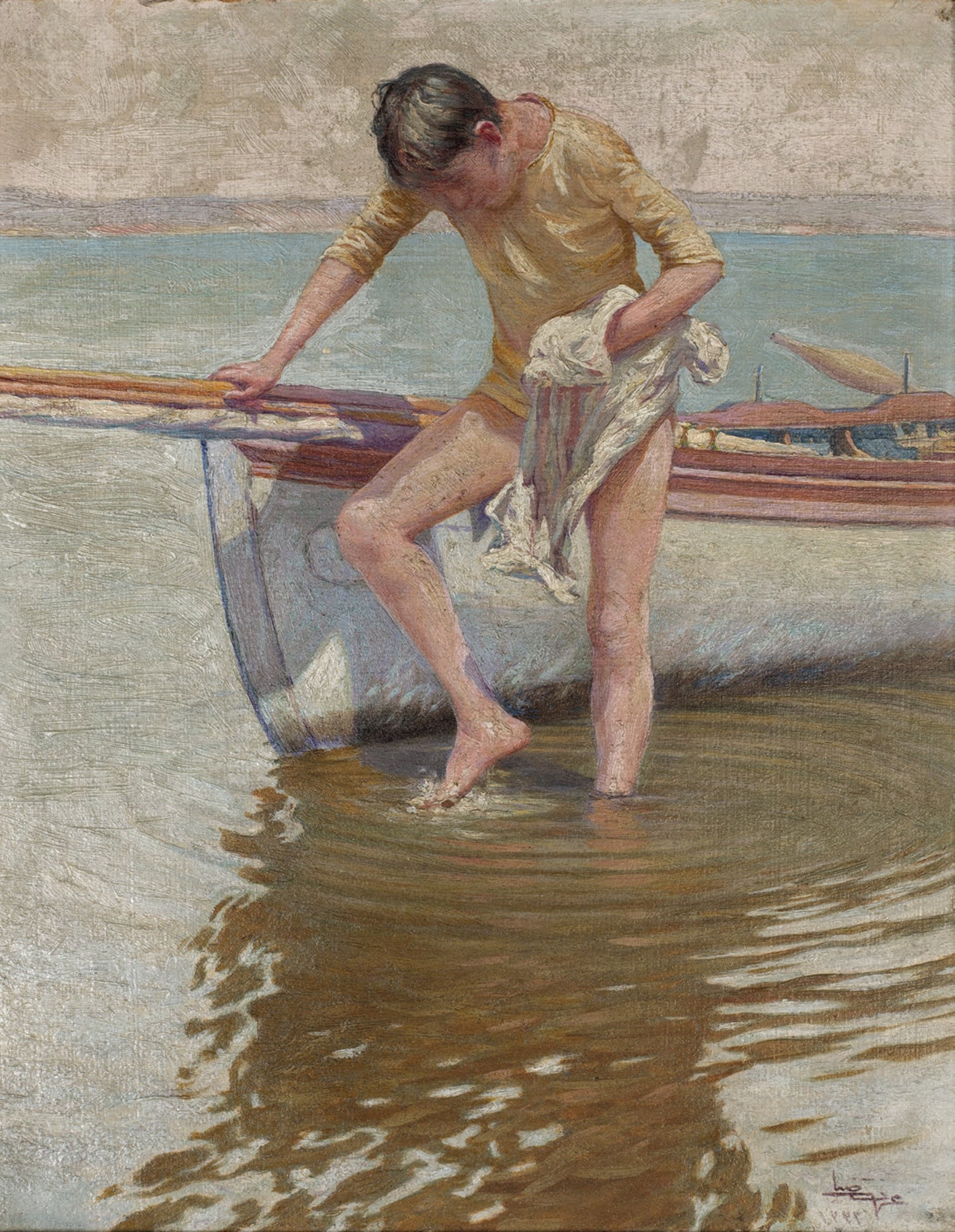 Bare, Naked, Nude: A Story of Modernization in Turkish Painting took place at the Pera Museum between 25 November 2015 - 07 February 2016.