A firm believer in the idea that a collection needs to be upheld at least by four generations and comparing this continuity to a relay race, Nahit Kabakcı began creating the Huma Kabakcı Collection from the 1980s onwards. Today, the collection can be considered one of the most important and outstanding examples among the rare, consciously created, and long-lasting ones of its kind in Turkey.
Apart from the logic of creating the Huma Kabakcı Collection, its evolution/growth over time, and its subjectivity, the exhibition was designed by keeping in mind its structure, reviewed and changed from time to time, with both objectivity and an art historical subjectivity. The selection was thus shaped thematically by bringing to fore the common and diverging points of the two generations by which the collection has been sustained.
In addition the contributions the two consecutive generations made towards the collection, the selection also seeks to demonstrate the integrity of ideas inherent to the entirety of the collection and the transformations it has undergone.
Third section of the exhibition Fluid Identities: Creating an Identity / Hybrid Identities addresses geographic and cultural identity and the ethnic other as a problematic, as well as encompassing works on gender identity and identity formats.
Identity is one of the concepts that artist most often contemplate, emphasize in their works, and examine. Addressed in many different contexts extending from personal to cultural identity, particularly with the influence of postmodern theories, this concept constitutes one of the main pillars of the 'second-generation' choices of the Huma Kabakcı Collection in particular. Apart from works by artists addressing geographic and cultural identity and the ethnic other as a problematic, Fluid Identities also encompasses works on gender identity and identity formats. The methods/orientations chosen by artists of different geographies, and their ways of narrating the stories of what makes them who 'they' are, constitute the basis of this section.
Providing diversification and different forms of reading in a range of contexts, this subtitle was coined by taking into consideration the relationship the concept of identity establishes with gender, geography, culture, and the body. The processes shaping identities in some, diversified/hybridized products as a result of cultural policies in others, and politics emerging from identity forms in yet others, bring the works in this section closer, allowing them to establish their own dialogue.
Yüksel Arslan, Arture 401, Men XLII, 1989, Mixed Media on Paper, 40 x 110 cm. 
Recognized for his works that attain a unique narrative based on surrealist elements, Yüksel Arslan adopted the traditional linearity of the arts of calligraphy and embroidery, standing against academic and classic art. After the second half of the 1960s, he began the predominantly sexual and erotic Arture series based on his personal experiences and the imaginary world of his subconscious. Traces of the theories of psychoanalysts such as Freud and Jung can be observed in these works. An example of the Arture series, the work included in this selection reveals erotic images and many elements pertaining to sexuality, such as reproduction and procreation. | EA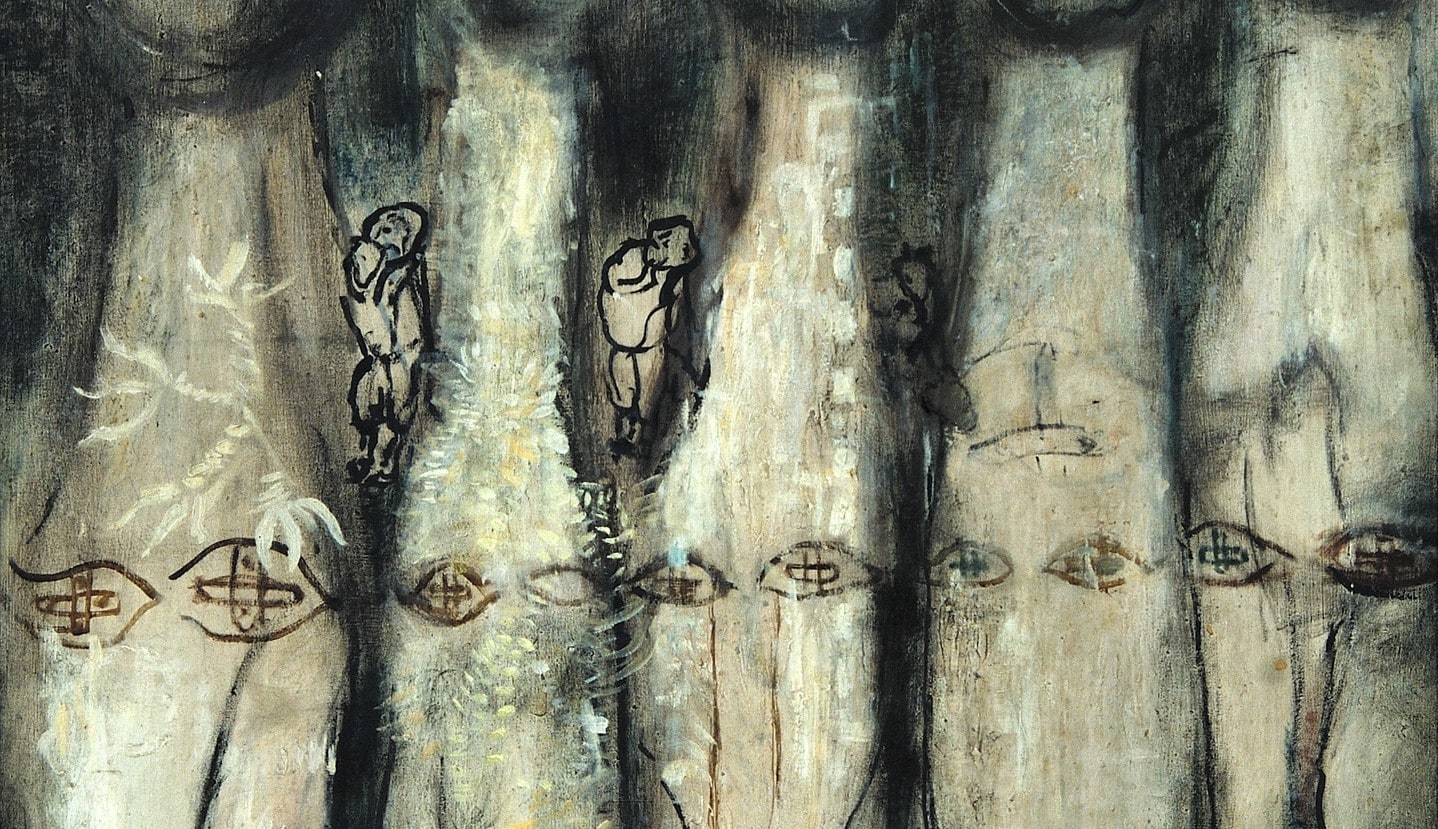 Aliye Berger, Cats and People, Oil on canvas, 132 x 93 cm. 
Recognized for her Expressionist paintings through which she displays her inner world, Aliye Berger puts the human in the foreground as her subject; she portrays the accustomed styles and themes of daily life by using her unique language of expression, as part of sometimes realistic and, at other times, fantastic scenes. Revealing her conception of merged figures of humans and animals, her work Cats and People in this exhibition exemplifies her belief in the intimacy of life and art. | EA |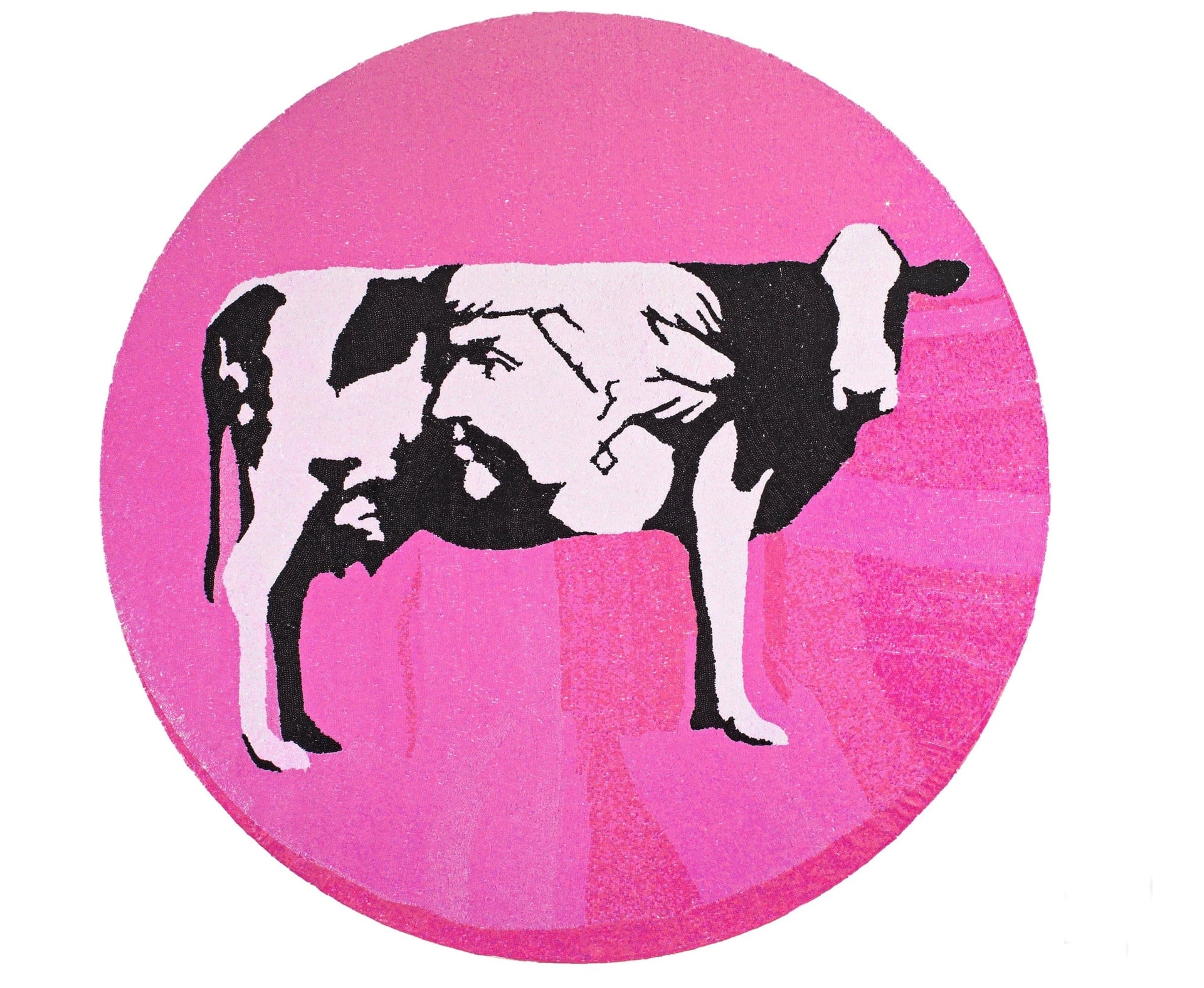 Erinç Seymen's art is comprised of hybrid figures inspired sometimes by the imagination of a child or, at other times, the images of daily life and history. He questions power and the status quo with these figures. Working with themes such as militarism, gender identities, and nationalism in his drawings, paintings, videos, and installations, the artist also explores the malfunction of institutions symbolizing the order such as asylums, schools, and prisons, and their lingering impact on the individual and society.
This work alludes to Pera Museum's collection exhibition Portraits from the Empire displayed from 2005 to 2008 and reveals an image of Sultan Selim I, mounted on a cow, wearing an earring. In this particular work, Seymen presents an unconventional take on nationalist reflexes, both through the representation of gender identity in historic male images and through that image's installation inside another one entirely out of context. | EB |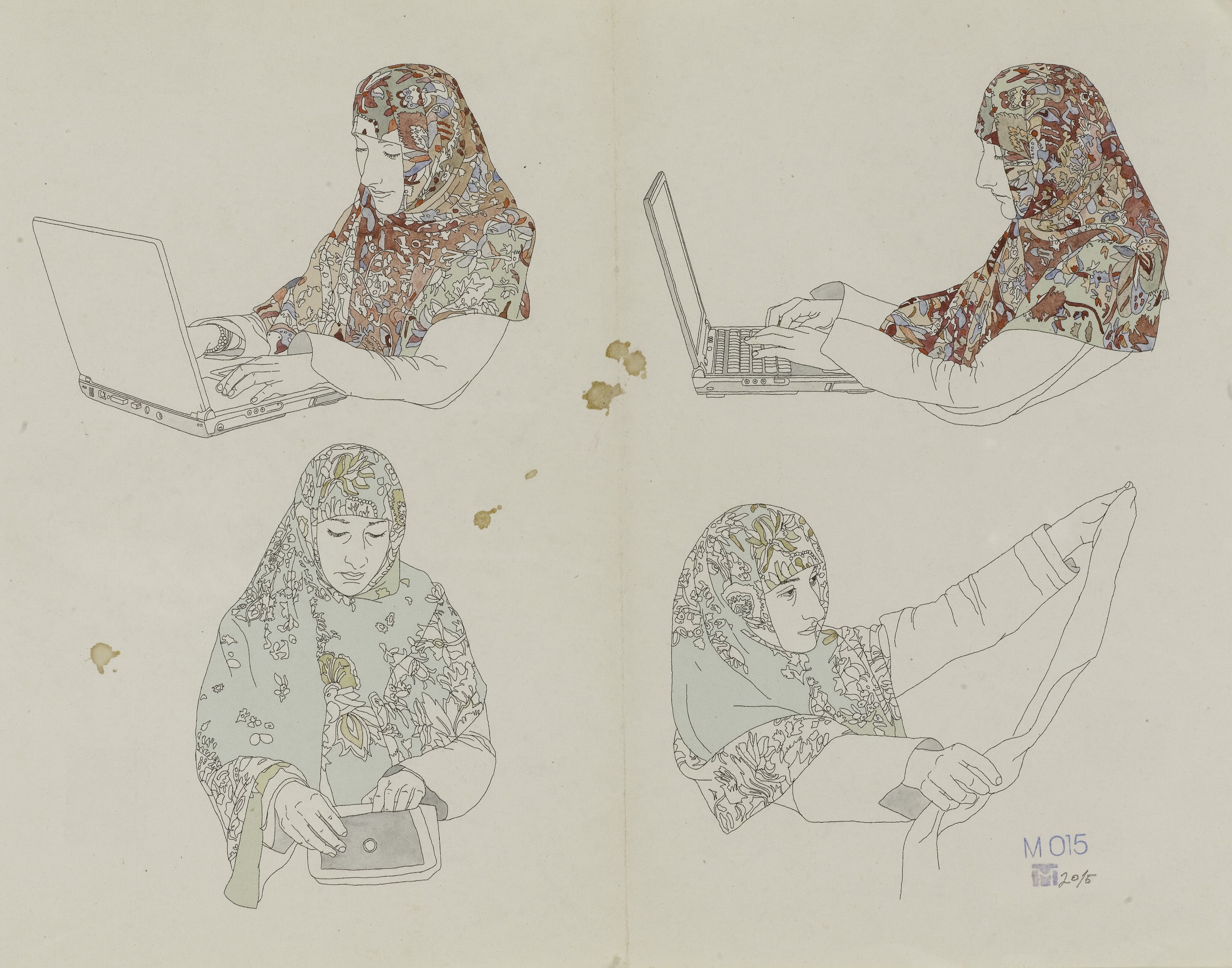 Maya Sumbadze, Untitled, 2015, Digital print, watercolour and gouache, 30 x 38 cm.
Working in a range of areas including painting, video, installation, and computer graphics, Sumbadze often uses images and memories from her childhood. Lately focusing on computer drawings on paper, the artist adds different media to her recent works as part of her experimentation.
Mechanical engines, print machines, and similar symbols stand out alongside the child-like figures in her drawings. An integral part of her works is the various writing and notes she adds to almost all the objects she uses. These are intended to evoke different sentiments from the viewer by exposing them to two seemingly contradictory media. | TBa | 
Memory and Continuity: A Selection From the Huma Kabakcı Collection took place at the Pera Museum between 26 February-8 May 2016 at Pera Museum.