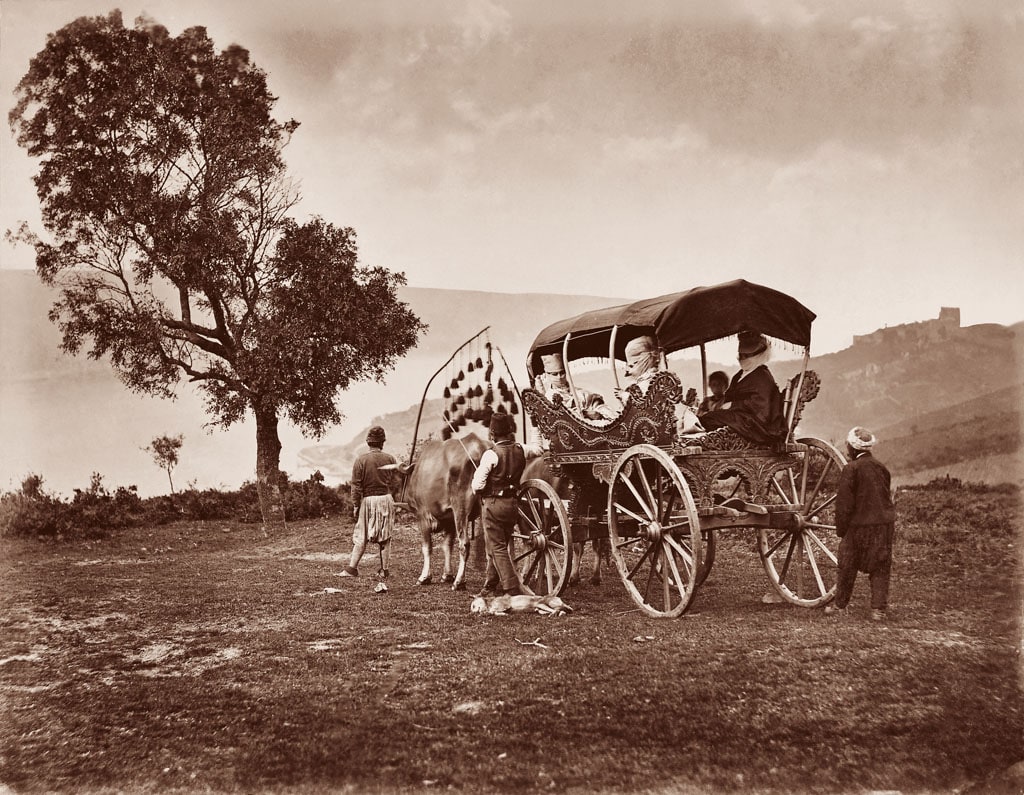 Ox-Drawn Carriage at Yuşa Hill, 1865, Pascal Sebah, Albumen paper, 310 x 242 mm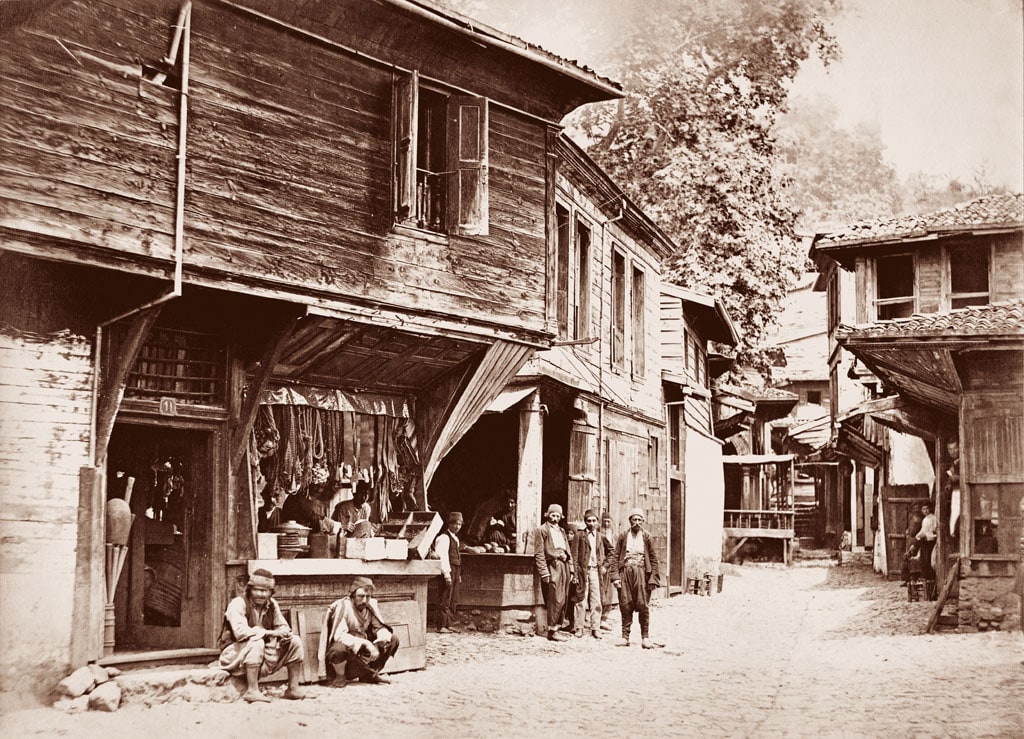 Beykoz, 1865 – 1870, Pascal Sebah, Albumen paper, 305 x 221 mm
Following the opening of his studio, "El Chark Societe Photographic," on Beyoğlu's Postacılar Caddesi in 1857, the Levantine-descent Pascal Sébah moves to yet another studio next to the Russian Embassy in 1860 with a Frenchman named A. Laroche, who, apart from having worked in Paris previously, is also quite familiar with photographic techniques. Sébah and Laroche continue working together until 1873. Pascal Sébah's encounter with the famous artist Osman Hamdi Bey in 1869 sets the ground for an interesting cooperation: Sébah is to take photographs, which will then be used in Osman Hamdi's oil paintings. Sébah also produces a sumptuous album comprised of large photographs of the costumes displayed at the 1873 Ottoman exhibition in Vienna. His work continues through panoramas, stereographs , landscapes and scenes from daliy life. Pascal Sébah suffers from a stroke in 1883 and consequently, his studio is taken over by his brother.
As the result of a partnership with Polycarpe Joaillier in 1885, "Sébah & Joaillier" emerges as one of the most famous photography studios of the Middle East. At the turn of the 20th century, after Joaillier leaves the firm, the studio is eventually transferred to Agop Iskender and Perpinyani in 1908. With the proclamation of the Republic, the studio changes hands and is renamed as Foto Sabah. The studio remains in business until the 1950s.
--
From Konstantiniyye to Istanbul: Photographs of the Anatolian Shore of the Bosphorus from the mid XIXth Century to XXth Century exhibition showcased works by masters of photography, who practiced their art in İstanbul. Comprised from a selection of photographs from the Suna and İnan Kıraç Foundation Photography Collection and from private collections, it revealed the magnificent structures, daily life and intriguing personalities of an İstanbul past. İstanbul has evolved into an industrial city, an enormous metropolis: its silhouette, architecture, vehicles, bridges, quays, streets and public spaces have attained an entirely different appearance.
--
Istanbul has always been an inspiration to artists. Merih Akoğul and Derya Türkan put together a playlist on Spotify which consists of tracks inspired by or inspired in İstanbul. Enjoy listening to the sound of this old city!