We draw inspiration from the exhibition to write our own historical horror or fantasy stories and fiction set in the Byzantine Empire or the Eastern Roman Empire. We explore concepts relating to historical fiction, such as the selection of story and background, and the usage of historical facts. 
Materials
Paper
Pens 
Related Exhibition: "What Byzantinism Is This in Istanbul!": Byzantium in Popular Culture
Instructor: Mehmet Berk Yaltırık
Capacity: 20 participants
Duration: 90 minutes 
Participants will be issued participation certificates via e-mail at the end of the event. The event will take place on the Zoom Meeting app, with a guided online exhibition tour followed by a workshop activity on the exhibition.
Participants must have their webcams and microphones enabled in order for the instructor to see the participants and provide instructions. By registering, participants give their consent for the above.
The event is free of charge. Reservation is required.
For more information: ogrenme@peramuzesi.org.tr
About Mehmet Berk Yaltırık
Born in July 19, 1987. He received his bachelor's degree in History in 2010 from the Faculty of Literature of Trakya University. In 2014, he completed his master's education at the same university's Social Sciences Institute, History Department, with his thesis "Dasht-i Kipchak Campaigns of Mongols" in General Turkish History. He is currently continuing his doctorate studies, which he began in 2017, in the same department. Since 2009, he has been publishing his stories on a blog titled "Son Gulyabani'nin Yeri" ("The Place of the Last Ghoul"), while his research articles and stories have been featured in various websites, fanzines and periodicals. His story "Kumarcı Bahattin" ("Bahattin the Gambler") was placed and awarded "Story Achievement Award" in the 2013 GİO Story Competition of FABİSAD, while another, "Hekim Maliguri'nin Acayiplikleri" ("Peculiarities of Physician Maliguri") received honorable mention in the 2013 TBD Science Fiction Story Contest by Turkish Association of Informatics (TBD). His novel "Yedikuleli Mansur" ("Mansur of Yedikule") was placed and given the "Achievement Award" in the GİO Novel Awards in 2017. In 2019, his "Abdülharis Paşa" novel won "GİO Best Novel Award" . He worked as a history consultant in several issues of Devrim Kunter's "Seyfettin Efendi" comics. 
FABİSAD (Fantasy and Science Fiction Association)
FABİSAD is an organization of fantasy, science fiction and horror story writers from Turkey in an effort to help popularize these genres, safeguard the rights and promote the visibility of the artists, reach wider audiences, improve the overall quality of production, and communicate the importance of imagination. For FABİSAD, Fantasy leaves nothing unimaginable, Science Fiction increases interest in logic and scientific thinking, and Horror helps us understand ourselves and our fears—all genres are essential for the development of humanity and young people. The association endeavors to bring together producers and followers of these genres according to this philosophy. It plans to organize events and create its own publications to ensure that these genres are understood and categorized more accurately. It also aims to organize training sessions and meetings for this purpose.  FABİSAD's logo is inspired by the mythological Simurgh and Mount Qaf. These legends also summarize the founding philosophy of FABİSAD. FABİSAD was conceptualized in 2006 by fantasy, science fiction and horror writers, who, following the example of other similar organizations around the globe, created the idea of an association to bring together the genres under the same roof. It would take until 2011 to transform this idea of an association into a reality. After six months of preparation, the association was formally established in October 2011 by a collection of professional editors, publishers and producers who create art in the genres of fantasy, science fiction and horror.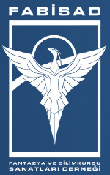 In collaboration with