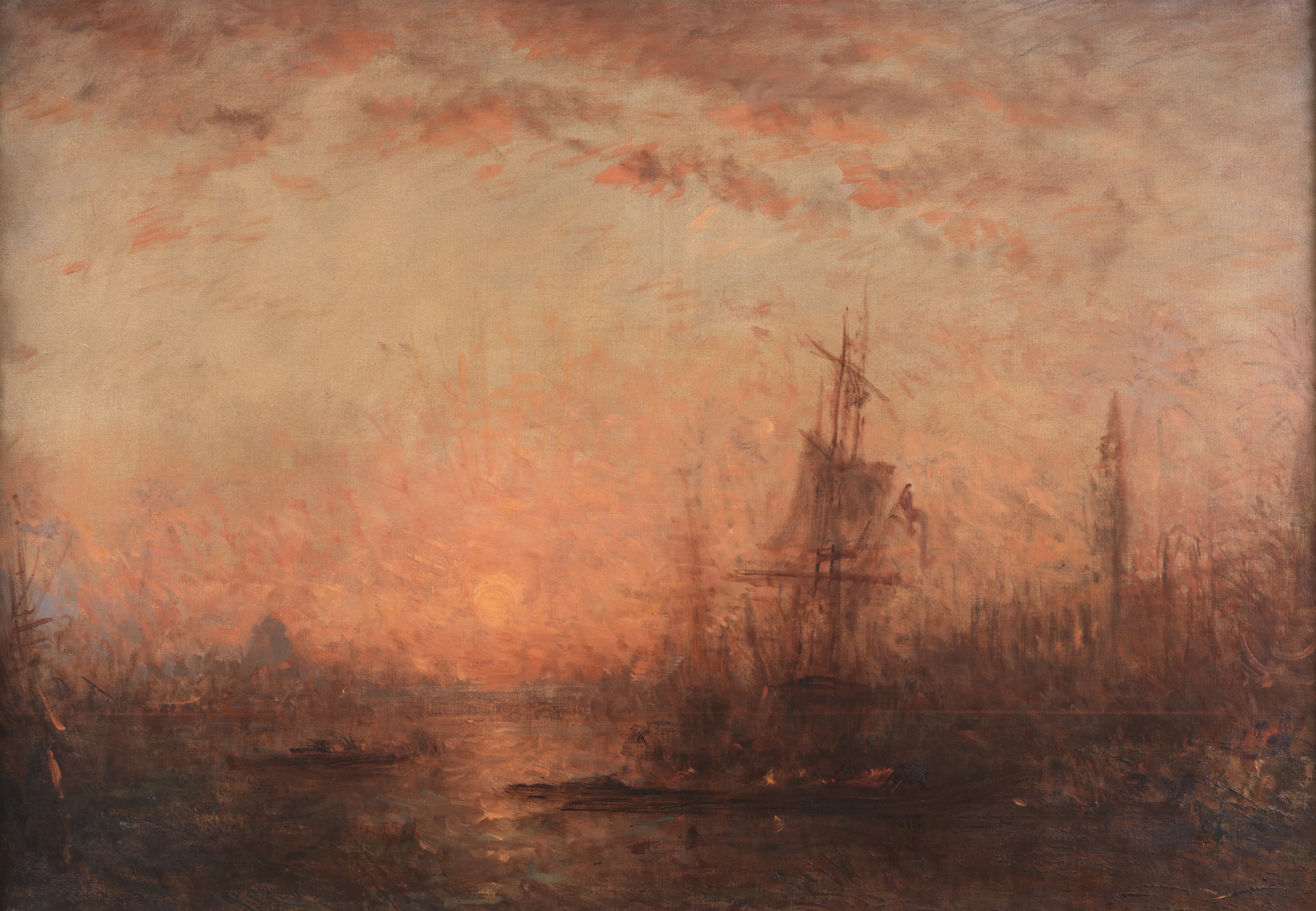 Canal Grande with Campanile at Setting Sun, Second half of the 19th century, Oil on canvas, 84 x 117 cm., Musée Ziem Collection
French artist Félix Ziem is one of the most original landscape painters of the 19thcentury. The exhibition Wanderer on the Sea of Light presents Ziem as an artist who left his mark on 19th century painting and who is mostly known for his paintings of Istanbul and Venice, where the city and the sea are intertwined. The exhibition organized in collaboration with Musée Ziem and Martigues Municipality, is curated by Lucienne Del'Furia and Frédéric Hitzel.
Félix Ziem had visited Istanbul during the Crimean War. His oil paintings stand out with their lively colors and the artist's effort to capture the flickering effects of the continuously changing light by using a rapid and dynamic brush style. The exhibition illustrates the reasons why the artist was hailed as a forerunner of impressionism and as a pre-impressionist; his stylistic relationship with artists like Monet is quite visible. His drawings exemplify his creative process and present new angles into his work. They also encourage us to rediscover the city of Istanbul through his perspective. Ziem is accepted as one of the well-known artists of the romantic landscape painting, and has been followed closely by art lovers and collectors of all periods since. He had a profound influence on generations of artists after him, and was the first artist whose works were acquired by the Louvre while he was still alive.
"Ziem makes the color of melodies sing like a celestial choir."
Théophile Gautier, 1854
French landscape artist and great traveler Félix Ziem holds a unique place in the history of 19th century art. Ziem is not a painter of reality, but of dreams. Instead of simply looking at then, we imagine most of the places in his depictions.
Ziem's long professional life began under the shadow of Delacroix and ended in the north of Paris at Montmartre, near the studio of young Picasso. He was an exceptionally prolific artist; his production is estimated to include more than 10,000 drawings and 6,000 paintings. His humble origins and his training in architecture and design outside the workshops of Ecole des Beaux-Arts in Paris transformed Ziem into an eccentric, unclassifiable, and independent artist. His career; however, was an exceptional commercial success. He was the first artist to be admitted to the Louvre in his lifetime!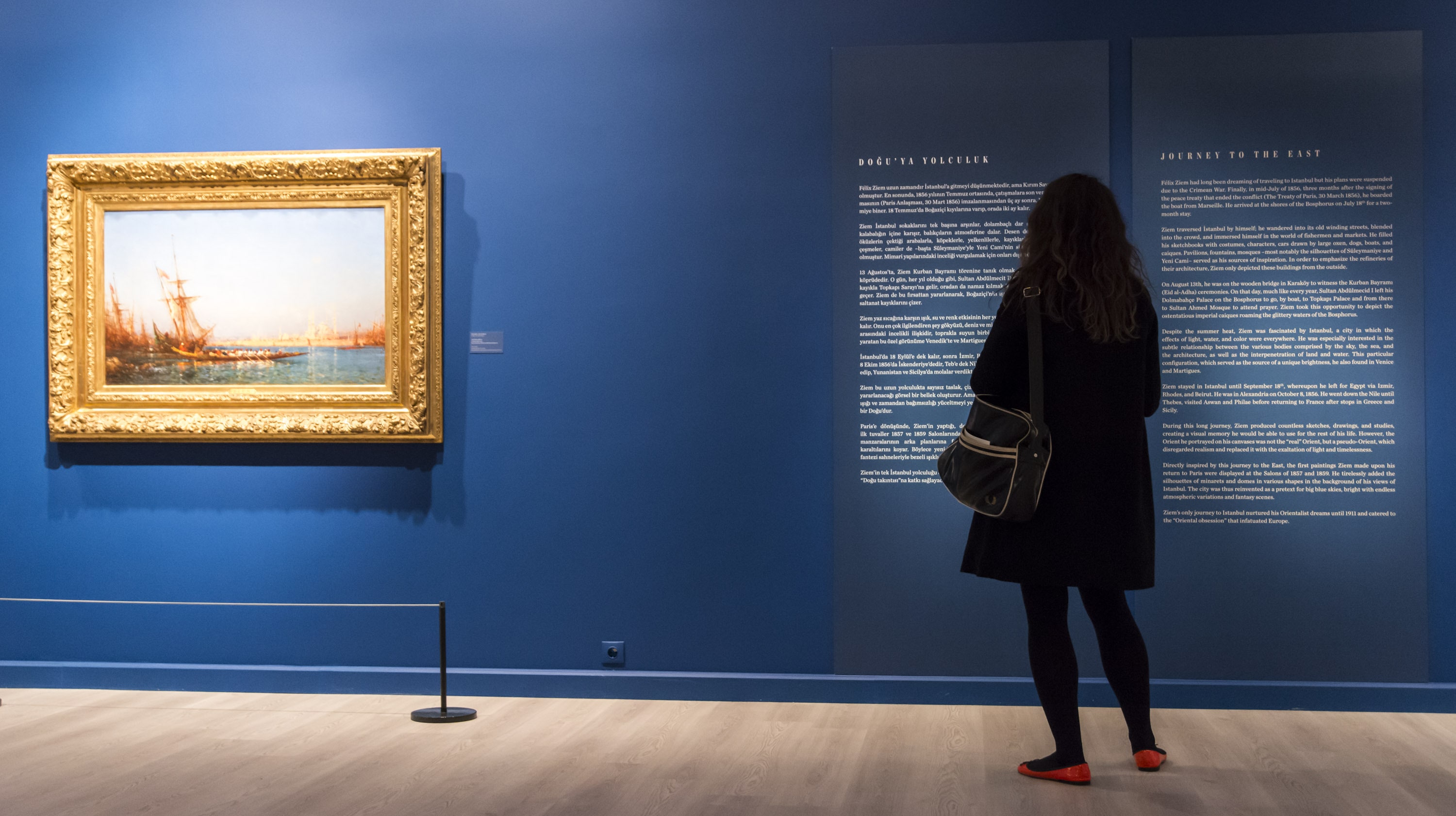 Water and the sky are predominant in the bright landscapes that have earned him fame. Ziem often preferred to choose areas on the seaside with calm waters, where the reflections of the sun would make the colors sing. Although we fully recognize the places and landscapes represented on his canvases, we find that he reinterprets these quite freely.
The exhibition presents a selection of his works mostly preserved at the Ziem Museum in Martigues, showcasing predominantly his depictions of Venice and Istanbul. Including sketches, drawings, and paintings he preserved his entire life, the exhibition brings to light the archives of his studio. Originally not intended for public viewing, these works give free rein to bursts of color, reveal the secrets of his studio, and invite us to rediscover his oeuvre.
Félix Ziem: Wanderer on the Sea of Light exhibition took place at Pera Museum between 10 November 2016 and 29 January 2017.