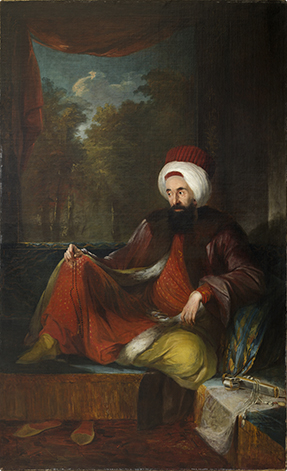 Yusuf Agah Efendi
Carl Frederik von Breda
Oil on canvas 240 x 148 cm
1794-1796
During the meeting held in 1793 at the seaside mansion of the reis-ül küttab (chief scribe) in Bebek, a decision was made to establish the first permanent embassy of the Ottoman State in England for the "necessary implementation of the ambassadorial system as per the European standards." Consequently, the Crete-born Scribe of the Navy Yusuf Agah Efendi was appointed as the first ambassador. As soon as Sir Robert Ainslie, the British ambassador to İstanbul, arranged the details of the journey, the delegation left for London in October 1793. Passing through Austria, Germany, and Belgium, the delegation arrived at the Port of Ostend, crossed the English Channel in stormy weather, and set foot in England by way of sea. Upon reaching Dover, salvo fires and a military band welcomed the delegation.
In a letter he wrote to Foreign Minister Lord Grenville, General Smith, who was among the group that greeted the delegation, described Yusuf Agah Efendi as a "charming and respectable old man," sırkatibi (literally, the secret scribe) Mahmud Raif Efendi as "young and reasonable," and chief translator Emanuel Persiani as "intelligent and skillful." Arriving in London nearly two months after leaving İstanbul, the delegation first stayed at the Royal Hotel in Pall Mall and later settled into the residence they picked out on Adams Street in Adelphi, along the Thames. Every week on Wednesdays, they would join King George III's audience held for high-level officials and ambassadors; on Thursdays, they would participate in the functions Queen Charlotte organized where women and members of the royal family were also present. However, due to the 8-month delay in the arrival of the gifts and letters of credence shipped from İstanbul, and in the absence of the King in London, they were able to present their letters of credence and officially assume their duties 14 months after their arrival. The audience was coincided with the opening of the Parliament on 29 January 1795 and thus took place amidst a grand procession of more than 20 horse carriages and 200 guards. The gifts, including guns encrusted with precious stones, Arabian horses with gold tackles, and silk fabrics that Sultan Selim III had sent were presented to the King, the Queen, the Prince of Wales, The Duke of Portland, and the Foreign Minister. Often in attendance at the banquets participated by high-level bureaucrats in London, Yusuf Agah Efendi had a monumentally-sized portrait made by Swedish artist Carl Fredrik von Breda, who was known for the portraits he painted at his studio on St. James Street.
Yusuf Agah Efendi's ambassadorial mission ended in July 1797. The "havadisname" (collection of correspondence) he prepared, as well as the detailed report he had Mahmud Raif Efendi write in French not only include political events, but also offer numerous observations on British economy and social life, the structure of the Parliament, the working of the political system, palace customs, the city of London, universities, and factories.