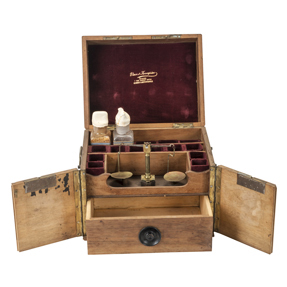 Pharmacist's Balance
Europe (?)
20th century
Dimensions variable
Wood
Stamped on its box with the name and the address of its owner, a pharmacist's balance is the witness of the 20th century pharmacies where pharmacists were responsible not only to purchase drugs but also prepare drug products according to the medical prescriptions.
Pharmacists were acting quite responsively to weight a certain amount of drug products. To be as accurate as possible, pharmacists used their personalised balance sets. It was a common behaviour to indicate the name of the pharmacist either in Latin or in French on the visible side of the balance set.
This particular balance set says a lot about its owner since the name of the pharmacist, Vincent Kassapian, is inscribed on the interior velvet cover of the box. Referring himself as "druggist" (Droguiste), Vincent Kassapian tells also the address of his store with the inscription in Turkish with French letters and spelling (Bahdje Capou meaning Bahçekapı) on the box.